Jay And Silent Bob Reboot To Film This Fall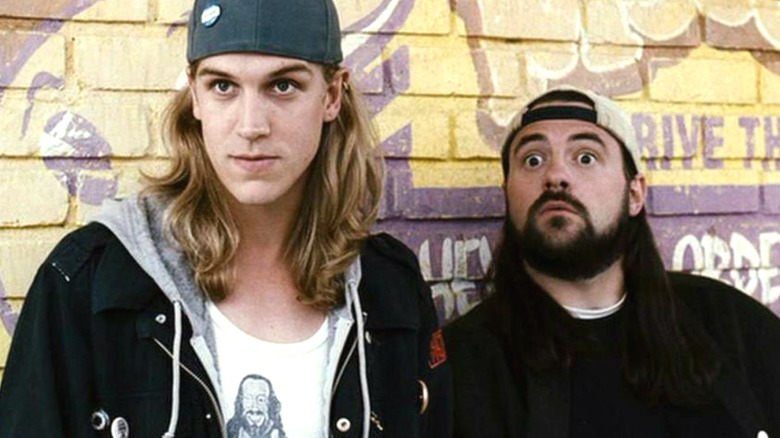 Jay and Silent Bob are coming back, and this time they've got Hollywood's obsession with reboots in their sights.
Director and co-star Kevin Smith revealed on Twitter that filming for Jay and Silent Bob Reboot will begin this fall. It'll be a sequel to 2001's Jay and Silent Bob Strike Back, and the first time the characters have appeared in a live-action movie since Clerks II in 2006. Both Smith and Jason Mewes voiced the characters in 2013's Jay and Silent Bob's Super Groovy Cartoon Movie.
Smith described Jay and Silent Bob Reboot as a "tongue-in-cheek, silly-a** satire that pokes fun at the movie business' recent re-do obsession."
In the movie, Jay (Mewes) and Silent Bob (Smith) have to travel back to Hollywood to stop a gritty reboot of the Bluntman & Chronic movie they tried to stop in Jay and Silent Bob Strike Back. According to ScreenRant, that flick is called Bluntman vs. Chronic, and it would pit the two heroes against each other much like Batman v Superman: The Dawn of Justice.
There's no word about the cast just yet, but since this is Kevin Smith we're talking about, there will surely be familiar characters from the View Askewniverse, although he sold the rights to Clerks and Mallrats years ago. We should also expect plenty of celebrity cameos, and we'd be shocked if Stan Lee didn't show up.
Check out the photo Smith shared below, then learn the untold truth of Jay and Silent Bob.
16 years ago, #JayAndSilentBobStrikeBack was released in theaters. And this Fall, we shoot a follow-up flick called #JayAndSilentBobReboot! pic.twitter.com/bULHxzX3aj

— KevinSmith (@ThatKevinSmith) August 25, 2017