Dark Phoenix Poster Released Ahead Of New Trailer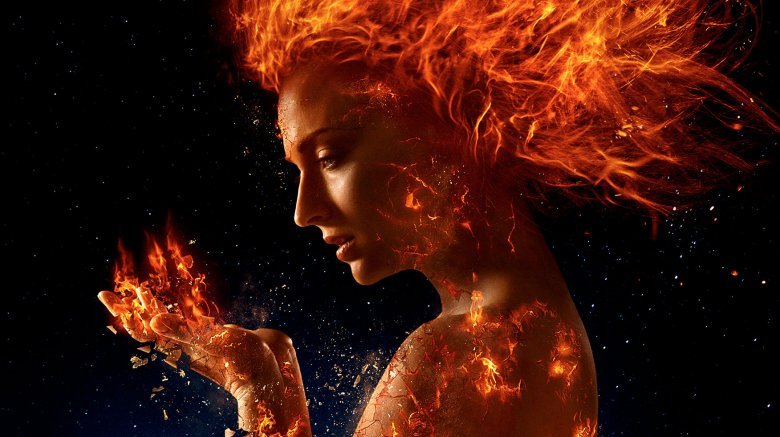 Tuesday was a big day for movies, as just after Warner Bros. unveiled the second trailer for Detective Pikachu, 20th Century Fox rolled out a new poster for Dark Phoenix and promised that another trailer will launch on Wednesday. 
The studio dropped the news and the one-sheet via the official Twitter account for the X-Men movie franchise. 
Shared with a simple caption — "The new #DarkPhoenix poster has arrived. Trailer tomorrow night!" — the poster depicts Jean Grey (Game of Thrones actress Sophie Turner) smack in the middle, her arms and hands spread out and a flash of light splitting her body in two. On one half of Jean's body, she wears her blue-and-yellow X-Men uniform; on the other, she's in jeans, a tucked-in top, and a floor-dusting coat. This is the visual embodiment of Jean's dual nature: she's both a member of Professor X's (James McAvoy) mutant family, and a super-powered woman with a dark side that manifests in her alter ego, the Dark Phoenix. 
Also featured on the poster, surrounding Jean on either side, are Magneto (Michael Fassbender), Storm (Alexandra Shipp), Nightcrawler (Kodi Smit-McPhee), Beast (Nicholas Hoult), Cyclops (Tye Sheridan), Mystique (Jennifer Lawrence), Quicksilver (Evan Peters), Red Lotus (Andrew Stehlin), and Selene (Kota Eberhardt). These are all people with whom Jean will fight in Dark Phoenix after a solar flare smashes into her and her fellow X-Men in the midst of a rescue mission. The collision draws out Jean's sinister side — and though she hates to lose control of her powers, she simply can't stop it. 
The Dark Phoenix rises to rain down fury and fear, and those who attempt to stop her rein of terror will certainly feel her wrath. As the film's synopsis guarantees, Jean is "spiraling out of control, and hurting the ones she loves most." And because of it, the threads that connect the X-Men together begin to rip apart. A divided family must set aside their differences, their fears, and their anger and unite — both to save Jean and to vanquish another band of enemies just as nefarious as the Dark Phoenix: aliens that want to use Jean's dark side as a way to seize control over the entire galaxy. 
It's likely that the new Dark Phoenix trailer will arrive during Wednesday night's episode of The Tonight Show Starring Jimmy Fallon, as that's when Jessica Chastain is set to make an appearance. Within Dark Phoenix, Chastain portrays a yet-unnamed shapeshifter who acts as "the devil on Jean's shoulder" and has a mysterious connection to Professor X. We don't know much about her character at this point, so there's a strong chance that the upcoming footage will reveal more about the manipulative alien, particularly since Chastain might be the one to help unveil it.
Dark Phoenix hasn't had the best of luck in the production department, suffering multiple delays and hefty reshoots that have stirred up concern in fans. Many are worried that the final product won't be worth the wait — anxiety that's been exacerbated by reports of Dark Phoenix bombing at multiple test screenings. Word is that those who attended pre-release showings of Dark Phoenix were none too impressed with the film, having "laughed so hard in a scene supposed to be so serious" and relayed that the film is capital-B bad. 
It's no secret that X-Men fans are itching to witness more of Dark Phoenix, even if only to calm their nerves over the film potentially being as terrible as 2015's Fantastic Four reboot. The good news is that the trailer is just a day away. Sit tight, gang — we're almost there. 
Directed by Simon Kinberg, Dark Phoenix will fly into cinemas on June 7.