Jay And Silent Bob Reboot Moving Ahead At Saban Films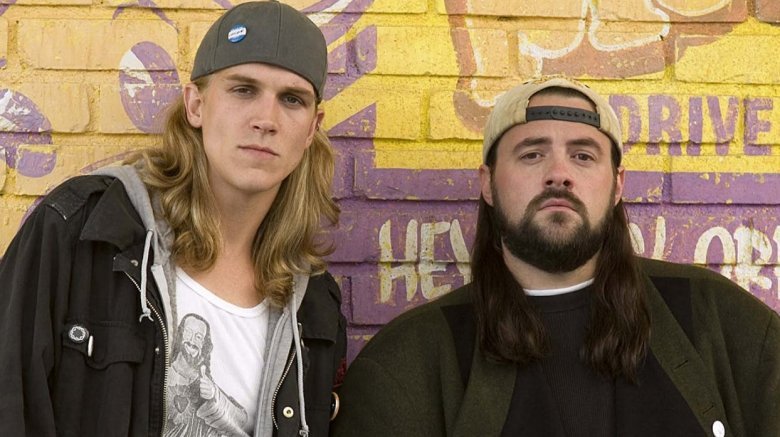 Snootchie bootchies! Jay and Silent Bob Reboot has a home. 
On Friday, L.A.-based acquisition and distribution company Saban Films scooped up the North American film rights to the Jay and Silent Bob refresh flick, a follow-up to the 2001 cult classic comedy Jay and Silent Bob Strike Back. 
Deadline had the details, plus heartfelt statements from Kevin Smith, the Silent Bob of the titular team, and Jason Mewes, the Jay to Smith's Bob. 
Both men reprise their iconic roles for the reboot, and will join "a number of other stars" from the 2001 original. A handful of fresh faces are set to make their franchise debut in Jay and Silent Bob Reboot, which entered pre-production at the start of this year.
"Jay and Silent Bob is a global franchise which has a very loyal fan base. Partnering with Kevin at script stage on the next chapter of these iconic characters is a huge milestone. This is the beginning of a new initiative at Saban Films, to partner on IP with seasoned filmmakers and talent early on in the creative process all the way through distribution," said Bill Bromiley of Saban Films. 
Smith then opened up about how momentous Saban Films acquiring Jay and Silent Bob Reboot is for him — and announced when the movie will start shooting. The director, who made his feature film debut with the indie drama flick Clerks in 1994 and will get behind the camera to helm the impending Jay and Silent Bob bonanza, had a brush with death in February 2018, when he suffered a life-threatening heart attack after performing a stand-up comedy set at the Alex Theatre in Glendale, California. Smith's left anterior descending artery was completely blocked, which is what caused the massive "Widow-Maker" heart attack. As Smith revealed, he and the Jay and Silent Bob Reboot team will kick off principal photography in February, as it marks one year since Smith's near-death experience. 
"Last February, I almost died. So on the one year anniversary of my widow maker heart attack, as a celebration of life and a big ol' F you to Death, my best friend and I will be rolling cameras on a sequel/remake/reboot of a movie we first made nearly twenty years ago!" he said in a statement. "In Jay & Silent Bob Strike Back our herbal heroes found out Hollywood was making a movie based on them, so they journeyed out to Hollywood to stop it. But I've learned so much as a storyteller and have grown immensely as a filmmaker since then, so audiences can expect something completely different: In Jay & Silent Bob Reboot our herbal heroes find out Hollywood is making a reboot of the old movie that was based on them, so they journey out to Hollywood to stop it again. I offer my (literal) undying thanks to our amazing partners at Saban and Universal for making this dream come true and backing this cinematic silliness!"
Mewes had just as much enthusiasm to share, noting that he's keen to step back into such a silly role as Jay in the reboot movie. 
"I'm tired of doing Shakespeare all the time so it'll be nice to get back to playing Jay again," said Mewes, making an obvious joke about his filmography that features no ultra-dramatic roles of the Shakespearean variety. "It may be 25 years since I first played the idiot man-child from Jersey but this time's going to be the best because I've really grown into the role of idiot man-child in my old age."
In addition to Saban Films picking up Jay and Silent Bob Reboot, fan-owned entertainment company Legion M has stepped forward to partner with Smith as "equity financiers" of the film. The company, which has funded movies like Mandy and Colossal, published a video in which Smith and Mewes thank Legion M for their backing and offer more details on Jay and Silent Bob Reboot. 
Once described by Smith as "literally the same f***ing movie" as Jay and Silent Bob Strike Back, the reboot sees the vulgar duo discover that Hollywood is re-making a past movie that was all about them. This is, as fans will know, basically the exact premise as the 2001 original: Jay and Silent Bob learn that some big-shot directors are developing a film based on them, and so they journey across the States in efforts to shut the project down. In the reboot, it's the same course of action, despite Smith joking that it's "completely different" because he's "grown as a filmmaker and as a screenwriter" over the last 18 years. 
"In Jay and Silent Bob Reboot, Jay and Silent Bob find out that Hollywood is making a reboot of that old movie about them, and so they travel cross-country to stop them all over again," Smith explained in the video. "That's right — it's a movie that makes fun of sequels and remakes and reboots, while being all three at the same time. It's gonna be a blast."
Though Jay and Silent Bob Reboot sounds like it will dish up the irreverent, sarcastic tone characteristic of the first film and Smith's View Askewniverse in which it exists, it isn't as though it won't offer anything new. (If it didn't, what would be the point of going to see it, right?) Mewes previously teased (via MovieWeb) that longtime franchise fans can expect the same "goofy, slapsticky Jay, but just a little more mature" in the reboot. And it isn't just Jay who will be older and a skosh wiser — Silent Bob will be as well. "It's a more mature Jay, I think. Kevin wrote it to be. The both of them are," said Mewes. "I don't know how much I can give away, but I'll leave it at that. Definitely a more mature Jay and Silent Bob."
Now that Jay and Silent Bob Reboot has a distributor, a financier, and a production start date (though it's much later than the fall 2017 one Smith had originally planned for), celebrations are in order. Load up some tunes from the Greatest Band in the World, and get to dancin' — Jay and Silent Bob are officially striking back a second time.