Nicolas Cage To Star In H.P. Lovecraft Adaptation Color Out Of Space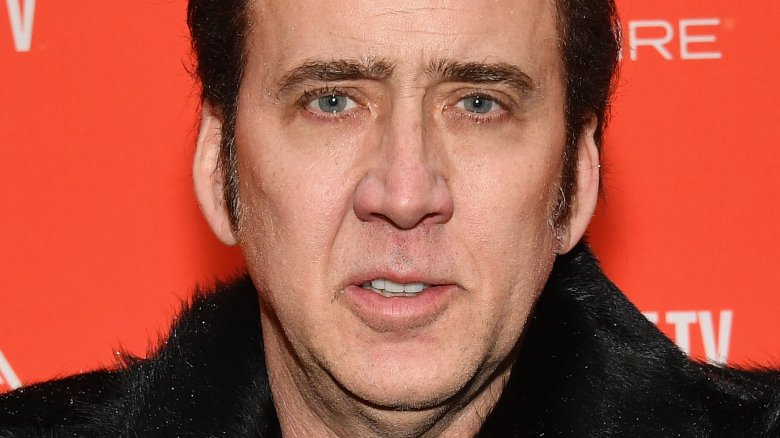 Getty Images
Nicolas Cage is returning for another dose of mind-bending scares.
Fresh off last year's completely bonkers horror flick Mandy, Cage will star in a modern adaptation of the H.P. Lovecraft novella Color Out of Space. The film is currently in production, and is being directed by Richard Stanley. Deadline reported the news.
Mandy brought down houses all over the festival circuit and received a warm reception from critics and audiences. The surreal, blood-soaked story of a man (Cage) who is forced to seek revenge when his wife is kidnapped and murdered by a cult, the flick took full advantage of Cage's, shall we say, committed acting style and served as a bold calling card for sophomore director Panos Cosmatos. Cage also recently proved himself to be right at home in the horror genre with 2017's bizarre horror comedy Mom and Dad, and with The Color of Space, he's found himself yet another weird, disturbing vehicle to lend his distinctive talents to. 
The movie follows the basic premise of Lovecraft's novella while transposing its story to the modern day. The plot involves a family who move to a New England farmhouse in a bid to escape city life, only to have their new routine disrupted when a meteorite lands on their property. Absorbed by the earth, the rock infects everything around it with with strange, otherworldly properties... including the land, the vegetation, the animal life, and the family themselves.
The flick is being fielded by production house SpectreVision and distributed by XYZ Films, both of which filled the same roles with Mandy. It will mark Stanley's first feature in over 20 years. His last film, 1996's The Island of Dr. Moreau, was a notoriously difficult production which flopped resoundingly at the box office and cemented star Val Kilmer's reputation for being exceedingly difficult to work with; to add insult to injury, Stanley was fired from the film mid-production and replaced with the great John Frankenheimer. The director is perhaps best known for the 1990 cult classic Hardware, a violent cyberpunk thriller which struggled in theaters due in part to its initially being slapped with an X rating by the MPAA. He's worked steadily in shorts, music videos, and documentaries in the intervening years.
Like Mandy, Color Out of Space has "Midnight Movie" written all over it, and it wouldn't surprise to see XYZ take a similar festival-driven approach to its release. A wide release is not out of the question, however; in the right role, Cage can still be a significant box office draw (he even popped up as the voice of Spider-Man Noir in last year's Spider-Man: Into the Spider-Verse), and he has a pretty killer cast backing him up. Featured in supporting roles are Joely Richardson (Red Sparrow), Elliot Knight (American Gothic), young Julian Hilliard (The Haunting of Hill House), Q'Orianka Kilcher (The Killing), and none other than the Pope of Pot himself, Tommy Chong.
Lovecraft hasn't always proved easy to adapt to the screen, but moving the story to the present day also seems like a smart choice. A creepy old farmhouse? Bizarre, meteorite-based mutations? Strange warps in space and time? Nicolas Cage? We're on board. We'll have more details on Color Out of Space as they become available.