Whatever Happened To Deb From Napoleon Dynamite?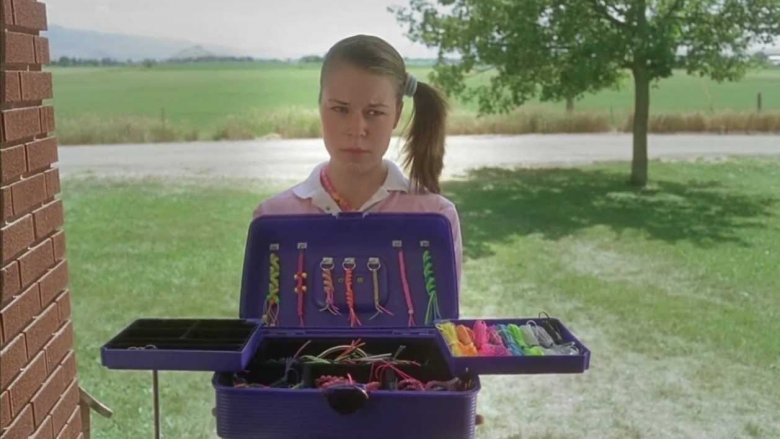 2004's Napoleon Dynamite was an unexpected, hilarious hit. The indie comedy, which tells the story of a 16-year-old outcast named Napoleon and his relatively normal but wacky high school adventures, premiered at the Sundance Film Festival that year and became a bona fide indie smash. With its innocent humor, charming characters, and genuine heartfelt story, Napoleon Dynamite is one of those weird movies that people either love or hate.
One of those charming characters was Deb Bradshaw, Napoleon's potential high school sweetheart. Like many of the other characters in Napoleon Dynamite, Deb was kind of a dork, sporting a side ponytail and selling glamour shots, handcrafts, and keychains door to door to earn enough cash for college. But she was kind, sweet, and though quiet, definitely assertive. Deb was played by Tina Majorino, a child actor who grew up in the industry and has had a variety of roles over the years. Here's a look at what Majorino has been up to since Napoleon Dynamite — starting with a review of her earlier roles.
Camp Wilder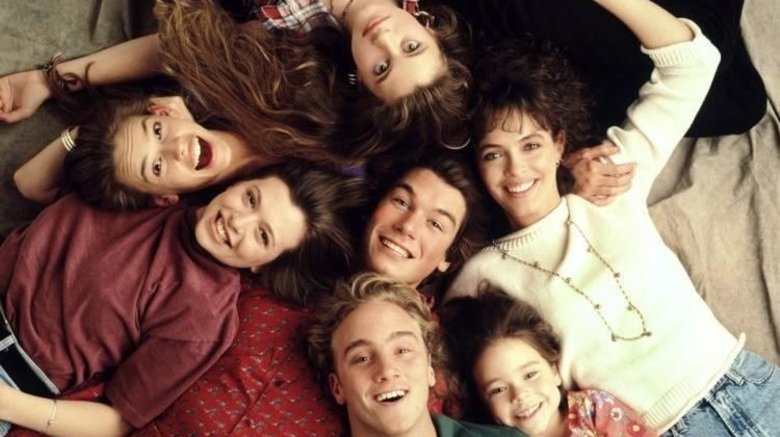 A tiny Tina Majorino first hit the scene in 1992 in the short-lived ABC sitcom Camp Wilder — part of the famous TGIF lineup, a Friday night block of shows that included hits like Full House, Perfect Strangers, Family Matters, Step By Step, and Boy Meets World. But not every TGIF show was a hit, and there always seemed to be one show in the lineup that wasn't up to par with the other three. Camp Wilder, alas, belongs to this category: the show was cancelled after only 19 episodes.
Camp Wilder revolved around Ricky Wilder, a 28-year-old nurse who, in addition to raising her 6-year-old daughter Sophie (Majorino), became the sole guardian of her teenage siblings after their parents' deaths. She turned their home into a sort of daycare, which came to be known as "Camp Wilder." Some of the famous faces who appeared on the show included Hilary Swank, Jerry O'Connell, Jay Mohr, and Jared Leto, but Majorino's Sophie got one of the most progressive storylines of the series, telling her family toward the end of the show's run that she wanted to be a boy, reflecting a progressive transgender awareness a couple of decades before virtually any other show.
Andre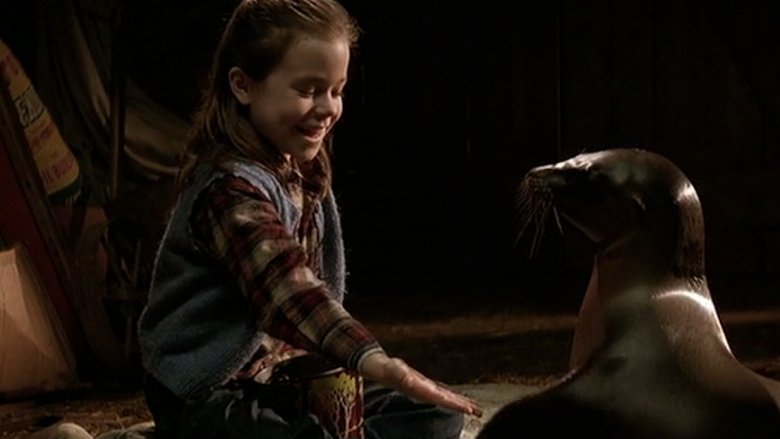 The '90s felt like they were perpetually filled with cute animal movies, like Beethoven, Homeward Bound, Air Bud, and Babe. Tina Majorino wasn't immune to this trend — one of her 1994 big-screen releases (the other being the Whoopi Goldberg and Ray Liotta 1950s-set interracial romance Corrina, Corrina) found her acting alongside a seal. Yes, you read that right, a harbor seal. The film was called Andre, and it's one of those movies you may only have a vague recollection of, but if you saw it again you'd remember every beat.
Set in the 1960s, Andre tells the story of a little girl named Toni (Majorino) who adopts a baby seal after its mother is found killed in her seaside hometown. Naming the pup Andre, Toni forms a bond with the animal and, as it grows, they start putting on shows for their neighbors. It's a cute little movie that comes with some of those heart-wrenching scenes and sad goodbyes that often accompany stories about animals. But since this one is based on a true story, we know it has a happy ending.
Waterworld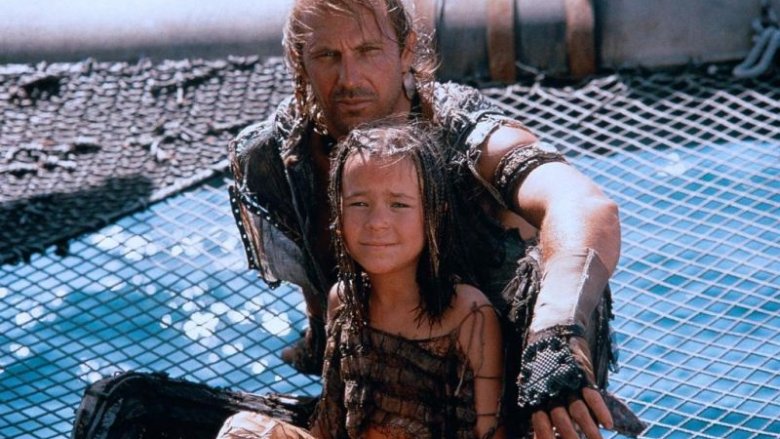 Who could forget Waterworld, one of Hollywood's biggest flops? Directed by Kevin Reynolds, Waterworld told the story of an Earth after the polar ice caps melted, flooding the planet's land surfaces and creating... well, a water world. The movie starred Kevin Costner as a sort of evolved fish man who helps save a kidnapped girl named Enola, played by Majorino, who had a mysterious tattoo on her back that, for some unexplained reason, ends up being a map to dry land.
The movie cost $175 million to make, which at the time made it the most expensive film ever produced. With some modern movie price tags exceeding $300 million, Waterworld's budget doesn't seem like such a big deal, but in 1995, it was huge. The bummer, however, was that the movie didn't really live up to its cost. It got middling reviews, with Roger Ebert calling it a picture he's "not unhappy to have seen, but can't quite recommend," and hasn't exactly gone down in history as a beloved sci-fi action film.
Alice in Wonderland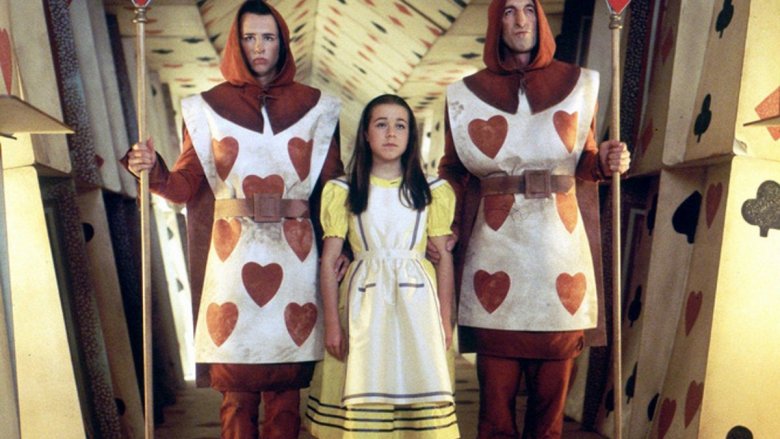 There have been so many adaptations of Lewis Carroll's Alice's Adventures in Wonderland that it's hard to keep track of them all. This 1999 made-for-TV movie starred Majorino as Alice — and unlike many other television versions, this one was a one-parter, so they squished some moments from Carroll's Through the Looking Glass in there as well.
The movie had a pretty amazing cast, with Majorino getting the opportunity to act alongside some legendary actors. Alice in Wonderland boasted Ben Kingsley as the Caterpillar, Martin Short as the Mad Hatter, Whoopi Goldberg as the Cheshire Cat, Christopher Lloyd as the White Knight, Gene Wilder as the Mock Turtle, Robbie Coltrane and George Wendt as Tweedledee and Tweedledum, and Miranda Richardson as the Queen of Hearts. It used a combination of CGI and puppets from the Jim Henson's Creature Shop, effects for which it won an Emmy Award.
Napoleon Dynamite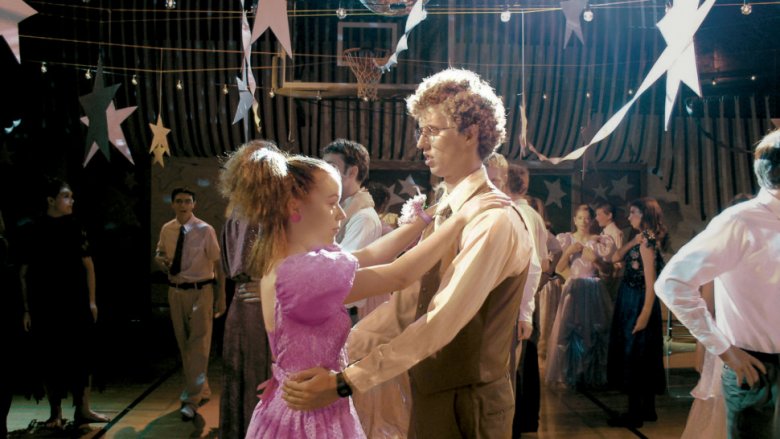 By 2004, Majorino had grown up and out of her childhood roles, and though she was 19 at this point, she went back to high school for Jared and Jerusha Hess' quirky indie comedy Napoleon Dynamite. From the beginning of the movie, it felt like Napoleon and Deb were meant to be, but Napoleon's ego and his family kept getting in the way. Thankfully, after a bit of high school drama, a funky election, a lonely prom, and a couple of good deeds, Napoleon and Deb found their way to a romantic game of tetherball.
Some fans might not know, however, that Napoleon Dynamite was also turned into an animated series. The original movie cast, including Majorino and stars Jon Heder, Aaron Ruell, Efren Ramirez, Jon Gries, Sandy Martin, and Diedrich Bader, reunited in 2012 to voice their animated counterparts. Sadly for fans, the series, which aired on FOX, only lasted six episodes before it was cancelled.
Veronica Mars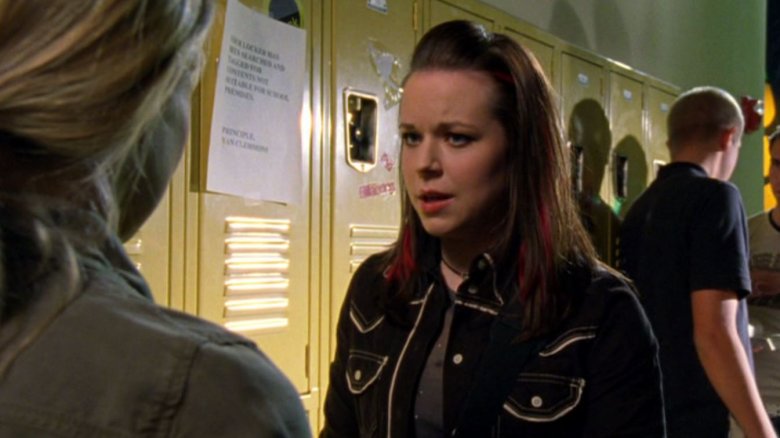 The CW's Veronica Mars was one of those teen shows that developed an adult audience because it was just so damned good. Kristen Bell starred as the title character, the daughter of a disgraced chief of police who took it upon herself to solve her best friend's murder when her father couldn't and her wealthy best friends turned on her. By utilizing all her dad taught her, Veronica sold her services as a high school private eye, someone who could, for a price, try and solve some of her classmates' biggest problems.
Majorino played Cindy "Mac" Mackenzie, a computer whiz who had always felt a little out of place in her family. She utilized Veronica's services to help confirm that she was in fact switched at birth and was actually the biological daughter of one of the wealthiest families in Neptune. Mac and Veronica's friendship was a gal pal match made in heaven, with Mac's tech smarts and Veronica's sleuthing skills coming in handy when they tried to solve the series' mysteries. Mac was the more edgy of the pair, with brightly dyed hair and a punkier vibe, which made her one of the coolest characters on the show. 
Big Love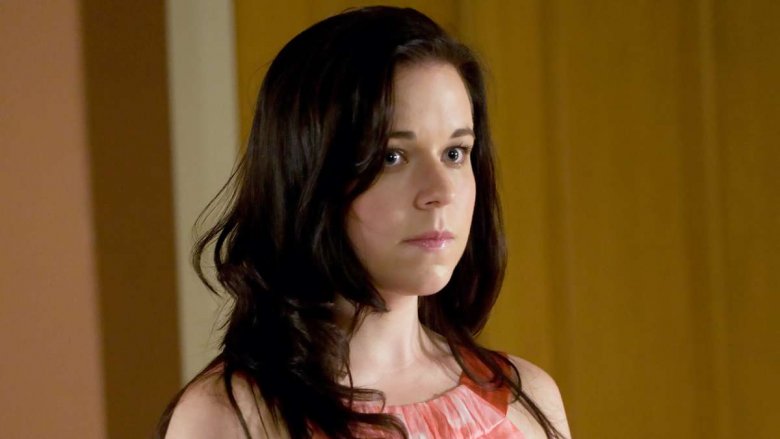 HBO's Big Love followed the story of a polygamist fundamentalist Mormon family living in Utah and all of the drama that accompanied their lifestyle. The show starred Bill Paxton as Bill Henrickson, the patriarch of the family, with Jeanne Tripplehorn, Chloë Sevigny, and Ginnifer Goodwin playing his three wives. Majorino played Heather Tuttle, a young, super conservative and devout Mormon who was best friends with Sarah Henrickson, the eldest daughter of Bill and Barb, played by Amanda Seyfried. Heather and Sarah work at a fast food restaurant together for a short time and Heather keeps the fact that her father is a state trooper to herself, considering that what her best friend's family is doing is sorta illegal.
Big Love actually marks the second TV series in which Majorino and Seyfried acted together. Though they never shared any scenes, they both appeared in Veronica Mars. Seyfried played Veronica's best friend Lily Kane, whose murder she spent most of season 1 trying to solve.
Bones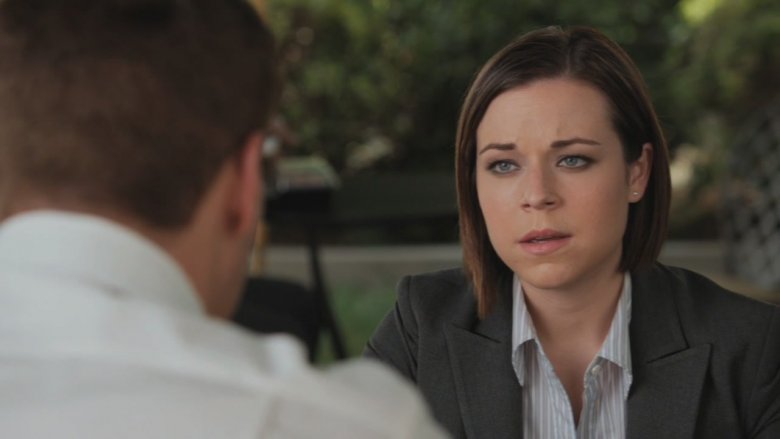 Tina Majorino graduated from teen roles with a three-episode stint in the sixth season of the FOX series Bones. The crime procedural starred David Boreanaz as FBI Special Agent Seeley Booth and Emily Deschanel as Dr. Temperance "Bones" Brennan, a forensic anthropologist. The series was loosely based on the life and novels of Kathy Reichs, also a forensic anthropologist.
Majorino played Special Agent Genevieve "Genny" Shaw, an FBI agent who occasionally worked on cases with Booth. Genny first appeared in the episode "A Hole in the Heart," where she helped Booth track down a mysterious shooter. Her most prominent appearance, though, was the episode "Bump in the Road," where she revealed she had a three-year-old son and helped ease Booth's nervousness about Brennan's return to work after giving birth to their daughter. Yes, Bones was one of those shows where the two lead characters have a lot of "will they or won't they?" chemistry until they finally end up together at series end.
True Blood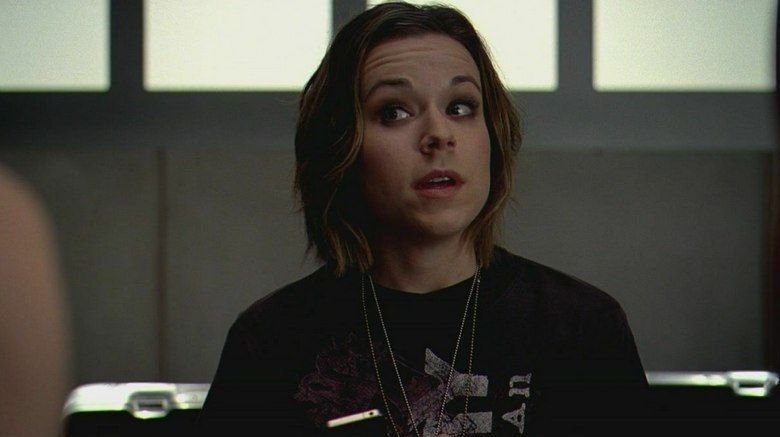 Based on The Southern Vampire Mysteries, a series of novels by Charlaine Harris, True Blood was a campy horror drama with a lot of gorgeous people, led by Anna Paquin as Sookie Stackhouse, a telepathic waitress living in the swampy bayou area of Louisiana. The show's premise was that, thanks to a new synthetic drinkable blood, vampires could "come out of the closet" as it were, and didn't need to live in hiding.
Majorino played Molly, a vampire and member of the Vampire Authority who invents the iStake, a device she straps to other vampires' chests that can stake them through the heart at the touch of a button on her cell phone. But True Blood was also a show about turf wars, power, and legacy, so naturally there are groups of vampires fighting other groups of vampires. Molly met her demise at the hand of her own invention when the Sanguinista, a cult-like organization worshipping the first vampire, used it on her.
Grey's Anatomy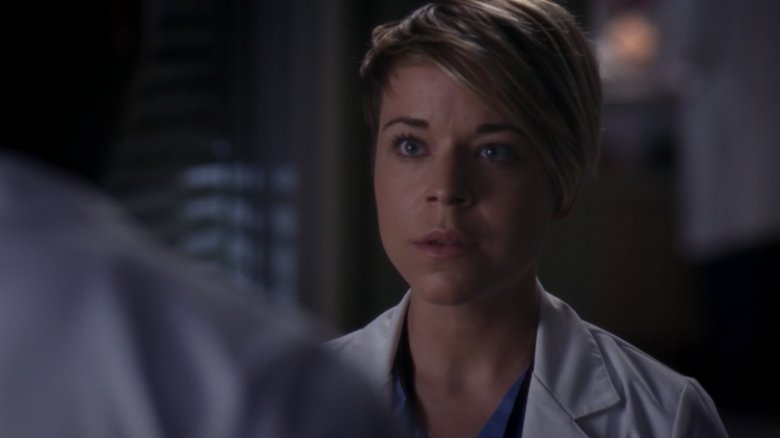 The cast of Grey's Anatomy truly feels like a revolving door sometimes, with Ellen Pompeo's Meredith Grey holding everything together. But the hospital setting lends itself to the new faces, accurately reflecting medical internships, residencies, and other professional movement. Majorino's Heather Brooks came aboard in season 9, right after a big plane crash season finale that killed off a number of main characters.
Brooks was an overly energetic, enthusiastic, and bubbly character who was mostly played for laughs as a total annoyance. But she had a sweet side, and a temporary romantic dalliance with another Grey's mainstay, Dr. Alex Karev. But it seems like Majorino can't catch a break with the gruesome deaths on TV: In Grey's Anatomy's tenth season, Brooks was electrocuted during a storm, then had to undergo brain surgery to clear a hemorrhage. She didn't make it, unfortunately, and the other interns and doctors realized how much of a joy she was only after she was gone.
Veronica Mars the Movie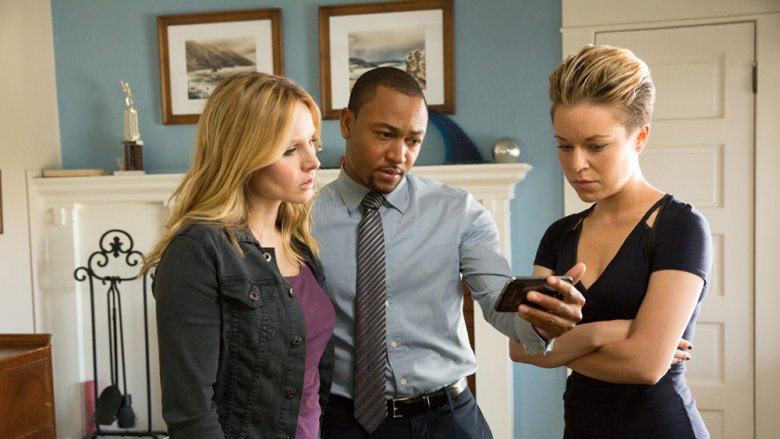 If there has ever been a movie that was truly made for the fans, it was the 2014 Veronica Mars movie. After the series was cancelled after three seasons, creator Rob Thomas penned a script for a feature film to wrap things up, but had trouble getting a studio to fund it. Enter Kickstarter. Spurred on by Thomas and Kristen Bell, fans managed to raise $5 million on the crowdfunding site to get the movie made.
Majorino reprises her role as Cindy "Mac" Mackenzie and joins Veronica at their ten year high school reunion, which turns out to be just as exciting, and murderous, as you can imagine. But despite having a pretty high-level IT job, Mac returns to her BFF Veronica, and at the end of the film, Veronica has taken over her dad's private investigative firm with Mac the lead on all things technology, the Q to Veronica's Bond. And now, with another Veronica Mars reboot officially happening on Hulu, we'll hopefully be seeing Majorino back in Mac's shoes before long.
Scorpion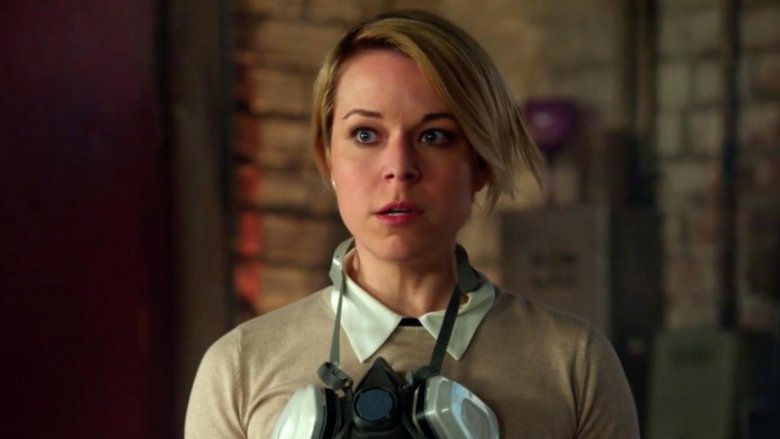 More recently, Tina Majorino has been seen on the CBS drama Scorpion. A crime procedural of a sort, loosely based on the life of executive producer Walter O'Brien, it followed a self-professed computer wiz with a claimed IQ of 197 who claims that his Scorpion technology helped police catch the Boston Marathon bombers — and who somehow managed to finagle his way into the world of television. 
Scorpion starred American Idol alum Katharine McPhee, as well as Elyes Gabel, Eddie Kaye Thomas, and Jadyn Wong. Majorino played Florence "Flo" Tipton, a chemist who helped the team with their cases, which didn't involve crime so much as solving global problems and saving lives. In any case, the show was short-lived, lasting only four seasons — but on the bright side, its demise freed up Majorino for a potential return to Veronica Mars.