Veronica Mars Revival Starring Kristen Bell Reportedly In Development At Hulu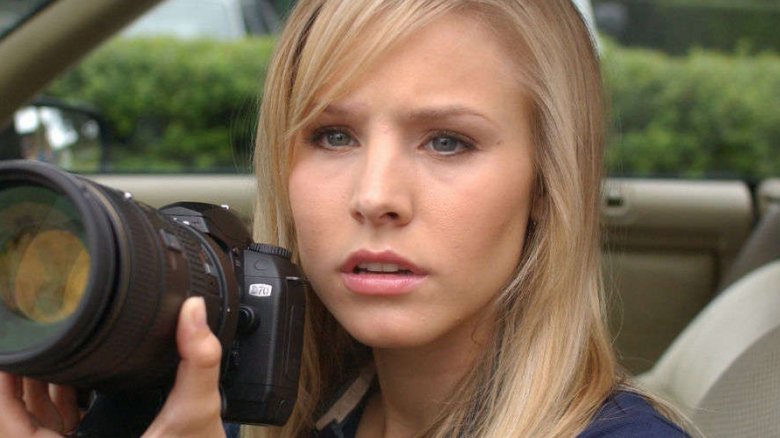 Life's tough, but she's tougher — and she could be making a comeback on Hulu. 
According to sources close to Variety, the streaming giant has put into development a Veronica Mars revival series. 
Original Veronica Mars actress Kristen Bell is expected to star as the nominal private investigator and Neptune, California native. Rob Thomas, who created Veronica Mars, is also poised to have a hand in the potential revival, joining as a writer. If the deal goes through, the refresh will be housed at original series production company Warner Bros. Television. 
For longtime Veronica Mars fans, this news is sure to spark up unabashed excitement — but industry insiders have urged for everyone to curb their enthusiasm until Hulu makes an official announcement. The ink hasn't yet dried and the terms of the deal haven't yet been ironed out. 
Additionally, it remains unclear what the new take on Veronica Mars would be about or whether other original characters like Jason Dohring's Logan Echolls, Percy Daggs III's Wallace Fennel, Francis Capra's Eli "Weevil" Navarro, Enrico Colantoni's Keith Mars, or Tina Majorino's Cindy "Mac" Mackenzie will be a part of it.
Tessa Thompson (Thor: Ragnarok), Krysten Ritter (Marvel's Jessica Jones), and Amanda Seyfried (Mamma Mia: Here We Go Again!) also appeared on the show, starring as Jackie Cook, Gia Goodman, and Veronica's best friend Lilly Kane, respectively. It would be incredible to have one or all three of those actresses — who are some of the biggest names in Hollywood at the moment — on board for the revival, should it actually come to fruition.
As Variety notes, Bell's current commitment to the acclaimed comedy series The Good Place, which will return to NBC on September 27, complicates the deal for a Veronica Mars revival. The minds behind the revival would have to take special care in ensuring it filmed around The Good Place — which could indicate that the new Veronica Mars wouldn't be a full-on show but a mini-series instead. 
But that's not necessarily a bad thing. 
When Veronica Mars ran on United Paramount Network (UPN) and later the CW from 2004 to 2007, critics applauded the series. After its cancellation, fans flocked to it and formed a strong following that only grew larger as time went on. Warner Bros. eventually released a Veronica Mars film in 2014, which reviewers agreed featured "enough sharp writing and solid performances to entertain viewers in the mood for a character-driven thriller." In particular, The New Republic's Esther Breger wrote that the Veronica Mars was more than just "a nostalgia trip," as the characters "changed in recognizable and gratifying ways" in the decade that passed between the start of the series and the events of the film. 
Considering both the series and the subsequent film were hits, it seems that only lightly retreading the Veronica Mars territory with an eight to 10-episode long revival is a smart idea. If it isn't broken, don't fix it, right?