The Expanse: Amazon Sets Premiere Date For Season 3 Ahead Of Season 4 Launch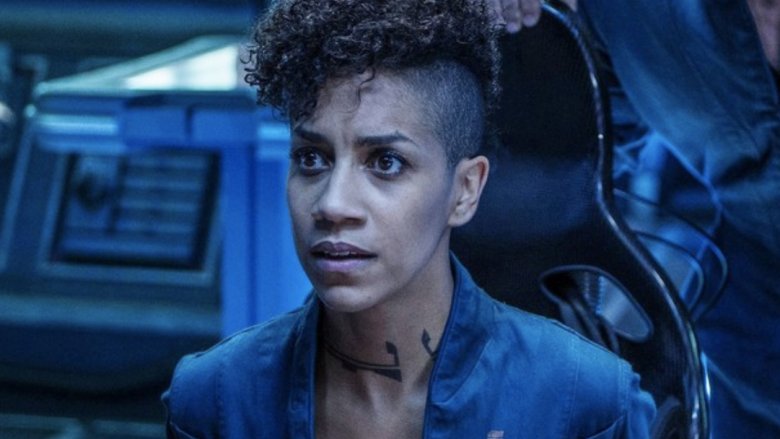 Amazon is mapping out plans for The Expanse, the sci-fi series it saved after Syfy swung its ax and canceled the show in May 2018. The company announced on Tuesday when season 3 of The Expanse will be available to stream, then teased when season 4 will premiere. 
As detailed by Deadline, fans of The Expanse can load up the third season on Amazon Prime Video Friday, February 8. The fourth season is slated to exclusively launch sometime this year, though Amazon kept mum on an exact date. 
The Expanse's freshman and sophomore seasons are currently up on Amazon Prime Video, so those who need their fill of futuristic sci-fi drama can soothe their cravings right now until the first week of February brings another batch of episodes their way. 
Before any international Amazon Prime subscribers start freaking out, worrying that they might not have access to The Expanse due to distribution laws, let us ease your mind in saying that Prime members in over 200 countries and territories can stream seasons 1 through 3 starting on February 8. Let's call it an early Valentine's Day present from ol' Amazon. 
Based on the novel series by James S.A. Corey, The Expanse takes place 100 years into the future during an era in which humans have ventured into the outer reaches of the solar system, the United Nation has seized control of Earth, and an independent military organization has taken up residence on Mars. The series stars Thomas Jane (Deep Blue Sea) as police detective Josephus "Joe" Aloisus Miller who is tasked with finding a missing young woman named Juliette "Julie" Andromeda Mao, played by Florence Faivre (The Sia Renaissance). Meanwhile, an ice hauler executive officer named James Holden, portrayed by Steven Strait (The Convenant), is caught up in an accident that could ruin the peace between Earth, Mars, and the Asteroid Belt — and Earth-based United Nations executive Chrisjen Avasaral, played by Shohreh Aghdashloo (Star Trek: Beyond), ventures to prevent the two planets from engaging in war. But war is only the beginning of the troubles that threaten Earth, Mars, and the Asteroid Belt, as it's revealed that Julie's missing status and James' incident are actually part of a larger conspiracy that endangers the survival of humanity. 
The Expanse also stars Cas Anvar (Punisher: War Zone), Dominique Tipper (Fantastic Beasts and Where to Find Them), Frankie Adams (Mortal Engines), Shawn Doyle (Frequency), Wes Chatam (The Hunger Games), Chad L. Coleman (The Walking Dead), and Cara Gee (Empire of Dirt). 
Amazon is something of a hero in the eyes of Expanse enthusiasts. When Syfy announced that the third season of the show would be its last on the network, Alcon Entertainment's Andrew Kosove and Broderick Johnson confirmed that they would shop it elsewhere. "We are very disappointed the show will not be returning to Syfy," they said in a joint statement. "We respect Syfy's decision to end this partnership but given the commercial and critical success of the show, we fully plan to pursue other opportunities for this terrific and original IP."
Shortly after that news broke, Amazon revealed it had picked up The Expanse for a fourth season. The company's founder and CEO, Jeff Bezos, made the announcement during a Q&A session at the National Space Society's International Space Development Conference on May 25, 2018: "I was talking to the cast half an hour ago, before the break for dinner started. I was telling them that we are working hard at Amazon to save The Expanse but it wasn't a done deal yet. During dinner, ten minutes ago, I just got word that The Expanse is saved. The show is extraordinary and these guys are unbelievably talented." 
Added Kosove and Johnson at the time, "We couldn't be more excited that The Expanse is going to continue on Amazon Prime ... We are fully aware that this wouldn't have been possible if it wasn't for the staggering outpouring of support from the most creative, hardest working sci-fi fans around the world. From Reddit campaigns to airplanes, we say thank you. It worked!"
Though very little is known about the fourth season of The Expanse, and we have only gotten a quick look at what's to come, it's heartwarming to know that the series got a second chance at success with Amazon. Many shows aren't so lucky, getting cancelled for silly reasons or for reasons we still don't understand to this day. We're glad that, thanks to Amazon, The Expanse hasn't fallen to either of those fates. 
Check back with Looper for updates on The Expanse season 4 as more information becomes available.