Masters Of The Universe Reboot Lands Iron Man Screenwriters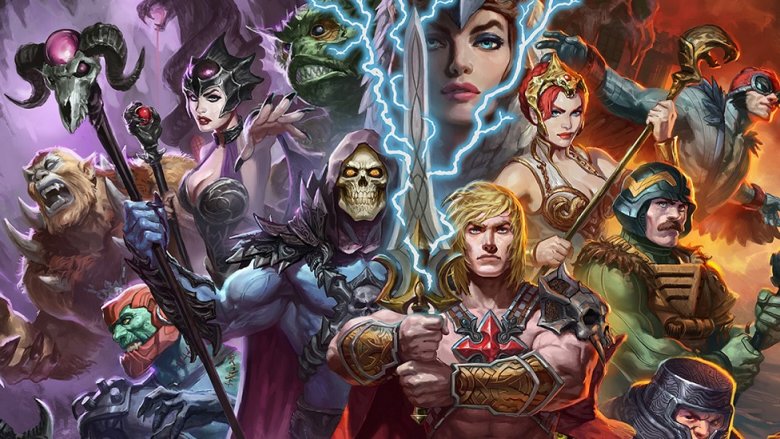 The Masters of the Universe have landed some masterful writing talent.
Art Marcum and Matt Holloway, the screenwriting team whose credits include the upcoming Men in Black: International as well as inaugural Marvel Cinematic Universe effort Iron Man, have been hired to rewrite the script for the reboot. Deadline was first to report the news.
Masters of the Universe was originally introduced as a Mattel toy line in the early '80s, and it spawned an animated TV series which captured the imaginations of kids the world over. The property's mythology centers on He-Man, "the most powerful man in the Universe," as he fights the forces of evil led by the nefarious Skeletor, accompanied by an array of colorful compatriots. A big-screen, live-action adaptation was produced in 1987 (featuring Dolph Lundgren as He-Man) by the infamous Cannon Films; while it did respectable box office, its production was so financially taxing that it proved to be the final nail in the coffin for the studio, which famously (and quite literally) turned off the lights and began shutting it down even as the final, climactic scenes were being filmed.
The reboot is being handled by Sony, and has had to overcome a few hurdles of its own on its way to the screen. As reported in 2018 by 
Den of Geek, a plethora of writers have been attached to the project at various points, including Alex Litvak and Michael Finch (Predators); their version was scrapped in favor of a draft by Terry Rossio (The Lone Ranger), which was rewritten by Jeff Wadlow (Truth or Dare). Deciding another rewrite was in order, Sony then tapped Christopher Yost (Thor: Ragnarok) to have a go at it, before passing it off to Lindsey Beer (Choas Walking). All of the previously mentioned writers still currently retain credits on the picture, but Marcum and Holloway will be rewriting another draft penned by David S. Goyer (Batman V. Superman: Dawn of Justice).
Got all that straight? Well, we're not done. Video director turned action maestro McG (Terminator: Salvation) was originally on board to direct, but left the project, whereupon Goyer was offered the job. While he remains as an executive producer, he too eventually stepped down, making way for brothers Aaron and Adam Nee (who helmed the critically well-received, if underseen, modern-day Huck Finn retelling Band of Robbers) to take over the directorial reins. They remain attached for now, and thus far, Sony hasn't backed off its originally announced release date of December 18, 2019 — which, if we're being honest, seems like a pretty tall order at this point.
Hopefully, Marcum and Holloway will have the power (sorry) to produce a draft that will finally meet with Sony's enthusiastic approval. Iron Man is a pretty big feather in their caps, and they also penned 2008's Ray Stevenson-starring Punisher: War Zone, which many fans of that character found to be pretty decent. (Incidentally, Frank Castle's first big-screen vehicle, 1989's The Punisher, also starred Lundgren in the title role.) However, the pair were most recently responsible for 2017's Transformers: The Last Knight, a financial and critical low point in a series that found new life in the smaller, more character-driven spin-off Bumblebee late last year.
Needless to say, it will take a Herculean feat of screenwriting for the duo to turn in a draft which a) gets the suits at Sony totally pumped, and b) arrives in time for the production to have a prayer of meeting the announced release date. We're going to go out on a limb and say that we can expect a shuffling of the schedule to be announced sooner rather than later, but assuming that the revolving door of writers has finally come to a stop, we shouldn't have to wait too long for casting news.