Original Candyman Star Tony Todd Wants To Be A Part Of Jordan Peele-Produced Remake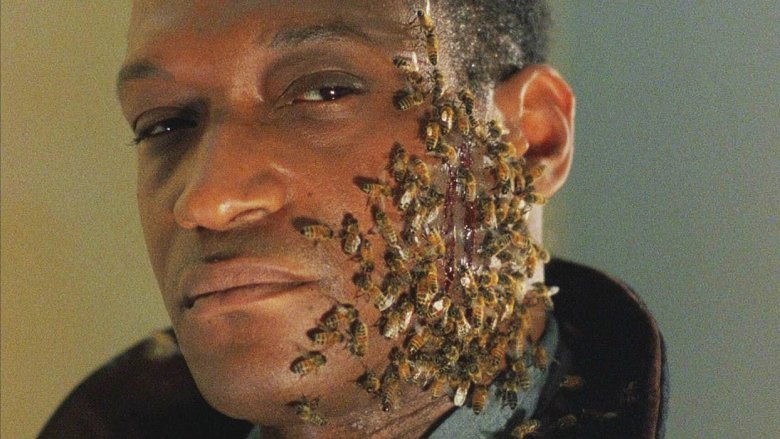 Who can take a sunrise, sprinkle it with dew, cover it with chocolate and a miracle or two — and then star in an upcoming reboot of an iconic horror movie trilogy? The Candyman can. 
Tony Todd, the actor who portrayed the titular character in 1992's Candyman and its two sequels Candyman: Farewell to the Flesh and Candyman: Day of the Dead, recently revealed to Bloody Disgusting that he's dying to play a part in the Candyman remake, directed by Little Woods writer-helmer Nia DaCosta and produced by Get Out and Us visionary Jordan Peele. 
Chatting with the outlet in a recent interview, Todd admitted that he doesn't know whether DaCosta would again cast him as Candyman, the ghost of a one-armed artist and son of a slave who was murdered in the late 1700s due to a forbidden love affair, in the remake — but he doesn't really mind. So long as he could have the chance at scoring some type of role in the new Candyman movie, Todd would be thrilled. 
"I want to be a part of the project one way or the other," the actor shared. 
And it makes sense why Todd would want to be involved with the remake: he's the original man behind it, the face that audiences automatically associate Candyman the character and Candyman the franchise with. 
"Of course, I'd want to be a part of it. I helped create this character. I helped bring him to life," said Todd, adding that if Boris Karloff, the famous actor from yesteryear who played Frankenstein's monster in 1931's Frankenstein, 1935's Bride of Frankenstein, and 1939's Son of Frankenstein, was "asked the same thing, he would say exactly what I say" — that he understands the character "inside and out."
As of this writing, Todd hasn't gotten in touch with either DaCosta or Peele, whom Todd says is a fan of the original Candyman series. The lack of contact between the three creatives isn't down to anything unsavory, like the director and producer not wanting Todd to star or the two screening his calls or something terrible like that. Rather, it's simply because DaCosta and Peele are wrapped up in other projects at this point in time, and because Candyman isn't due to shoot until much later this year. Once the project gets closer to its production start date, then DaCosta and Peele can making some casting decisions and start writing up contracts. When that time comes, Todd will be ready. 
"They're not going to shoot until deep this year so contracts are weird. You don't want to get into contracts too soon because then you're locked in," Todd explained. 
He also admitted that he hopes the new Candyman will mark an opportunity to truly do right by the OG series' legacy. The first flick was a critical hit ("a nuanced, effectively chilling tale that benefits from an interesting premise and some fine performances," it's been called) and a commercial success (taking home $25 million at the domestic box office when it debuted), but the follow-up films didn't strike the same chords and wound up falling flat because of that. Todd got candid when he told Bloody Disgusting that he believes the DaCosta-directed, Peele-produced pic will breathe new life into the overall franchise — regardless of whether he's a part of it or not. 
"I know that it's in good hands with Jordan Peele. I love his new trailer for Us and I know he loves the character and he respects the legacy," said Todd. "No matter what my personal involvement is, the fact that it's getting done again will just bring new attention to the original source material. So it's a win-win for everybody and a win-win for horror fans."
Should Todd be cast in the Candyman remake, he would join a list of actors who appeared in years-later reboots of properties they originally top-lined. Johnny Depp and Peter DeLuise, who played Officer Tom Hanson and Officer Doug Penhall on the Fox TV series 21 Jump Street in the late 1980s, reprised their roles in the 21 Jump Street movie from 2012. Jamie Lee Curtis recently brought her horror character Laurie Strode back to life in director David Gordon Green's Halloween reboot, which ignored all the sequels after John Carpenter's original, retconning the series and creating a clean new franchise timeline. And Star Trek fans will remember how wonderful it was to see Leonard Nimoy step back into his Spock role for J.J. Abrams' reboot trilogy. 
It would certainly be a treat (candy-centric pun intended) to see Todd in the Candyman remake, but it's even better to hear how confident he is that the film will be a success even if he doesn't end up appearing in it. 
The Candyman remake is scheduled for release on June 12, 2020.