Rocketman: Taron Egerton Is Elton John In New Photos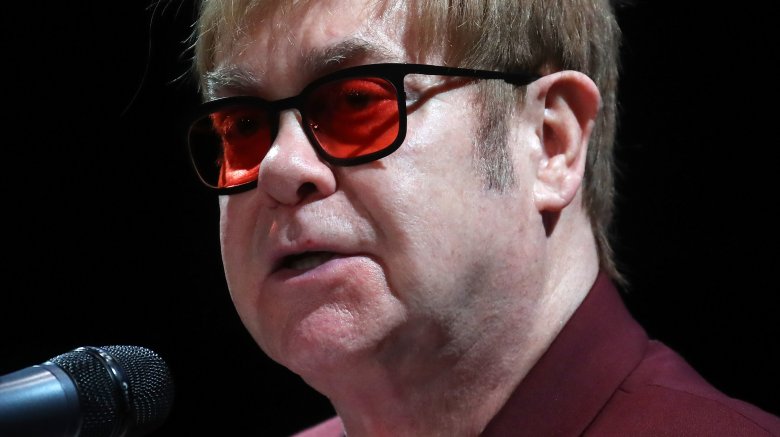 Getty Images
Freddie Mercury certainly cleaned up at the box office; soon, we'll see if Captain Fantastic can do the same.
Paramount Pictures released new promotional images of Kingsman series star Taron Egerton as Sir Elton John in the forthcoming "fantasy musical" Rocketman, and the resemblance is — to say the least — astonishing (via Deadline). The studio has high hopes for the picture (the title of which is indeed one word, unlike the iconic hit song that inspired it), due to the box office performance of the Mercury/Queen retrospective Bohemian Rhapsody, which recently became the highest-grossing musical biography of all time.
We were treated to a teaser trailer for the flick back in October, in which Egerton sure seemed to be channeling Sir Elton just as hard as Rhapsody's star Rami Malek did Mercury. Even so, these new promo pics are bound to prompt widespread double-takes; they look for all the world as if '70s Elton John stepped through a wormhole and into the present day to pose for them, and as incredible as Malek's performance was, Egerton just might have the edge (no pun intended) on his fellow actor for one simple reason: his golden pipes.
Since there are literally no working actors who could be expected to replicate Mercury's insane vocal range, the late star's vocals were lip-synched by Malek in Bohemian Rhapsody. But as it turns out, not only can Egerton sing very well, his voice is eerily similar to that of the icon he'll be portraying. In a SiriusXM interview in November, the actor was persuaded to show off his vocal chops, which he did by busting out a rendition of John's hit "Your Song" which roundly blew away everybody in the studio. "Too much sauce, man," Egerton's Robin Hood co-star Jamie Foxx gushed. "The boy got the vernacular and the singing."
Of the three new photos, two of them depict Egerton as John in a very familiar situation: behind the keyboard of a piano, although in very different circumstances. One shows him striking a superstar pose in front of throngs of cheering fans, while the other highlights a more intimate moment in the recording studio. But it's the third image that's spot-on enough to be downright spooky. It's a black-and-white shot of Egerton gazing straight into the camera in full-on Goodbye Yellow Brick Road-era regalia, complete with a white leather jacket adorned at the shoulders with tassles and feathers, a chest-baring, '70s print shirt underneath, and oversized sunglasses. 
Despite the obvious similarities between Rocketman and Bohemian Rhapsody — both of which focus on the lives of intensely respected, flamboyantly gay music superstars who found their greatest fame in the '70s — Egerton has gone out of his way to point out how his film differs from 2018's biographical juggernaut. Speaking with Collider, the actor said, "Everyone thinks it's a biopic. It isn't. It's a fantasy musical, so it's actually his songs used to express important beats in his life at emotional moments. He's not the only character that sings. It's going to be fun." He also confirmed that when Sir Elton sings in the film, it'll be all him: "I'm going to do it all. I'm going to do it on set as well," he said. "We're going to use a variety of techniques but I will always be singing on set. No miming. I'm just not interested in doing it that way."
Egerton seems to be on a mission to prove his versatility. Not only has he made a huge splash as an action star in the Kingsman films, he's proven to be a gifted voice actor, with a featured role in the Netflix animated miniseries Watership Down; he'll also be lending his voice to the streamer's upcoming Dark Crystal: Age of Resistance, a prequel series to Jim Henson's 1982 cult classic feature The Dark Crystal. 
With Rocketman, the young Brit is poised to ascend to Hollywood's A-list. We'll see just how hard he crushes his role when the film hits theaters on May 31, 2019; in the meantime, check out the new images below.