Batwoman Gets Pilot Order At The CW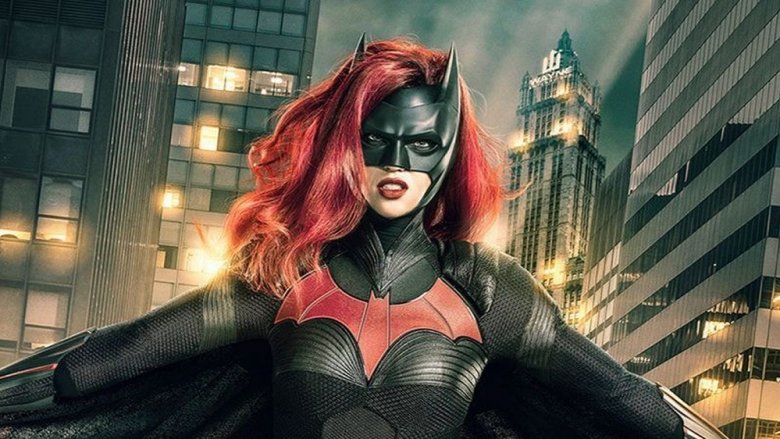 Batwoman is returning to the Arrowverse.
The CW has ordered a pilot based on the character (portrayed by Ruby Rose), who made her debut during last month's Elseworlds crossover event. David Nutter, who also helmed the pilot episodes of Arrow and The Flash, has been tapped to direct, according to Deadline.
The project has been rumored ever since Rose's casting, and her well-received appearance during Elseworlds cranked the rumor mill into a higher gear. As such, the official announcement doesn't exactly come as a shock, but the involvement of Nutter — whose mile-long list of TV credits also includes episodes of Game of Thrones, Shameless, and The Sopranos — bodes well for the show's chances of being ordered to series. The pilot was scripted by Caroline Dries, who contributed the Arrow segment of Elseworlds and has also worked on series such as The Vampire Diaries and Smallville.
The project will mark a significant first in the history of live-action superhero fare: Batwoman is the alter-ego of Kate Kane, a former West Point military cadet who was kicked out of the Academy for being openly gay. She is perhaps the most prominent LGBT hero in all of comics, and the CW made a savvy choice with the casting of Rose — who not only looks the part, but is also an out-and-proud gay woman.
When her Elseworlds casting was announced back in August, Rose responded with an emotional Instagram post in which she called the role the fulfillment of a childhood dream. 
Some fans, however, were quick to point out that the character of Kane is canonically Jewish (which Rose is not), even going so far as to briefly circulate the hashtag #KeepKateJewish. A fair point; however, we would also counter that Kane also canonically kicks major amounts of butt, a box which Rose decidedly checked off in her appearance on Elseworlds.
Speaking with Jimmy Fallon on his late night talk show back in August, Rose could barely contain her excitement — or, for that matter, her tears of joy — over her casting. "I feel like the reason I get feeling so emotional is because, you know, growing up watching TV, I never saw somebody on TV that I could identify with, let alone a superhero... I've always had this saying — well, not me, Oscar Wilde... 'Be yourself, because everybody else is taken.' And so I always lived by that motto, and a second motto when I came into the industry was, 'Be the person that you needed when you were younger.'" She went on to say, "Not only can kids watch this growing up, and relate to it, and feel empowered and think that they can be a superhero, but also I can go and do these things — like visiting hospitals, and kids and people in need [in costume], and it's... an amazing opportunity."
Rose certainly seems ready to throw herself into her new role, one which will help fill an ever-increasing need for diversity in the dominant superhero genre. Smash hit films like 2017's Wonder Woman and 2018's Black Panther proved beyond a shadow of a doubt that superpowered tales which do not happen to be focused on white dudes can resonate strongly with audiences of all stripes, and putting a gay hero front and center is a move which is long overdue. 
If last summer's rumors around Batwoman continue to pan out — and so far, so good — the project should be going before the cameras this spring, for a possible fall debut. In the meantime, you can check out Rose's Kate Kane fighting alongside the other heroic denizens of the Arrowverse in Elseworlds; the CW will be airing an encore of the event beginning on Monday, January 7.