HBO Now: Everything That's Coming In January 2019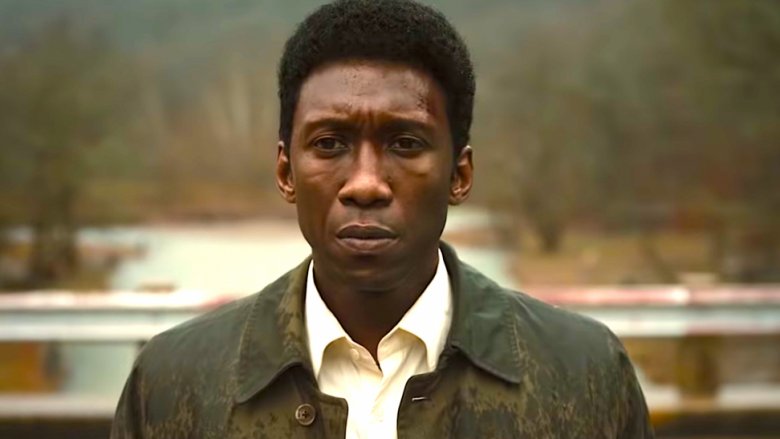 If the first day of 2019 was a total write-off for you as you sat in your pajamas all day eating cold pizza, let the second day mark a fresh start as you resolve to get into new television series and movies on HBO Now. The streamer has just announced its full slate of content coming this month, and it's rife with exciting picks. 
Perhaps the biggest addition to HBO Now in January 2019 is the third season of the acclaimed anthology crime series True Detective, which places Moonlight actor Mahershala Ali in the lead role as Northwest Arkansas state police detective Wayne Hays, and follows him as he and his partner, Arkansas State Investigator Roland West, played by Stephen Dorff, investigate case involving two missing children. The new episodes will play out in the Ozark Mountains over three decades — so buckle up for an intense, sprawling ride come January 13. 
Other television offerings include the season 3 premiere of Crashing, the comedy series created by and starring comedian Pete Holmes as himself, and the season 3 debut of High Maintenance, the unique comedy-drama from former-husband-and-wife duo Ben Sinclair and Katja Blichfeld. 
HBO Now is also bringing three works of original programming to the platform this month: Brexit, the provocative, Benedict Cumberbatch-led drama that explores the various intricacies of the Leave and Remain campaigns associated with the 2016 referendum that resulted in a majority vote for the United Kingdom to withdraw from the European Union; comedian and Insecure actress Amanda Seales' first HBO comedy special, I Be Knowin'; and Breslin and Hamill: Deadline Artists, the documentary that centers on newspaper columnists Jimmy Breslin and Pete Hamill. 
As for films, you know HBO Now has the hook up. Subscribers can stream (relatively) recent theatrical releases like the all-female heist flick Ocean's 8, the underappreciated Diablo Cody-directed comedy-drama Tully, the silly comedy sequel Super Troopers 2, the Gerard Butler-starring disaster film Geostorm (that ended up a disaster at the box office, unfortunately), and the comedy Tag, which somehow managed to get Jeremy Renner, Ed Helms, Jon Hamm, Hannibal Buress, Annabelle Wallis, Isla Fisher, and Rashida Jones in the same place at the same time. 
If older movies are what you're looking for in January 2019, tuck into The Beach, The Girl Next Door, My Big Fat Greek Wedding, Never Been Kissed, Traffic, The American President, or Spies Like Us. Looking for something scarier? Try Psycho on for size, then follow it up with the second and third films in the horror movie series. Have little ones around and want a film that's fun for all ages? HBO Now has Shark Tale, Ramona and Beezus, and Percy Jackson & the Olympians: The Lightning Thief available to watch this month. All alone on a Friday night and dying for some escapist material to watch? Sex and the City 2 or Jupiter Ascending might be right up your alley. And if you're a comic book fan (which we suspect you may be), you can catch Logan and The Losers on HBO Now this month as well. 
Find the complete list of movies and series headed to HBO Now in January 2019 below.
Season premieres

True Detective, Season 3 Premiere (January 13)
Real Time with Bill Maher, Season 17 Premiere (January 19)
Crashing, Season 3 Premiere (January 20)
High Maintenance, Season 3 Premiere (January 20)
Original Programming
Brexit (January 19)
Amanda Seales: I Be Knowin' (January 26)
Breslin and Hamill: Deadline Artists (January 28)
Theatrical premieres
Super Troopers 2, 2018 (1/5)
Down a Dark Hall, 2018 (1/6)
Ocean's 8, 2018 (1/12)
Tully, 2018 (1/19)
Geostorm, 2017 (1/20)
Tag, 2018 (1/26)
Foreign-language premieres (Estrenos)
Lesson #7 by Alberto Ferreras, 2018 (January 1)
Sra. Genovese (AKA Mrs. Genovese), 2018 (January 1)
El Rio (AKA The River), 2018 (January 4)
Biutiful (AKA Beautiful), 2010 (January 11)
Veneno: Primera Caída, el Relámpago de Jack (AKA Jack Veneno), 2018 (January 18)
Sin Rodeos (AKA Empowered), 2018 (January 25)
Available January 1
The American President, 1995
The Beach, 2000
Big Fish, 2003
Clash of the Titans, 2010
Cop Out, 2010
Couples Retreat, 2009
The Diary of Anne Frank, 1959
The First Grader, 2011
The Girl Next Door (Unrated Version), 2004
Half Baked, 1998
Hop, 2007
In the Valley of Elah, 2007
Jupiter Ascending, 2015
Logan, 2017
Love Potion №9, 1992
The Losers, 2010
My Big Fat Greek Wedding, 2002
Never Been Kissed, 1999
Percy Jackson & the Olympians: The Lightning Thief, 2010
Pirate Radio, 2009
Psycho, 1998
Psycho II, 1983
Psycho III, 1986
Ramona and Beezus, 2010
Season of the Witch, 2011
Sex and the City 2, 2010
Shark Tale, 2004
Spies Like Us, 1985
Striptease (Unrated Version), 1996
The Outsiders, 1983
The Perfect Score, 2004
Traffic, 2000
X2, 2003
Z for Zachariah, 2015