Why Mera From Aquaman Looks So Familiar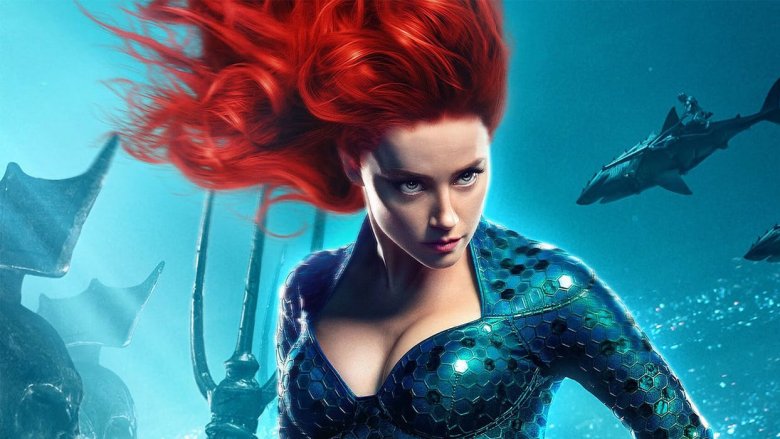 Aquaman is rolling out to theaters around the world, introducing audiences to a host of new characters beyond the always-charming Jason Momoa in the title role. One character who we've long known was going to be important is Mera, played by Amber Heard. Heard originated the role as a cameo in 2017's Justice League, but now we're seeing more of the woman who (in the comics, at least) would go on to marry Aquaman.
Beyond her Justice League appearance, you might not recognize Amber Heard in the role of Mera. That bright red hair isn't her usual look, for one thing. Most of the time she's blonde, and looks much less like a warrior mermaid. Even if you don't know Heard on sight, however, there's a good chance you've seen her in other roles. She was born in Texas in 1986, and has been making a name for herself in Hollywood since her late teens. Let's take a look at the major stepping stones in Amber Heard's career.
North Country (2005)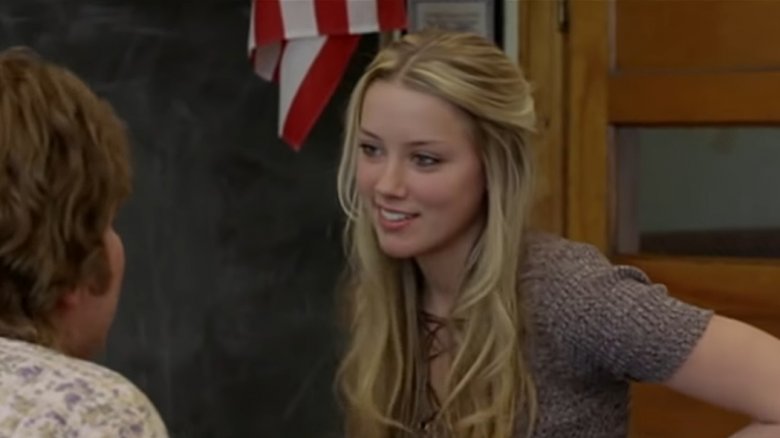 Amber Heard was still in her teens when North Country came out, and she wasn't featured in any of the ads or trailers. The focus of the film was Charlize Theron, who plays Josey Aimes, a female iron miner who takes a stand against sexual harassment. However, a key part of the film involves a revelation about Aimes' past, when she was sexually assaulted by her high school teacher. A young Amber Heard plays the teenage Josey in these flashback scenes.
Heard makes an impression here, despite her lack of screentime. She looks enough like Charlize Theron to believably play a younger version of the same character, but she's also already a strong actress in her own right, and has to carry a big chunk of the movie's drama on her own back. This wasn't necessarily the sort of role that gets noticed by regular audiences, but it's very much the sort of role that people notice when they're thinking about casting future projects.
Hidden Palms (2007)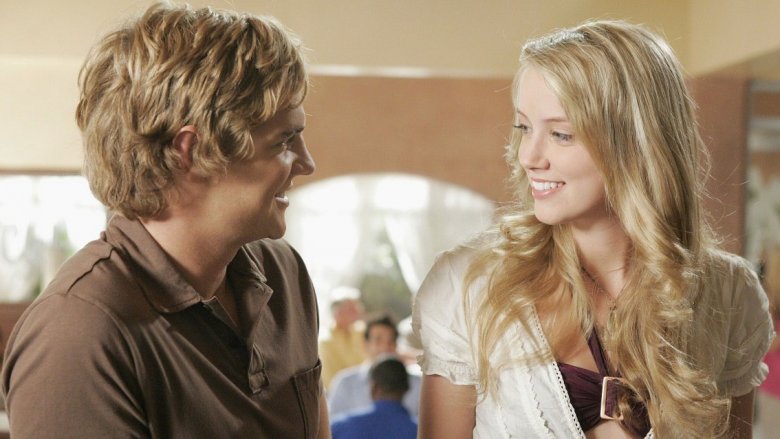 Amber Heard was the female lead in Hidden Palms, a 2007 CW series from Kevin Williamson, creator of Dawson's Creek. The show was a teen drama about dark secrets lurking underneath the sun-drenched surface of an affluent Palm Springs neighborhood. Heard played Greta, the mysterious girl next door who's immediately fascinating to the series lead, but who's also at the center of several local mysteries. It was a pretty by-the-book role for a young actress, but Heard stood out from the pack, as did costar Tessa Thompson.
The series itself, however, was a complete bust. It got a summer order of eight initial episodes, and was canceled due to low ratings by the time all eight had aired. It's largely forgotten today, but it did raise Amber Heard's profile enough to help her launch her film career, which no doubt benefited from this show ending too soon for her to be tied to it. She'd be a big star before much longer.
Never Back Down (2008)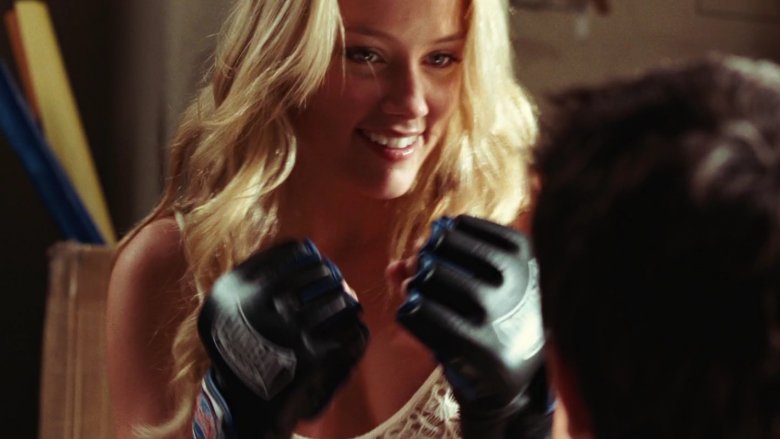 Never Back Down was a teen movie about mixed martial arts fighting, which probably seemed like a really good idea in 2008. It's an extremely by-the-book plot, in which a teenage boy at a new school must learn to be the best MMA fighter in order to defeat a bully and prove himself to all the other kids. It got bad reviews and hasn't left much of an impression in the decade since its release.
However, Amber Heard had plenty to do as the female lead of the movie. She starts out as the girlfriend of the MMA-fighting bully, who tricks the protagonist into a fight he's not ready for. Over the course of the movie, however, she sees the error of her ways and apologizes, ultimately becoming the main character's love interest. Even in an unmemorable movie, it was a showy role for a young actress like Heard, and it helped launch her into bigger and better parts.
Pineapple Express (2008)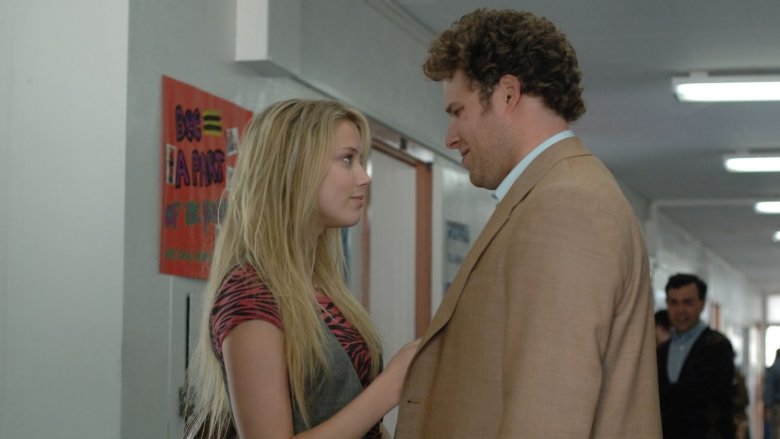 Pineapple Express, coming right on the heels of Never Back Down, was the movie that really made Amber Heard a star. She plays a high school senior in an ill-advised relationship with the movie's stoner process server hero, played by Seth Rogen. It's a unique part, because the fact that Rogen's manchild of an adult is dating a teenager is played for laughs, but Heard's character isn't treated like a joke. She's still a female character in a male-centric stoner buddy comedy, so it's not like she gets all that much to do, but she's at least treated like a real person with her own needs and wants, rather than just candy for Seth Rogen's arm.
Produced by Judd Apatow and directed by indie darling David Gordon Green, Pineapple Express was both a hit and a much-discussed comedy of 2008. Rogen and costar James Franco were already big stars, but it took at least three people's careers to the next level: Green himself, supporting player Danny McBride, and of course rising ingenue Amber Heard.
Zombieland (2009)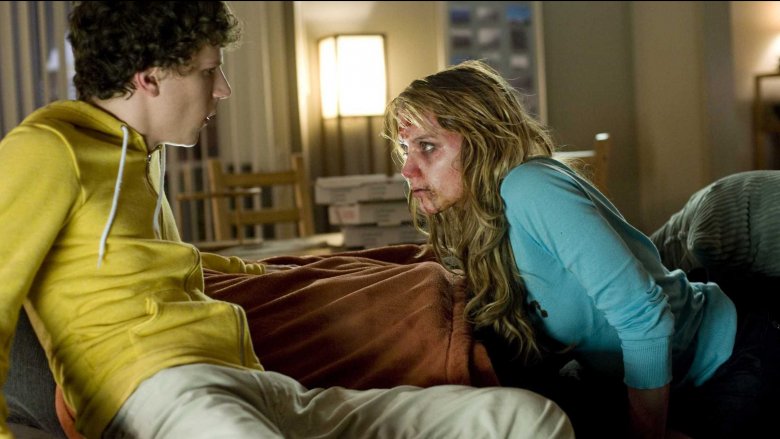 Amber Heard only had one scene in the post-apocalyptic horror comedy Zombieland, but it was one of the most memorable in the movie. The protagonist, played by Jesse Eisenberg, explains how he became aware of the zombie plague when his attractive next door neighbor, played by Heard, sought refuge in his apartment after being attacked by what she thought was a crazed homeless man trying to bite her. Naturally, Eisenberg wakes the next morning to find that Heard has become a zombie, which helps build up a wall of cynicism about forming relationships that he has to learn to break down in the present through his relationship with Emma Stone's character.
Heard is once again cast as the seemingly flawless object of desire, but she continues to be particularly good at it. Her intelligence as an actor always makes her characters seem complex, no matter how little she's given in a script. The whole point of her character in Zombieland is that she's a basic hot girl who turns into a monster, but Amber Heard still takes that and makes it charming.
The Playboy Club (2011)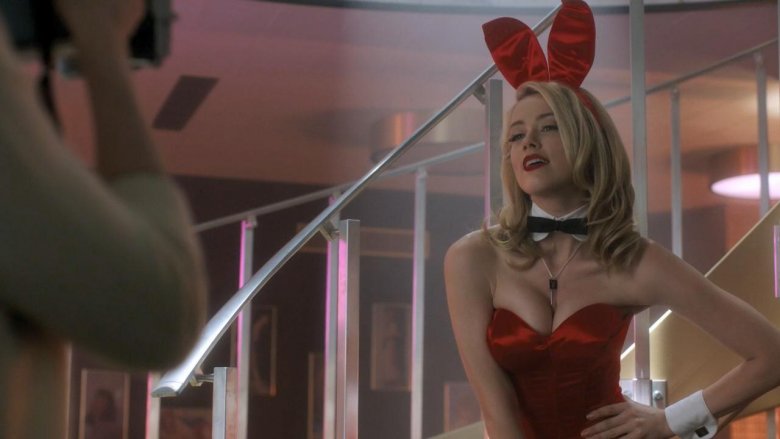 In 2011 Heard returned to TV, but found no more success this time around than she had with Hidden Palms. The Playboy Club was at least splashier to start with, a historical drama for NBC about the women working at the original Playboy Club in 1961 Chicago. It was one of several shows in the years after Mad Men's success to look for success in the same midcentury period as that series, inevitably leading to far less acclaim. Heard played Maureen, a young woman who becomes a Playboy Bunny shortly after arriving in the city on the run from a dark past.
The nature of Maureen's past was never explored, as it turns out, because The Playboy Club was cancelled after only three episodes. NBC's network standards were a hindrance to the kind of adult themes the setting seemed to demand, and ratings were terrible from day one. Once again, Amber Heard failed to find a home on an ongoing TV series, but movies were still waiting.
The Rum Diary (2011)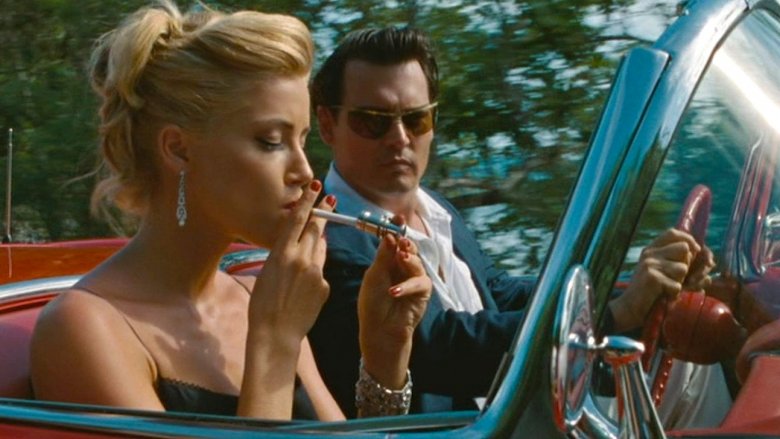 The Rum Diary is another example of Heard taking a pretty typical "hot girl" part and making it her own. This film by Bruce Robinson was based on a Hunter S. Thompson book and stars Johnny Depp as a down-on-his-luck writer who takes a job in San Juan, Puerto Rico during the early 1960s. Amber Heard plays a girl he meets while he's in a boat and she's skinny-dipping, and she goes on to become the center of a love triangle between him and a shady realtor played by Aaron Eckhart.
The Rum Diary got middling reviews, but it's the sort of movie that appeals to people who like Hunter S. Thompson adaptations starring Johnny Depp. It's also how Heard and Depp first met, leading to a relationship that started in 2012, became a marriage in 2015, and ended in 2016 with Heard filing for divorce and accusing Depp of domestic abuse.
All the Boys Love Mandy Lane (2013)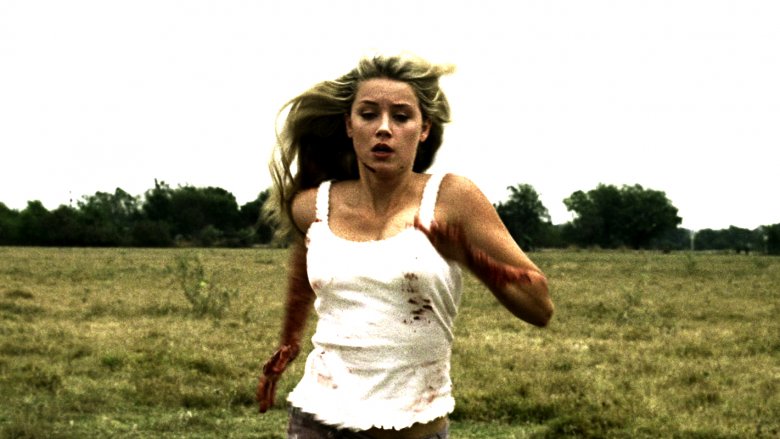 All the Boys Love Mandy Lane is a slasher-style horror movie about an unusual high school girl, and the secrets she does her best to keep as the other teens around her start dying. Amber Heard played the title role, and it might have been her breakout part if the movie had come out as originally planned. It was filmed in 2006, before almost everything on this list, with a 20-year-old Heard perfectly cast as the mysterious Mandy. Unfortunately, the Weinstein Company declined to distribute it, and the company they handed it off to went out of business. The movie went unreleased in the United States for seven years, before finally coming out on video in 2013, after Amber Heard was enough of a star to get people to watch it.
It's a strange time capsule when it comes to Heard's career, but All the Boys Love Mandy Lane is also a pretty fun teen horror comedy, and it raises interesting questions about the Scream Queen Amber Heard might have become if this was the movie people saw her in first.
Machete Kills (2013)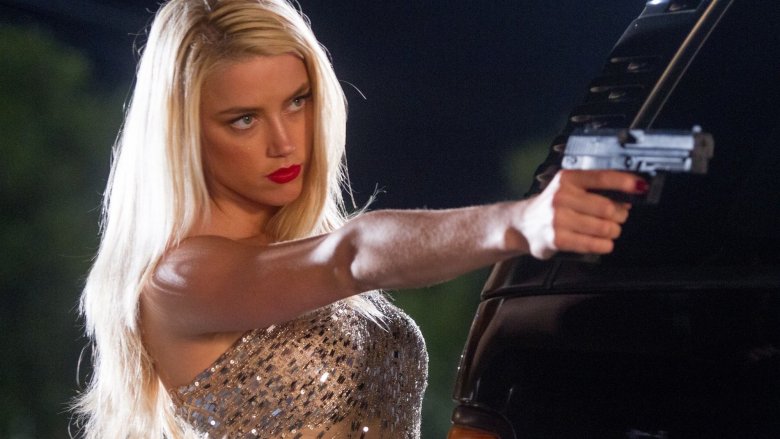 The sequel to 2010's Machete was not a success at the box office or among critics, but it was the kind of sequel that made sense for the over-the-top character played by Danny Trejo and the unique sensibility of director Robert Rodriguez. The supporting cast of Machete Kills features a virtual parade of beautiful women: Sofía Vergara, Lady Gaga,Vanessa Hudgens, Alexa Vega, and so on. Amber Heard is still a standout, however. She plays Blanca Vasquez, a beauty queen who's also a secret agent and Machete's handler on his mission to stop a madman from launching a nuclear missile at Washington, D.C.
Once again, what makes Heard stand out is that she can be the most beautiful woman in the room, but she always seems to have something else going on underneath that surface. Whether she's a high school student with connections to a murderer or a beauty queen who kills people for the government, there are always hidden depths.
3 Days to Kill (2014)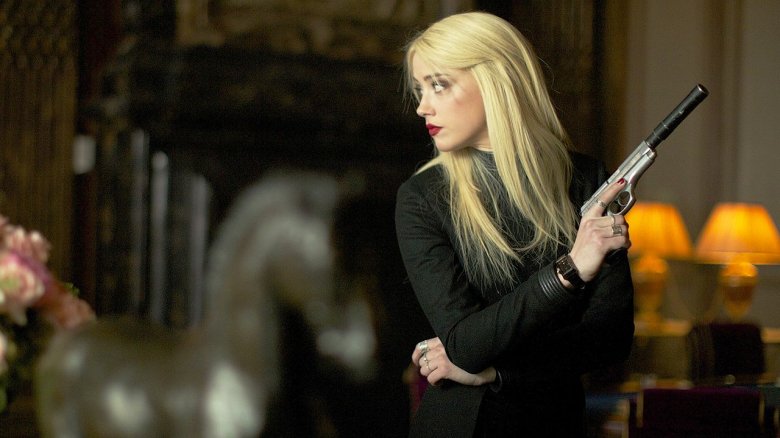 Interestingly, Amber Heard plays a glamorous government assassin again in 3 Days To Live, but in a somewhat less outrageous (if not actually more realistic) context. The film stars Kevin Costner as a veteran CIA agent with an estranged family and terminal cancer. Heard's younger and more ruthless agent is tasked with manipulating him into hunting down one last target by offering him an experimental cure for his illness. Ultimately, she turns out to be a more sympathetic character than she originally seems, helping Costner's character in the end, even when he declines to assassinate the target himself.
3 Days To Live is one of those "Aging Baby Boomer" action movies, where an older man proves that he still has what it takes to get the job done. Thankfully, unlike some movies of this type, the protagonist's focus remains on his family, meaning that Amber Heard (in her late 20s at the time) is never asked to be a love interest for the 60ish Kevin Costner.
Magic Mike XXL (2015)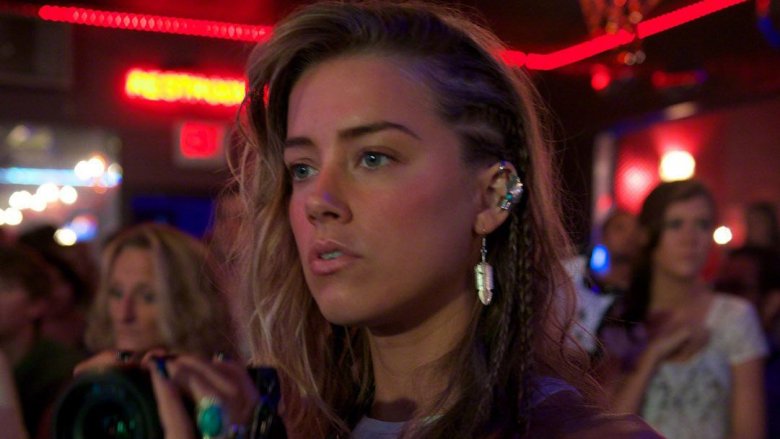 Magic Mike XXL was a phenomenon, far more so than the original Magic Mike. The first movie was a drama about male strippers, whereas the sequel was a feel-good celebration of male strippers, which unsurprisingly made it a huge hit among women, as well as gay men and pretty much anyone who's comfortable watching muscular men dance with their shirts off. Amber Heard was one of many fresh cast members to join for the sequel, playing a new love interest for Magic Mike (Channing Tatum). At first her photographer character seems likely to be a one-night stand, but after she and Mike mutually decide not to have sex, she shows back up later in the movie and they build more of a relationship.
One thing that's clear in looking back at Amber Heard's career so far is that she's obviously been chosen for many roles because of how beautiful she is. However, as we've seen again and again, what makes her interesting in those roles is the intelligence she always displays, adding depth even to characters who weren't necessarily created to have any.