Hellboy: New Poster Is Burning Hot, Trailer On The Way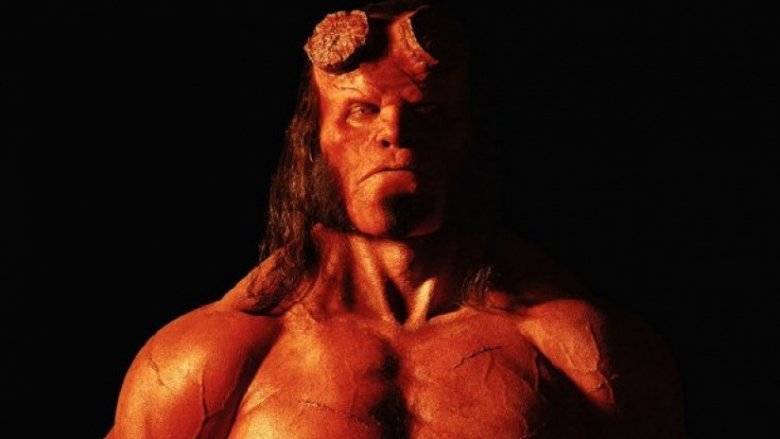 The new poster for the Hellboy reboot promises a scorching good time — and it's only a matter of days before we see the Right Hand of Doom in action.
Lionsgate has released the first official poster for the forthcoming flick, and it's appropriately flame-y. Featuring the caption "Demons have demons too," it also gives us another good look at star David Harbour as the titular hero, sporting an impressive set of horns. According to the studio, the first trailer for the flick will drop on December 20, as reported by Collider.
The long-awaited flick came about after Lionsgate decided to give the property the full-on reboot treatment, in lieu of a third installment for writer/director Guillermo del Toro's original series. Hellboy, released in 2004, and Hellboy II: The Golden Army, released in 2008, brought the Dark Horse comics character to a wide audience and featured Ron Perlman in the role he was seemingly born to play. They performed reasonably well at the box office, but years of lobbying from Perlman and Del Toro failed to generate any traction with studios for a three-quel. Although fans were understandably wary of the announced reboot, the casting of Harbour (Stranger Things) helped to allay their concerns. The new film's creative team is likewise about as spot-on as Hellboy heads could have asked for, with the character's creator Mike Mignola co-writing the screenplay and Neil Marshall (The Descent, Dog Soldiers) directing.
Half-demon, half-man, Hellboy was summoned to Earth as a child during World War II by the Nazis. Taken into custody by Allied forces upon the Third Reich's defeat, he was raised as a normal child by Professor Trevor Bruttenholm of the U.S. Bureau for Paranormal Research and Defense. He serves as a first line of defense against supernatural incursions upon the Earth, possessed of superhuman strength, durability, and a powerful, ancient relic for a right hand.
While del Toro's PG-13-rated films greatly toned down the violence and mayhem of Hellboy's comic book series, Marshall has said that his version will be a much darker and bloodier take. "It was al­ways a case of, 'When in doubt, go back to the source ma­te­r­ial.' Some of the stuff is pretty sick," the director said in a conversation with Em­pire. "[The new film will be] more vi­o­lent and more bloody. We weren't mak­ing it with hand­cuffs on."
Mignola has also gone to bat for the reboot, saying that it breaks from the "superhero movie" mold even more significantly than del Toro's series. "Basically, there's no part of Hellboy that was ever going to be like other superhero movies," Mignola told io9. "And the more Marvel stuff there is, the more DC stuff there is, Hellboy never really feels like — even in the [Guillermo] del Toro things — a superhero movie. It's so much 'big teams of guys, in costumes, running around and saving the world from big cosmic menace stuff...' I believe the new movie will feel even less like a regular superhero thing. The idea with this one was to... downplay the superhero elements even more than del Toro did. This one is much more folklore/mythology/horror."
In addition to Harbour, the flick boasts an impressive cast including veteran actor Thomas Haden Church, Ian McShane (Deadwood's Al Swearengen), and Milla Jovovich (of the Resident Evil franchise). It's just might turn out to be the rare reboot that improves upon the original take on the material, and we'll have an even better idea of what Marshall and company have in store for us when that trailer arrives on Thursday. Until then, feast your eyes on the excellent new poster below.
Hellboy hits theaters on April 12, 2019.