Daredevil Actress Says Netflix Is To Blame For Series' Cancellation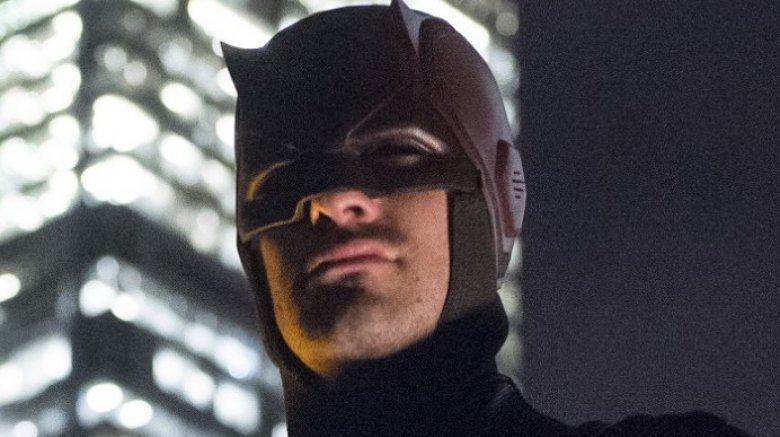 Put down the pitchforks and drop the rotten vegetables, disgruntled Daredevil fans. Marvel isn't the company you want to hurl harsh words and moldy produce at. 
Daredevil actress Amy Rutberg — who portrayed Marci Stahl, a lawyer and the college girlfriend of Elden Henson's Foggy Nelson on the series — recently opened up to Inverse about the superhero show getting the ax shortly after debuting its third season on Netflix. While some threw their fists in the air and pressed Marvel for answers as to why a series as well-liked as Daredevil would ever be cancelled out of the blue, it may not have been the studio's decision. 
According to Stahl, Netflix is to blame for Daredevil's cancellation, not Marvel, as Marvel bigwigs were just as shocked as fans were to hear the news. 
"My contacts at Marvel were very surprised. Any of the rumors that it was a Marvel decision are wrong, I think it was purely a Netflix decision. That comes from personal conversations with people high up at Marvel. They were surprised," Rutberg stated. "We had heard rumors we would start production [on season 4] as early as February 2019. It's a little unusual to be that far ahead in the planning and cancel the show, which makes me think Netflix was laboring over whether or not to cancel it. My guess was it was not an easy decision."
The actress added that Marvel Television, the creatives behind Daredevil, and the entire cast had assumed the Charlie Cox-led show would continue on for "at least five seasons," and would open the door for another main villain. The fifth and would-be-final season may have brought the story full circle, again centering on the nefarious Wilson Fisk/Kingpin (Vincent D'Onofrio). 
"It would have been really interesting to see which villains they would have come up with in season 4," said Rutberg. "I don't think it would have been something big with Wilson Fisk. That was played out. Maybe in season 5. Everyone sort of thought the show would run a solid five seasons in total."
Rutberg's interview with Inverse happened around the same time Variety published a report covering the details of Marvel Television's contract with Netflix for the original four superhero series (Daredevil, Luke Cage, Iron Fist, and Jessica Jones). According to the outlet, the three cancelled series (all but Jessica Jones) wouldn't be moving to Disney+, the upcoming streaming platform developed by Marvel's parent company The Walt Disney Company, "any time soon." This is reportedly due to a clause within the companies' deal that bars Marvel from including the characters, apparently even in a minor capacity, "any non-Netflix series or film for at least two years after cancellation."
Though Rutberg isn't sure on the specifics of the agreement and couldn't say for certain whether Marvel even wants to use Cox's Matt Murdock, Mike Colter's Luke Cage, or Finn Jones' Danny Rand in any Disney+ content, she confirmed to Inverse that the deal is real and genuinely does restrict the superheroes from appearing in any non-Netflix films or series for at least a year and a half.
"There is this very real contract with Netflix. I had heard 18 months, maybe it's two years," she said. "I suppose it's possible that Marvel could buy them out, but I have not heard so much as a whisper."
Neither Netflix nor Marvel have offered an explanation for Daredevil's cancellation, but the most popular theory is that it was axed because Disney is distancing itself from other content providers and taking back (or attempting to, at least) the series and movies it owns rights to in order to house them on Disney+. That may very well be the case — but if Rutberg's comments here are legitimate, if the decision to cancel Daredevil was entirely Netflix's, bringing the show to Disney+ as quickly as possible may not be high up on Disney's to-do list. 
Though Daredevil is dead, it will still be available to stream on Netflix in the future. And Rutberg believes there's a chance it could come back to life, so long as fans continue to use social media to prove to just how much the show means to them. 
"Fans should know there really is power in social media," she said. "That's how companies like Netflix track the success of these shows: How much people are talking about them on social media. Your tweets and hashtags have power. People are listening."