Jordan Peele's Us: New Poster, Trailer Release Date Revealed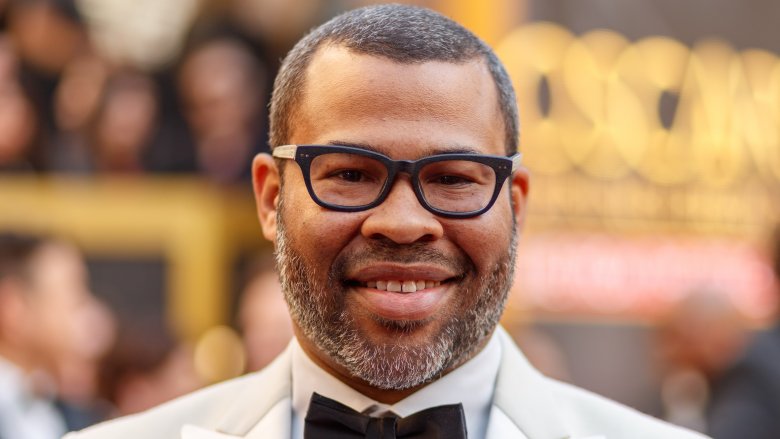 Getty Images
Jordan Peele's "new nightmare" is starting to come into focus.
The Academy Award-winning writer and director of 2017's smash hit Get Out took to Twitter this morning to preview the poster for Us, his new horror feature set to debut early next year. Accompanying the image was a blunt two-word caption: "Watch yourself." In concert with the reveal, Peele announced that the first trailer for the film will appear on Christmas Day, according to The Hollywood Reporter.
Formerly half of the comedy duo Key and Peele, the filmmaker announced himself as a major talent (and unexpected horror auteur) with Get Out, which tapped into the long and sordid history of racial inequality in America to deliver an intense psychological fright-fest unlike any other. The film garnered four Oscar nominations, with Peele collecting a well-deserved statue for his original screenplay.
Us, which will be his follow-up feature, has been breathlessly anticipated, but details regarding its plot have been nonexistent until just recently. A few days ago, Slashfilm reported on the flick's (rather vague) official synopsis: "A mother (Academy Award winner Lupita Nyong'o from Black Panther, Star Wars: The Last Jedi and 12 Years a Slave) and a father (Winston Duke from Black Panther) take their kids to their beach house expecting to unplug and unwind with friends (including Emmy winner Elisabeth Moss from TV series The Handmaid's Tale). But as night descends, their serenity turns to tension and chaos when some shocking visitors arrive uninvited."
You will notice that this synopsis points out the inclusion of some ridiculously talented actors among the film's cast. Joining Nyong'O, Duke, and Moss are Shahadi Wright Joseph (who will appear in a voice role in the upcoming The Lion King remake), Yahya Abdul-Mateen (Aquaman), Evan Alex (Kidding), and newcomer Madison Curry.
If Peele is feeling any kind of pressure to follow Get Out with another box office-breaking smash, he's not letting it show. Speaking as part of an interview series at Loyola Marymount University's School of Film and TV earlier this year, the director said, "I think it's important to focus on stories that are true to me... when writing Get Out, my sort of mantra is or was, let's write my favorite film I haven't seen yet. So I think it's easy to get sort of bogged down in how does this compare to the first one, how does that compare. When all is said and done, my next film, I am currently writing it and I'll direct for Universal this year, I'm just trying to entertain myself again."
This, obviously, is a strategy that worked out pretty well for Peele the first time around. Get Out became a cultural phenomenon, raking in over $255 million dollars at the international box office and touching off a nationwide discussion around its themes. In the wake of its success, Peele announced that he had ideas for four more such "social thrillers" locked and loaded, of which Us will be the first.
As if fans needed any more reason to be psyched, Peele's cast has gushed to the press over the production. Speaking with GQ, Duke had this to say: "Jordan is a beautiful mind, and an incredible talent, and an incredible director... I think it'll be a wonderful conversation piece for 2019. It's definitely a Jordan Peele–brand movie. It's a thoughtful, psychological, impactful experience. Peeleian—that's gonna become a word in the film lexicon very soon. You're gonna say, 'Aw, man, this feels very Jordan Peeleian.'" Moss, meanwhile, was a bit more succinct in her assessment during a conversation with IndieWire: "It's just gonna be really good, and that's it."
Well, Elisabeth, that's all we need. Us is slated for wide release on March 15, 2019; in the meantime, get yourself primed for that Yuletide trailer, and check out the sinister new poster below.
Watch yourself. pic.twitter.com/6Wg859TK0r

— Jordan Peele (@JordanPeele) December 13, 2018