Steven Yeun Cast In Episode Of The Twilight Zone Revival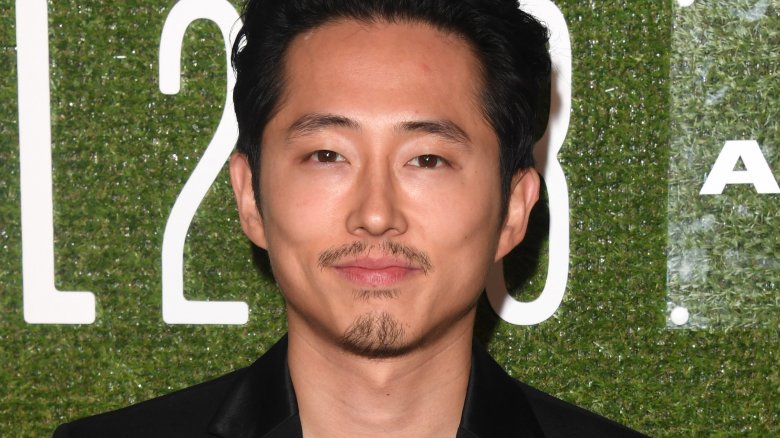 Getty Images
Steven Yeun has unlocked the door with the key of imagination, moving into the land of both shadow and substance, of things and ideas. He's just crossed over into The Twilight Zone!
CBS All Access has announced (via Collider) that Yeun has joined the cast of its Twilight Zone revival series, hosted, narrated, and executive-produced by Get Out director Jordan Peele. 
Best known for his role as Glenn Rhee on AMC's The Walking Dead, Yeun is set to top-line one episode of the upcoming show. Word on the street is that he's on board to portray the title character on the installment titled "The Traveler." Slated as the fourth episode in the freshman season, "The Traveler" centers on two police officers and a "mysterious traveler" whose name we don't yet know (and viewers might never discover). Additional plot details weren't immediately available, and we suspect they'll remain under wraps at CBS All Access. 
Yeun is the latest star to hop aboard the Twilight Zone train, following after John Cho (The Exorcist), Jacob Tremblay (Room), Allison Tolman (Fargo), Adam Scott (Parks and Recreation), Sanaa Lathan (The Affair), and Kumail Nanjiani (Silicon Valley, The Big Sick) joined the series. Like Yeun, all others confirmed for the show will appear in just a single episode: Cho, Tremblay (and his sister, Erica), and Tolman will lead "The Wunderkind"; Scott is slated to spearhead "Nightmare at 30,000 Feet," a remake of a classic Twilight Zone episode; Lathan will head up "Rewind"; and Nanjiani will star in an unspecified episode.
The Twilight Zone is yet another exciting project for Yeun — and, even better, one that sees him get back in front of the camera for a television series. While the actor recently dazzled in the Boots Riley-directed film Sorry to Bother You and left viewers spellbound with his turn in the South Korean mystery-drama Burning, he has largely stuck with one-off television roles (like on Law & Order: LA, Filthy Preppy Teen$, and Drunk History) and long-standing voice-acting work on animated series (voicing Keith on Voltron: Legendary Defender, Steve Palchuk on Trollhunters, and Nathan Park/Wingspan on Stretch Armstrong and the Flex Fighters) since he's been wrapped up (and getting killed-but-not-really) on The Walking Dead. Yeun's last on-screen television performance came in 2017, when he appeared as Eric on an episode of Bajillion Dollar Propertie$. 
Fans of Yeun's have likely missed seeing his face on their small screens, and we can't think of a better way for him to return to form than with The Twilight Zone.  
CBS All Access hasn't announced an exact release date for The Twilight Zone revival, but the show is expected to premiere sometime in 2019. With a talented, charismatic host and a cast that's growing more impressive before our very eyes, the series is one that will definitely blow everyone away next year.