Is Silicon Valley Without T.J. Miller Still Worth Watching?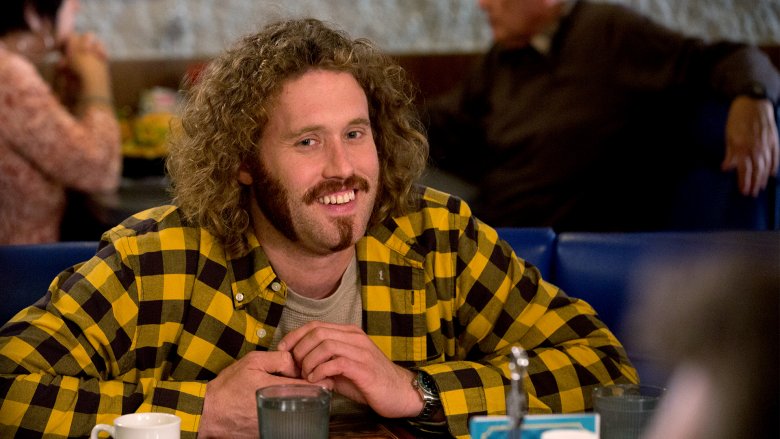 Mike Judge has successfully created a little niche for himself on HBO with Silicon Valley — a series inspired by his time as an engineer during the mid-'80s. For the past four years, the story of Richard Hendricks (Thomas Middleditch), Donald "Jared" Dunn (Zach Woods), Dinesh Chugtai (Kumail Nanjiani), Bertram Gilfoyle (Martin Starr) and the ongoing tribulations of their start-up Pied Piper has featured an intriguing mix of industry jokes and bro humor, with a hint of a heartfelt struggle for success thrown in for good measure. And through it all, T.J. Miller's outlandish performance as Erlich Bachman — tech incubator owner, and past-his-prime software engineer — has anchored the series with his inappropriate humor and chauvinist ways.
As much as Erlich was a part of the show's fabric, news hit in 2017 that Miller would be leaving the series. Scheduling conflicts (he's had starring roles in Deadpool, The Emoji Movie, Ready Player One, to name a few), erratic behavior, and sexual harassment allegations helped make Miller more of a commodity than a necessity for the show. According to Spin, "Judge floated the idea of writing Miller's character out of the show with a three-episode arc" in season 5. Instead, Miller opted to pull the plug on Erlich swiftly, leaving the man smoking pipes with Buddhist monks somewhere in Tibet. Now that he's out of the picture, we have to wonder: Is Silicon Valley worth watching without T.J. Miller? Let's take a closer look.
The egotistical wisdom of Erlich Bachman
For a show about a company out to design a "new internet," it's safe to say that without T.J. Miller's brash performance as Erlich Bachman, Silicon Valley wouldn't have won big online. All one has to do is look to Google to find a plethora of Bachman's best moments — and he has a lot of them. From his mind-altering use of mushrooms to come up with the right name for Richard's company to his season 2 negotiation strategy where he implements "hostility and rudeness" to get what he wants, it's clear Bachman's voice was sometimes helpful, mostly destructive, and always a disruptor. 
And while Erlich coasted on the success of Pied Piper, doing his best to re-spark inspiration in his own life, there were moments throughout the series where his brilliance came to the fore. One of the best examples of this can be found in the season 1 episode "Optimal Tip-to-Tip Efficiency." Here, Erlich and the crew turn a scatological joke into a complicated algorithm. And at the end of the day, the delirious math session prompts Richard to have a technological breakthrough that pushes Pied Piper to the next level. Whether they like it or not, without Bachman's accidental influence, this wouldn't have happened — possibly leaving Pied Piper in the lower echelons of technological mediocrity. 
Richard's maniacal mentor is gone
As soon as Richard Hendricks brought his Pied Piper team to Erlich's incubator, Bachman's thirst for power began to grow. From early on in the series, Erlich saw potential in Richard's product — through the investments Hendricks accumulated. And while Erlich was always in it for egotistical reasons, his cash grab mentality slowly evolved into a reluctant mentor/student relationship with Richard. Hendricks' insecure genius mixed with Bachman's self-assured bravado in such a brilliant manner, it was hard not to dig into their partnership and root for their success while laughing at their failure.
Early on in the series, Hendricks found a need to use Adderall to increase his programming productivity. But when he ended up being duped by the neighborhood's young drug dealers, Bachman swooped in to gain some slap-happy vengeance on the group of kids. It's all a bit silly, really, but the confrontation is one of the first real moments in the series when audiences saw Bachman's allegiance to his crew.
Loyalty vs. ego would be a constant battle for the character during his four-season arc. And now that he's gone, one has to wonder if another extrovert will fill the void Bachman left. We've already seen Richard try to work with Hooli CEO Gavin Belson (Matt Ross) — and that didn't pan out at all. Maybe noted billionaire Russ Hanneman (Chris Diamantopoulos) is free.
Silicon Valley needs a new spirit animal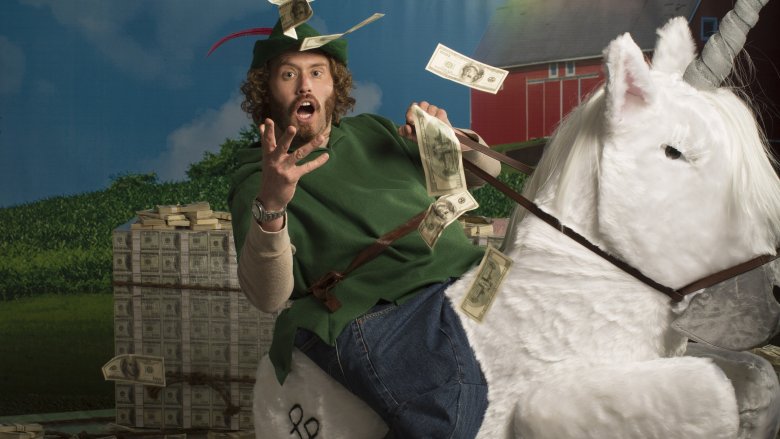 Erlich Bachman is the owner of a tech incubator named Hacker Hostel — which, according to Wired, is based on a real place. And while his character constantly strived for Bill Gates-style brilliance, Bachman fell more in line with real-life Silicon Valley personalities like Napster creator Sean Parker. What he lacked in skill, Bachman picked up the slack with insult after glorious insult. But when you really look at the impact his character had on the series, it's clear to see Erlich Bachman, in all his egomaniacal glory, was Silicon Valley's spirit animal.
We live in a "fake it till you make it" world and that's true in Silicon Valley, the real place as well as the HBO series. Of everyone on the show, Erlich Bachman embodied that modus operandi to a tee. He was brash, overly confident, and even more inappropriate. And that's a volatile combination in Silicon Valley's cutthroat environment, where brilliant ideas, forward-thinking innovation, and a fair share of B.S. roam free.
Mike Judge told Deadline the show would "keep the spirit of Erlich in there for a little while." That's all well and good. But without Bachman's overcompensating righteousness, Silicon Valley feels like it's missing ... something. There are plenty of alpha characters available to pick up the slack, but maybe season 5 is the right time to push past the "fake it" era and pave the way for Pied Piper to finally make it for good.
T.J. Miller, disruptor of shows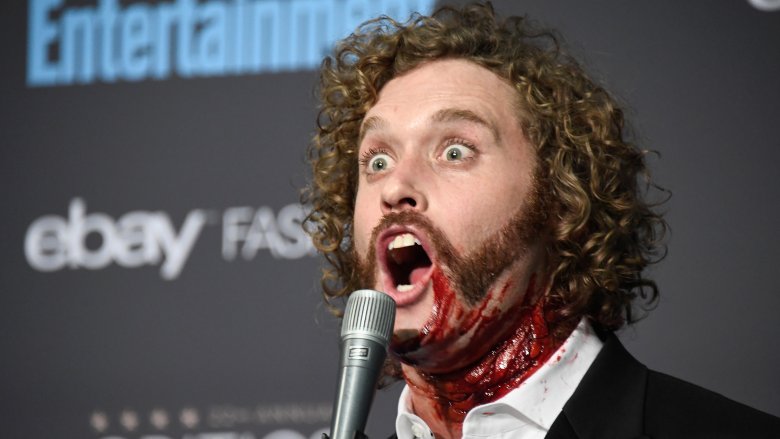 Getty Images
When the news first hit that Miller wouldn't be returning to Silicon Valley for its fifth season, he told THR in 2017, "I'm not an actor; I'm a comedian. And I don't know how the f*** I hoodwinked Hollywood into giving me a career in this." Actor or not, T.J. Miller has found himself in a pretty successful career as of late. But that attitude lends itself to multiple rumors that he created a difficult work environment. 
During a season 5 set visit, THR followed up on Miller's exit. While it seems many involved with the production remained tight-lipped regarding his departure, multiple unnamed sources referenced the comedian's "demons," alluding to Miller's knack for self-medicating with booze and illicit substances. "There had been stretches when," the report continues, "he looked to have things under control, and others when he'd show up seemingly under the influence, if he showed up at all." 
Not only would Miller arrive late and fall asleep on set, he'd allegedly show up to set without reading the episode's script. "There was almost a danger to having him around," one insider told THR. "He was explosive, and there were moments where you'd go, 'Whoa, that's not where I thought that was going at all, but that was f***ing awesome' ... but it was a trade-off." When all is said and done, it sounds like the set environment — as well as the production and ongoing story — is more streamlined without Miller on board. 
A much-needed recalibration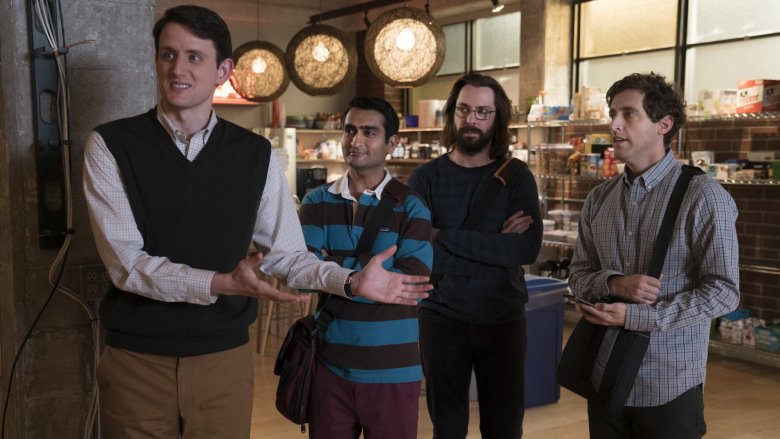 Going into its fifth season, Richard Hendricks' plans to move Pied Piper out of Erlich's house and into a viable office space came to fruition. The company, and his "new internet" concept, had begun to gain ground and it was clear the time to move was nigh. Going hand-in-hand with Erlich Bachman's failed plans to sell his house in season 4, the story nuggets were already in place to set up his exit. After all, without our team regularly working out of Bachman's Hacker Hostel, it didn't make as much sense for Erlich to show up in the series at all. In his absence, Silicon Valley is now in a prime position to recalibrate its business model, so to speak, and focus on the central story and core characters that truly matter.
That's not to say that Bachman's home won't have an integral role in the series moving forward. Judge has referenced keeping Erlich's spirit alive — and it seems he's doing just that through the subtle vengeance of the man's arch-nemesis, Jian Yang (Jimmy O Yang).
The rise of Jian Yang
Erlich Bachman's legacy is definitely living on in season 5 of Silicon Valley. And while Richard, Dinesh, Gilfoyle, and Jared have all moved on, it looks like the one person that's keeping Erlich's dream alive is none other than Jian Yang — the proverbial thorn in Bachman's side. Season 4 put a spotlight on Jian Yang's developer skills when Erlich's eviction was in question. His "Shazam for Food" app ended up identifying two food groups: "hot dog" and "not hot dog." And when Gilfoyle hacked Yang's app through the house's new smart fridge, an accidental breakthrough was made with Pied Piper's "new internet" project, setting up the events that have begun to unfold in 2018's new episodes.
Now here we are in a post-Bachman world. With his eye on the prize, Jian Yang has swooped in to take ownership of the Hacker Hostel. How? It looks like he's pursuing legal actions to prove Erlich's death with the goal of taking over the house once and for all. "I was kind of worried, but it turned out to be a blessing in disguise." Yang told KTLA, referencing his character's growth. Jian Yang was always an ancillary character, solely existing as fodder for Bachman's racist insults. With Erlich out of the picture, it may finally be time for the young Chinese developer to step out of the man's shadow and pursue his own desires. 
Thomas Middleditch's star potential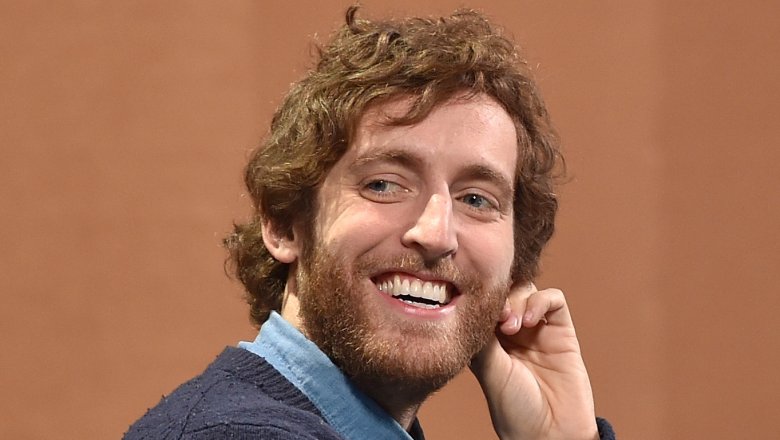 Getty Images
For all intents and purposes, Pied Piper is Richard Hendricks' baby. This fact puts Thomas Middleditch as the top-billed cast member of the show, and rightfully so. Sure, Silicon Valley wouldn't work without the talents of its ensemble cast. But without Middleditch's fumbling performance as reluctant tech genius Richard Hendricks, the formula just wouldn't work.
According to Vanity Fair, T.J. Miller had some choice words for everyone involved with the show, including his co-star: "A lot of people are writing really interesting stuff about like, 'Well, what does happen now?'," Miller admitted. "And I love that. I want to step aside. Thomas Middleditch has always wanted to be a star. He's always wanted to be the star of the show." Middleditch's star has definitely risen since hopping on board the Silicon Valley train. As Ad Age reports, Verizon has tapped into the popularity of the HBO series in their new ad campaign — which shows the actor playing off real Google and Verizon employees — displaying how important he's become in Hollywood's nerd niche. 
An ensemble cast needs a leader, and on paper, it looks like Richard Hendricks is it. However, to really be the captain of this ship, Hendricks needs to grow out of his fear-addled pushover ways. Without Erlich there to pull Richard out of his shell, taking command will be a bit of a challenge. But the whole is greater than the sum of its parts, and without the support of the Pied Piper team, the show would ultimately fall apart.
Teamwork makes the dream work
Without the supporting team of Dinesh, Gilfoyle, Jared, and Monica Hall (Amanda Crew), Pied Piper would've disintegrated long ago. That's the sign of a strong core, and no matter how dysfunctional they appear to be, each character speaks to a character flaw or weakness that Richard Hendricks is constantly striving to debug. In 2017, the internet exploded with speculation over how Silicon Valley would work without T.J. MIller in the mix. But one look at the bigger picture and you're hit with a clear reminder that the HBO series isn't the Erlich Bachman show. 
"Erlich Bachman was perfectly positioned as the tech world's answer to Ari Gold," THR reveals, "and every major member of the current ensemble, save Middleditch, read for the part. While each offered a compelling take on a Valley-area archetype, none imbued a bombastic churlishness as expertly as Miller." That said, each member of the Pied Piper team has had their opportunities to shine throughout the show's run. With Bachman gone, it's possible the odd bromance between Dinesh and Gilfoyle will evolve into a confident partnership. As Jared continues to operate as Richard's confidant, and now that they're out of Bachman's house, there's hope the characters will branch out from their own specific coding and grow. 
A chance to ditch the bro zone
One of the biggest issues with Silicon Valley is its lack of strong females. Of all the characters on the show, Erlich Bachman was easily the most outspoken in his sexism. But with his bravado crashing around him towards the end of season 4, it was hard not to wonder if the show was growing out of this gender inequality trend."We're doing satire," Mike Judge told Bloomberg, regarding Silicon Valley's lack of female characters. "We're taking jabs at them for it. We're not endorsing it, I think."
Commentary or not, it's hard not to focus on Monica Hall as the recurring female character that has appeared in the most episodes throughout the show's run. She may have received a well-earned promotion at the end of season 4, but there's always room for progress. "Well, if you're doing a movie about Nazi Germany, you can't [cast 50 percent people of color]," Judge explained to THR. "And if you're doing a TV show about tech that's satire, you can't do it."
If the ongoing goal of program is to hold a mirror up to the problems continuing to plague the tech world, then the focus may need to be turned to the real Silicon Valley for those changes to be made. Then again, at the end of the day, the HBO series is a work of fiction. Now may be the best time to take creative license and fix this problem. Who knows? The real world could soon follow.