Tom Hanks In Talks To Star As Geppetto In Live-Action Pinocchio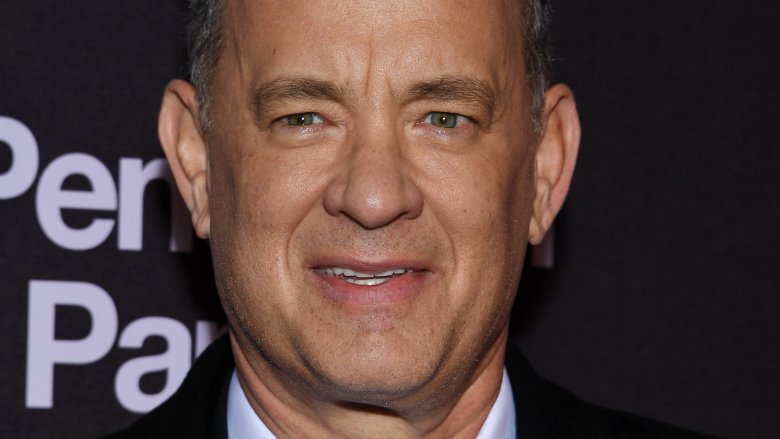 Getty Images
We cannot tell a lie: Tom Hanks is in early talks to star in Disney's live-action Pinocchio, according to a recent report published by Collider.
Nothing has been set in stone just yet, but if negotiations go through, Hanks will appear as the friendly father figure Geppetto in the upcoming remake, co-written directed by Paddington filmmaker Paul King from the most recent script draft he penned with Rogue One scribe Chris Weitz and Paddington 2 writer Simon Farnaby. 
Details regarding the new Pinocchio are pretty thin, but we can safely assume that the film will tell the same tale as the original film — like many of Disney's previously launched live-action adaptations have done in the past. Released in 1940, the animated Pinocchio takes inspiration from Carlo Collodi's Italian children's novel The Adventures of Pinocchio, and centers around the the puppeteer Geppetto and his living creation Pinocchio, who endeavors to prove that he's worthy of being a real-life, honest-to-goodness boy. The trouble is that Pinocchio has a tendency to stretch the truth and act selfishly — something real boys should never do — and so a magical Blue Fairy assigns a the tiny insect Jiminy Cricket to act as Pinocchio's conscience. 
Hanks seems a fantastic fit for the live-action Pinocchio — not to be confused with Guillermo del Toro's very different, very unique stop-motion Pinocchio film that takes place in 1930s Italy at the time Benito Mussolini ruled the country in a dictatorship — despite taking recent years to hone his craft in drama films like The Post, Bridge of Spies, Sully, and The Post. Let's not forget who Hanks has played in the past: Woody, the lovable cowboy from the Toy Story series that made so many people's childhoods special, and Walt Disney himself in Saving Mr. Banks. Disney pulling Hanks from its Pixar division and into its live-action production arm is kind of a no-brainer considering his history with the company and his experience leading family-friendly films. 
Additionally, King would certainly benefit from having Hanks on board his Pinocchio, as the Oscar-winning actor would add serious star power to the film. But even if Hanks doesn't end up joining Pinocchio as Geppetto, King is poised to create something magical with the project. The filmmaker made history (and countless moviegoers fall in love with a cuddly CGI bear) with Paddington 2, which is currently the most critically acclaimed movie of all time. With the right people attached and the perfect script in place, the live-action Pinocchio just might steal that record for itself. 
Before Pinocchio hits the silver screen, fans can hear Hanks as the voice of Woody in Toy Story 4, set for release on June 21, 2019. He'll also appear as Fred Rogers in the true-story movie tentatively titled You Are My Friend on October 18, 2019.