Agents Of S.H.I.E.L.D. Gets Surprise Renewal For Season 7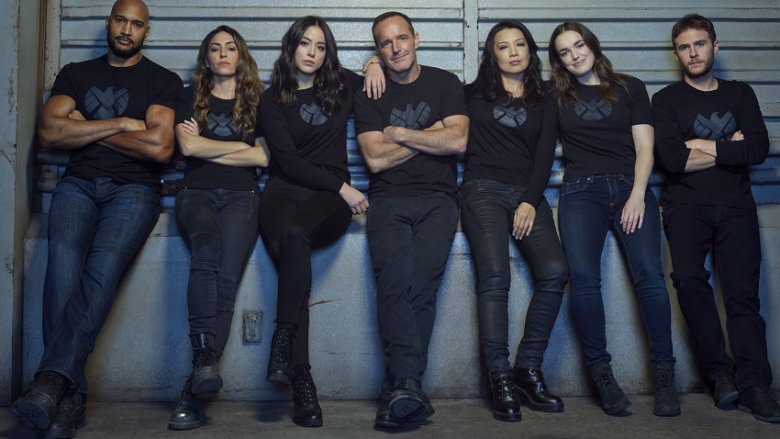 Don't count the Agents of S.H.I.E.L.D. out.
In a stunning turn of events, ABC has given the green light to a seventh season of the Marvel series months before season 6 is set to debut. It's the first series to be confirmed by the network for the 2019-2020 season, according to The Hollywood Reporter.
The news comes as a surprise because Agents of S.H.I.E.L.D. has practically lived on the bubble at ABC for most of its existence. Despite continuous and steady improvement, it's never been a huge ratings performer, and it was widely speculated that the fifth and most recent season would be its last. The season's final episode even provided a modicum of closure for Phil Coulson (Clark Gregg) and his team, and this is largely due to the fact that nobody involved knew whether the show would be returning.
But in May of this year, it was reported that the series had indeed been picked up for a sixth season, if an abbreviated one. Season 6 will consist of only 13 episodes (rather than 22, as in all previous seasons), and season 7 will follow suit.
The news isn't all good: the involvement of Gregg's Agent Coulson has not been confirmed, and the fifth season's last episode heavily implied (spoilers) that his days were extremely numbered. In a conversation with The Hollywood Reporter shortly after the show was picked up for season 6, Gregg expressed uncertainty about the beloved character's return.
"My understanding is that Phil Coulson is no longer alive," he said. "I know there is some interest in having me involved in this 13-episode season six. I don't know in what form that will take, whether that will be flashbacks or hopefully some sexy dreams that Melinda May (Ming-Na Wen) is having. That would be nice. But that's all I know so far."
While the announcement of yet another renewal is certainly surprising, it didn't come completely out of left field. Earlier this month, Screenrant reported that Parrot Analytics — a "data science company that measures world-wide audience demand for TV content" — had determined that even though S.H.I.E.L.D. never posted spectacular ratings, its DVR and streaming viewership made it a stronger brand than it's usually given credit for. Stronger, even, than any of Marvel's Netflix series (two of which, Iron Fist and Luke Cage, were given the axe by the streaming giant just last month).
In light of the Netflix properties' declining viewership and the recent announcement of a potential slate of new Marvel TV offerings to stream on Disney+ (with talent from the films reprising their roles), today's renewal is a welcome gift for S.H.I.E.L.D. fans. Season 6 will premiere next summer, sometime after the theatrical nuclear bomb that will be the as-yet untitled Avengers 4; season 7 likely won't debut until sometime in 2020.