Johnny Depp Opens Up About Fantastic Beasts: The Crimes Of Grindelwald Casting Controversy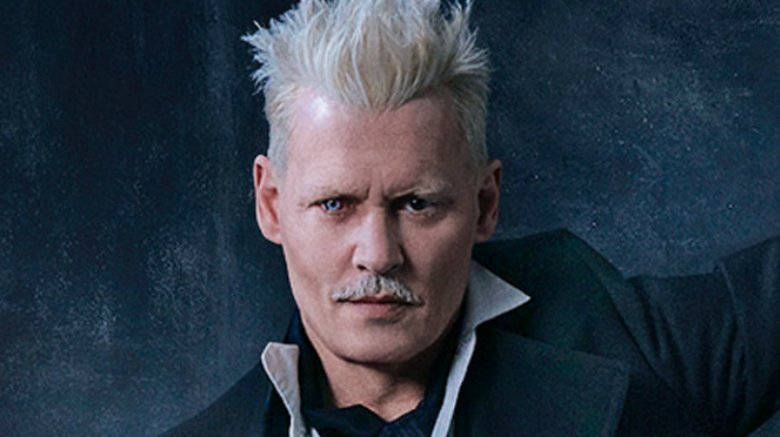 Johnny Depp has finally broken his silence on the controversy surrounding his involvement in the Fantastic Beasts film franchise, particularly his casting as the title villain in the upcoming sequel Fantastic Beasts: The Crimes of Grindelwald. 
At the end of Fantastic Beasts and Where to Find Them, it was revealed that the sinister dark wizard Gellert Grindelwald was actually masquerading as Percival Graves, played by Colin Farrell, throughout the course of the movie. Fans were obviously taken back by the plot twist, but they were even more shocked by Depp's presence. A few months prior to Fantastic Beasts and Where to Find Them opening in theaters in November 2016, Depp's ex-wife Amber Heard came forward with allegations of physical and emotional abuse against the actor. Shock quickly turned to outrage when fans learned in November 2017 that Depp would return as Grindelwald for the second Fantastic Beasts film. 
Depp has remained quiet on the situation until now, addressing the controversy in an interview with Entertainment Weekly. 
The actor shared with the outlet that he "felt bad" for Harry Potter novel series author and Fantastic Beasts: The Crimes of Grindelwald screenwriter J.K. Rowling, who has stood by the decision to feature Depp in the film. Depp also maintained his innocence regarding the abuse allegations.
"I'll be honest with you, I felt bad for J.K. having to field all these various feelings from people out there. I felt bad that she had to take that. But ultimately, there is real controversy. The fact remains I was falsely accused, which is why I'm suing the Sun newspaper for defamation for repeating false accusations," said Depp. "J.K. has seen the evidence and therefore knows I was falsely accused, and that's why she has publicly supported me. She doesn't take things lightly. She would not stand up if she didn't know the truth. So that's really it."
Depp then added that there are a "couple of things" that he wants Fantastic Beasts and Harry Potter fans to know. While he aims to remain true to his own interpretation of Grindelwald, Depp stated that he is completely loyal to Rowling and director David Yates, and knows that he has an immense responsibility to give fans a well-rounded performance. 
"I feel like the main thing as an actor is your loyalty. It's my job to enforce the author's vision and also be true to the director's vision. And then there's being true to my vision. It's a major responsibility, being handed the keys to this car," Depp shared. "My intense loyalty is to not just J.K. and David Yates but to the people who go and see the films as well, the people who have invested their lives into this magnificent, incredible world J.K. has created. I went full tilt and headfirst into the character knowing the responsibility that I had. It's good to take the audience on a ride they're not necessarily expecting, yet with great respect to the world they've come to understand and know."
Continued Depp, "The Potter fans are like scholars of this stuff, which I find incredibly impressive. They know that world inside and out. I hope to give them something they haven't seen before."
As mentioned before, Rowling is in full support of Depp starring in Fantastic Beasts: The Crimes of Grindelwald. The author released a statement in December 2017, in which she stated in part, "Based on our understanding of the circumstances, the filmmakers and I are not only comfortable sticking with our original casting, but genuinely happy to have Johnny playing a major character in the movies ... I've loved writing the first two screenplays and I can't wait for fans to see The Crimes of Grindelwald. I accept that there will be those who are not satisfied with our choice of actor in the title role. However, conscience isn't governable by committee. Within the fictional world and outside it, we all have to do what we believe to be the right thing."
Director Yates also defended Depp, previously stating, "I can only tell you about the man I see every day: He's full of decency and kindness, and that's all I see. Whatever accusation was out there doesn't tally with the kind of human being I've been working with."
Despite the fact that both Rowling and Yates are happy that Depp is starring in The Crimes of Grindelwald, some fans are still planning to boycott the film. It's unclear if the actor's comments here will change their minds, or whether his involvement in the sequel will impact how it performs at the box office. 
Fantastic Beasts: The Crimes of Grindelwald will open in theaters on November 16.