Hellboy Poster: David Harbour Is Legendary AF As The Iconic Comic Character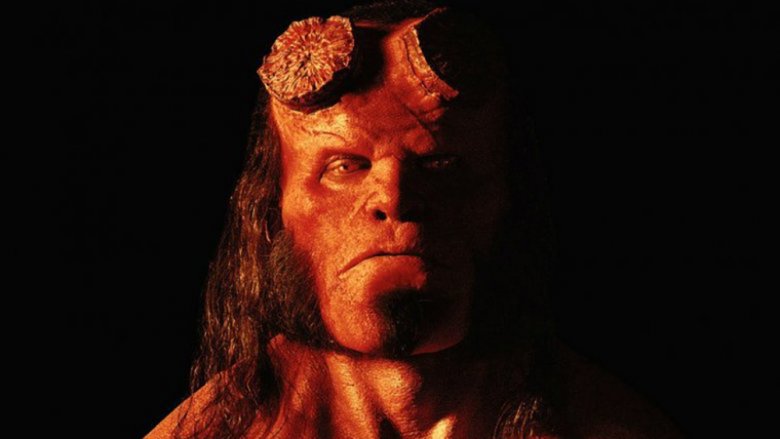 This boy is on fire.
Entertainment Weekly delivered us a little start-of-the-week treat on Monday by releasing released an exclusive poster for Hellboy, the forthcoming reboot film from director Neil Marshall. 
Taking over from original Hellboy actor Ron Perlman, who appeared in Guillermo del Toro's Hellboy and its sequel Hellboy II: The Golden Army, is David Harbour. Anyone with a Netflix subscription and a moderate awareness of pop culture knows Harbour as Chief Jim Hopper from Stranger Things, and anyone with a Twitter and/or Instagram account and a disdain for beauty standards knows Harbour as everyone's favorite famous dude with a dad bod. But now, the world will know Harbour as Hellboy, the red-skinned demon with a love for cigars who made his comic book debut in 1993. 
The poster, displayed at the bottom of this article, shows a completely unrecognizable Harbour done up to the nines as the Mike Mignola-created hero. Two massive horns jut out of his forehead and a half-head of hair falls to his broad shoulders. His lower haw protrudes and his brow ridge is pronounced. In one hand, he holds a white-hot sword that he rests behind his neck. His other — the enormous Right Hand of Doom, the invulnerable stone hand Hellboy's real father gave him at birth which he often uses as a weapon to maim his enemies – hangs heavy at his side. 
Near the bottom of the poster is a cheeky tagline for Hellboy: "Legendary AF." This suggests that Marshall's iteration of the character will be markedly less fantastical than del Toro's double take, but will still be lighthearted enough to keep the film from becoming a typical "dark and brooding" refresh. 
Prior to feasting our eyes upon this poster, we had only gotten one peek at Harbour's Hellboy, which came in the form of a front-on photo uploaded to the Hellboy movie Twitter account. Hellboy's horns are super short, almost flush with his skin, in the snap. Within the Dark Horse Comics lore, Hellboy breaks off his horns after learning his real name (Anung Un Rama) and discovering that his destiny is to bring about the apocalypse. Clearly, Hellboy looks quite different in this second look. 
With a blazing sword and an all-red aesthetic, the first official Hellboy poster is coolness incarnate. (Seriously, guys, the only time you'll ever see something more metal than a demon carrying a weapon swathed in flames is in your fever dreams or the daytime hallucinations you have after eating too many Flamin' Hot Cheetos.) Some naysayers will wiggle out of the woodwork and find some fault with the one-sheet and with Harbour playing Hellboy, of course, but it helps to know that OG Hellboy Perlman gave his successor the stamp of approval. During Motor City Comic-Con in 2017, Perlman said that Harbour is a "good dude" and wished him "nothing but the best when it comes to the retooling of Hellboy." Aww!
Joining Harbour for the new Hellboy are Milla Jovovich as Nimue the Blood Queen, Daniel Dae Kim as Ben Daimio, and Ian McShane as Hellboy's adoptive father, Trevor Bruttenholm. Harbour will also share the screen with Sasha Lane, Brian Gleeson, Sophie Okonedo, Penelope Mitchell, and Alistair Petrie, in case anyone was wondering just how talent-filled the Hellboy reboot cast roster really is. 
Hellboy is scheduled to debut in theaters on April 12, 2019.