Joker: Director Todd Phillips Releases First Video Of Joaquin Phoenix In Makeup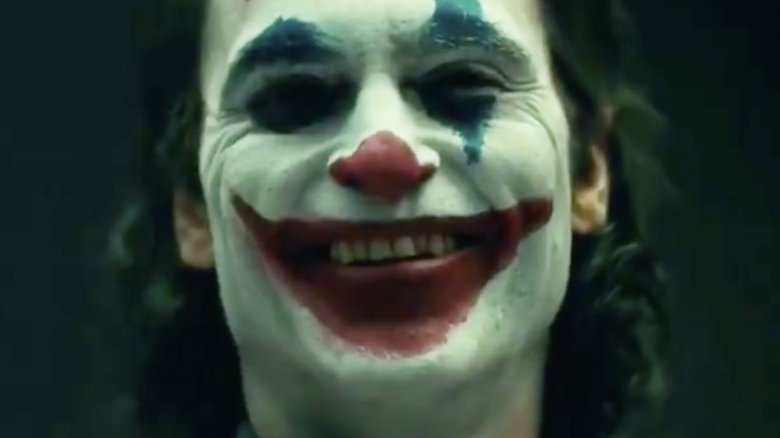 Easy, breezy, beautiful — CoverClown. 
Following the unveiling of the first photo of Joaquin Phoenix in character as Arthur Fleck, the man who will become the infamous Clown Prince of Crime, for Joker, director Todd Phillips has revealed the first footage of Phoenix all dolled up in the Joker's makeup. 
Phillips dropped the video on Instagram with the caption, "Camera test (w/ sound). Joker." Opening on a makeup/wardrobe test slate that describes the look as "full white," the footage first shows Phoenix's Arthur standing in a mustard yellow jacket, his hands in his pockets and his disheveled half-mullet hair-do hanging around his unassuming but clearly weary face. 
A few seconds pass before clips of Phoenix dressed up as the Joker flicker into frame, cutting between the footage of him as the average-looking Arthur. The corners of Arthur's mouth suddenly turn up into a disturbing smile, and just as quickly, Phoenix is seen in full Joker makeup. We're talking a blank-white face, a brick-red clown grin, a crimson button nose, eyebrows painted a few inches above his real ones, and mismatched blue triangles that frame his eyes here, guys. Done up as the Joker, Arthur beams like the Cheshire cat and raises an eyebrow before his smile disappears and he stares stone-faced into the camera. 
People have reacted pretty positively to the footage of Phoenix in makeup, but perhaps the best part of the surprise video is that the song playing in the background is "Laughing" by the Canadian rock band The Guess Who. In Joker, Arthur Fleck is said to be a stand-up comedian struggling to make a name for himself, who eventually snaps and becomes the Joker after bombing with audiences. It seems like Phillips knew exactly what he was doing by setting the first official video of Phoenix in Joker to this particular song. The Guess Who's "Laughing" could equate to "Guess who's laughing?" — and that sounds like a cheeky reference to Arthur's woes and his eventual revenge against those who didn't appreciate him when it mattered. 
If it wasn't obvious that Joker isn't going to be your average comic book movie coming out of Warner Bros.' DC Films division, this footage seals the deal. That makeup that evokes images of the clown from Pagliacci? Creepy enough to keep coulrophobes awake at night. That shot of Phoenix spreading his mouth into a scary simper, his chompers on full display? Textbook definition of "haunting," my dudes. 
Director Phillips going dark and twisted with Joker, which Warner Bros. has described as a "gritty" and "experimental" cautionary tale centered on a man "disregarded by society," feels like a decision that will prove successful. Barring a few outliers like Wonder Woman, the DC movie world hasn't been super stellar recently, so it could certainly use something fresh and terrifying like this Phoenix-starrer to reinvigorate it. 
Fans can see Phoenix in his full DC villain glory on the big screen when Joker opens on October 4, 2019.