The Real Reason Why Cary Fukunaga Left IT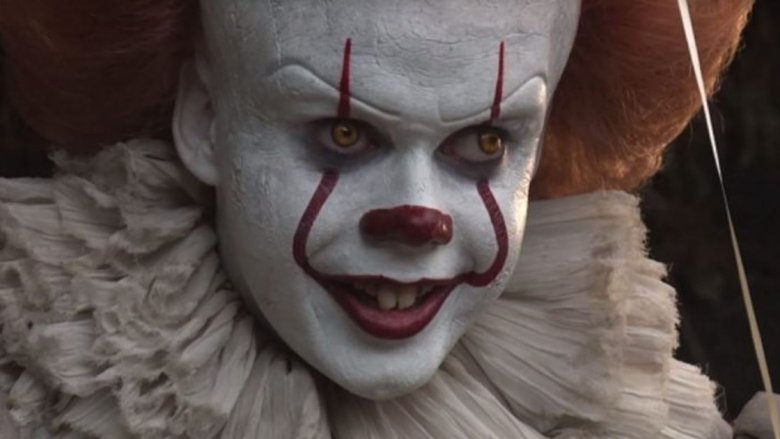 Since director Andy Muschietti's It floated into theaters in September of 2017, horror movie fans the world over have learned everything there is to know about the film. Scoured the frightening flick for hidden pop culture references and spooky Easter eggs? Heck yeah, they've done that. Kept track of all the rumors, spoilers, and casting announcements about the film's in-development sequel? Of course fans have. Rewatched the movie's bloopers and behind-the-scenes features about a dozen times? That's a no-brainer for hardcore It lovers. 
But something fans may not know is the real reason why the original director of It, Emmy Award winner Cary Fukunaga, left the project. 
Chatting with GQ in a recent interview, Fukunaga discussed the true motivation behind his decision to step away from It after developing the film for three years. 
The filmmaker, who also wrote the script for his adaptation of the Stephen King classic, explained that Warner Bros. brass were worried he might start behaving erratically or that he wouldn't work well with others. To this day, Fukunaga still doesn't understand why the studio began treating him differently just two weeks ahead of when his version of It was meant to get behind cameras.  
"I think it was fear on their part, that they couldn't control me," said Fukunaga. "They thought they couldn't control me."
He continued, adding that the studio executives were completely wrong to assume the worst about him, as he's never been one to go off the rails when directing. 
"I would have been a total collaborator. That was the kind of ridiculous part. It was just more a perception," Fukunaga stated. "I have never seen a note and been like, 'F*** you guys. No way.' It's always been a conversation."
Getting candid, Fukunaga later admitted that he does "have a tendency to make things harder than they need to be" and that "having fun with genre and not worrying too much about production value" goes out the door when he starts thinking of ideas. But even then, in the moments he sometimes complicates things, Fukunaga doesn't believe himself to be difficult, stubborn, or uncooperative. 
"I don't think I've ever been able to make something uncompromising," he shared. "Like, someone commented on Beasts [of No Nation, his fourth feature film], 'Oh, how did it feel to make a movie that's uncompromising?' Like, uncompromising? I had to rewrite my entire third act 'cause we didn't have the money to finish the film. We compromise all over the place."
Fukunaga's name was first attached to It in 2012, after it was announced in 2009 that screenwriter David Kajganich had started writing a script. In June of 2012, The Hollywood Reporter confirmed that the adaptation would be split into two parts — and that Fukunaga had climbed aboard the project as director and co-writer alongside Chase Palmer. 
When 2014 rolled around, It had moved to Warner Bros.' New Line Cinema Division and producer Dan Lin revealed that Fukunaga would only direct the first film in the two-part feature. At that time, Lin also told Vulture that It author King gave the team "his blessing," indicating that things were going swimmingly behind the scenes. 
"We didn't want to make this unless he felt it was the right way to go, and when we sent [King] the script, the response that Cary got back was, 'Go with God, please! This is the version the studio should make,'" Lin stated. "So that was really gratifying."
The project continued on an upward spiral toward becoming a smashing success, with Fukunaga, Lin, and Palmer later tapping The Maze Runner franchise star Will Poulter to play Pennywise, the demonic entity Bill Skarsgård wound up playing in Muschietti's film.
But just three weeks after word of Poulter's casting went public in early May of 2015, Fukunaga exited It. 
On May 25, 2015, TheWrap reported that Fukunaga "repeatedly clashed with the studio and did not want to compromise his artistic vision in the wake of budget cuts that were recently demanded by New Line, which greenlit the first film at $30 million." 
A few months later, Fukunaga opened up about the situation, explaining in a statement obtained by Variety that he was "trying to make an unconventional horror film" that "didn't fit into the algorithm" of what Warner Bros. could spend to make It and what the studio would earn back once the film was released. According to Fukunaga, the budget "was perfectly fine ... always hovering at the $32 million mark," but Warner Bros. apparently didn't agree with the direction in which he wanted to take the first of the two It films.
"In the first movie, what I was trying to do was an elevated horror film with actual characters. They didn't want any characters. They wanted archetypes and scares. I wrote the script. They wanted me to make a much more inoffensive, conventional script. But I don't think you can do proper Stephen King and make it inoffensive," Fukunaga detailed. "Every little thing was being rejected and asked for changes. Our conversations weren't dramatic. It was just quietly acrimonious. We didn't want to make the same movie."
He added that he simply "did not want to make a movie where I was being micro-managed all the way through production," because he knew he wouldn't be able to create an enjoyable film under those conditions. 
"I never desire to screw something up. I desire to make something as good as possible," said Fukunaga. 
It wasn't long after Fukunaga's departure that Warner Bros. hired Mama filmmaker Andy Muschietti to take his place. The film, which starred Sophia Lillis, Finn Wolfhard, Chosen Jacobs, Jeremy Ray Taylor, Jack Dylan Grazer, and Wyatt Oleff, went on to earn over $700 million against its reported $35 million production budget when it debuted on September 8, 2017. By year's end, critics and fans alike agreed that It had the it factor to become one of the best films of 2017.
While Fukunaga never got to realize his dream of adapting It for the silver screen, he hasn't been down on his luck or without work in the time since. Earlier this year, TNT rolled out The Alienist, the 10-episode period drama series that Fukunaga wrote and executive produced. And on September 21, Netflix will release Fukunaga's newest television directing effort, Maniac, the dark comedy miniseries starring Jonah Hill and Emma Stone. 
All's well that ends well, right?