Mulan: Disney Unveils First Photo From Live-Action Film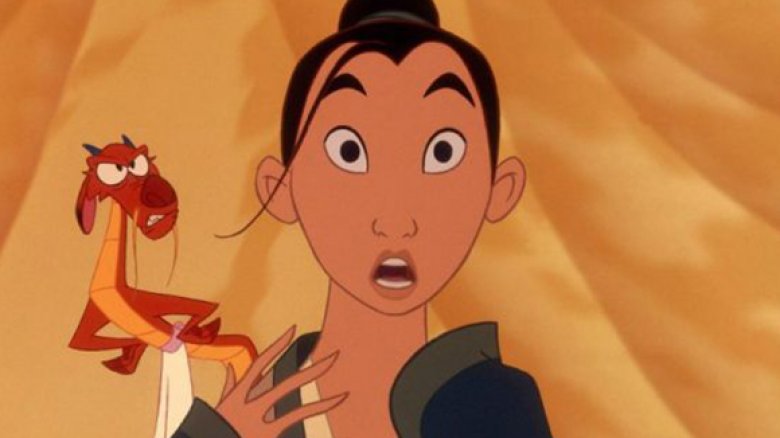 Who is this girl we see? 
It's Liu Yifei, also known as Crystal Liu, the actress at the head of Disney's upcoming live-action take on Mulan. The House of Mouse just unveiled the first official photo from the film, showing off Yifei's Mulan dressed in red and wielding a sharp sword (via The Hollywood Reporter).
Filmmaker Niki Caro (The Zookeeper's Wife, Whale Rider) directs the new Mulan, which sees the titular heroine disguise herself as a man so her elderly father doesn't have to join the Chinese military. Anyone familiar with Disney movies will recognize this storyline from the 1998 animated Mulan, and will be happy knowing that the live-action translation isn't altering the core premise. 
However, the same can't be said for the other elements of the new Mulan movie. 
Disney tapped up-and-coming New Zealand-born Chinese actor Yoson An to star opposite Yifei as Chen Honghui, a "confident and ambitious recruit" who strives to be the greatest solider in all of human history. Honghui meets Mulan in Commander Tung's (Donnie Yen) unit, and the determined young soldier soon establishes a rivalry with Mulan when she's passing as a man. It's been said that when Honghui learns Mulan is actually a woman, his "intense feelings of rivalry turn into something very different, something like love."
Honghui effectively replaces the beloved army captain Li Shang, who was Mulan's love interest (and never genuine rival, not even when Mulan was in disguise) in the animated film. Many Disney fans have expressed their dismay at Shang's absence and Honghui's presence, particularly because it's widely believed that Shang is bisexual due to the bond he formed with an in-disguise Mulan that seamlessly shifted into a romantic relationship after Mulan revealed her true identity. 
"I'm disgusted," one Twitter user wrote when a casting call for Honghui began circulating online. "They make it clear he HATES Mulan the whole time she's presenting male. He bullies her up until he finds out she's a woman."
Two other differences between the animated Mulan and the live-action one is that the primary antagonist is now a powerful witch played by Gong Li rather than the Hun leader Shan Yu, and that the film many not include any music since "no decision" had been made as of March 2017. (Mulan without "I'll Make A Man Out of You"? Blasphemy!)
Even with the character swaps and potentially song-less structure, the new Mulan film has a great chance at being a hit. Yifei's Mulan looks pretty unbelievable, and Disney has a solid track record of success with its live-action reimaginings of animated features.
Fans will have to wait until March 27, 2020 to see if the Mulan refresh can truly bring honor to the House of Mouse.