Deadwood Movie Officially Announced By HBO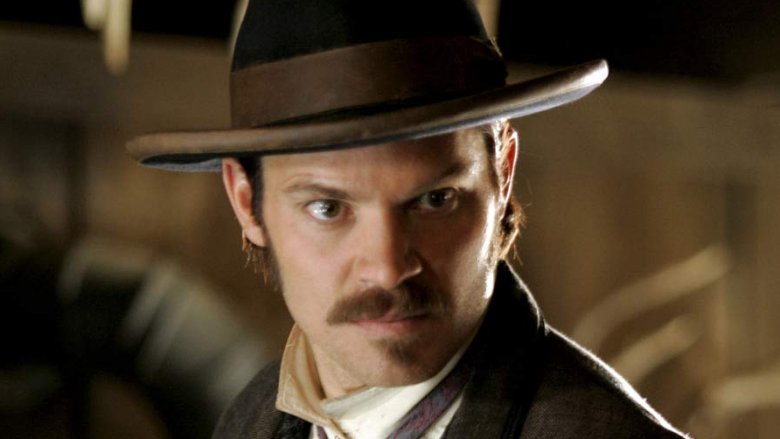 Deadwood... is now Alivewood.
HBO has officially announced that it will produce a feature film followup for its frontier western series Deadwood, multiple outlets have confirmed.
The long-rumored film sequel has been a mainstay topic for fans of the David Milch-created drama series ever since it first wrapped up, in somewhat cliffhanger fashion, in 2006. Now, following about a year's worth of rumors that the movie was getting near to going into production, the project has finally gotten the greenlight.
The news was announced by HBO programming president Casey Bloys, speaking at the summer press tour of the Television Critics Association. According to Bloys' announcement, the revival movie is set to go into production in October, with an eye for a debut in spring 2019. 
Despite his enthusiasm, Bloys added that the debut date was not official, and subject to change. "Let's get cameras rolling," he said, according to Deadline.
A movie to conclude the series in a proper fashion has been proposed by both fans and the show's creators more-or-less since the series originally ended over a decade ago. As anyone who's followed this story might have heard over the years, a script for the movie follow-up has existed for some time, with the story sometimes being pitched as a two-parter.  The real issue with making it actually happen evidently had to do with getting everyone in the sprawling cast and creative team locked down to return.
"All of these people worked hard to get this together," Bloys said, according to Variety. "It's been a logistics nightmare getting all the cast members' schedules together, but we are there. It is greenlit."
Between this project and the Sopranos prequel movie The Many Saints of Newark, could this forward motion on a Deadwood movie be the latest sign of a weird trend in development? Are prestige dramas from the storied Golden Age of Television all now being mined for feature film potential? If so, can we get a movie for The Wire? We don't have the answers yet — only opinions. And our opinion is: This is neat.
The Deadwood movie is set to be directed by Daniel Minahan, who recently worked on Game of Thrones, House of Cards, and American Crime Story. Deadwood's gigantic cast includes Ian McShane, Timothy Olyphant, Brad Dourif, Robin Weigert, Molly Parker, and too many other incredibly talented actors to reasonably list here. If the movie indeed returns with the full cast in tow, then this thing is probably going to be a true tour de force of the dramatic arts, as well as the elaborate use of swear words.
There's no word yet on whether or not the Deadwood movie will be seeing a theatrical release, though a limited run in select theaters seems possible. Either way, it looks likely that we'll get this thing straight to HBO with a relative quickness, and we've got no problems with that whatsoever. 
Fellas and lady-fellas, it's time to grab the whiskey, get good and drunk, and go burn down the Gem Saloon. That's right, baby. Deadwood is back.