HBO Reportedly Beginning Production On Deadwood Movie In Fall 2018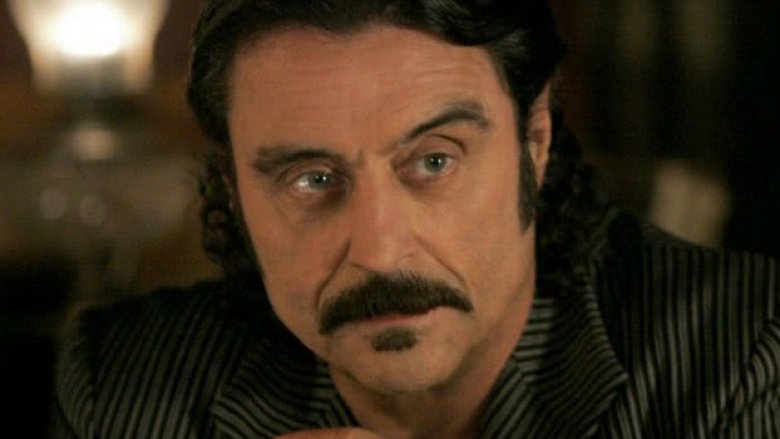 That Deadwood revival may finally be on the way. TVLine reports that HBO is looking to begin production on the long-awaited film following up on the cult hit TV series in the fall of 2018, although the movie still hasn't received the official green light from the cable network.
The popular TV western aired for three seasons in the early 2000s before being canceled, despite earning widespread critical acclaim and being a perennial awards show favorite. The drama has since achieved cult status, and fans have been clamoring for a continuation, something which HBO has said for a long time they are actively pursuing.
Ian McShane revealed earlier this year that show creator David Milch had already written a script for the two-hour movie, although at the time he said he hadn't had the chance to see what Milch had written yet. "We'd all love to do it," he said. "It would be nice to see all of the old gang again... If [HBO doesn't] deliver, blame them."
HBO programming head Casey Bloys also confirmed that the network was looking into options for a revival at the Television Critics Association press tour over the summer. "The one thing that I was concerned about was I wanted a script that would stand on its own [for Deadwood fans and non-fans]," he said. "David totally delivered on that. I think it's a terrific script. If we can do it on a budget that makes sense for us, and if we can get the cast together, we're inclined to do it."
Milch is busy at the moment, with the writer helping Nic Pizzolatto develop a third season of HBO's hit True Detective. Many of the actors from the original show, including Timothy Olyphant, Kim Dickens, and Titus Welliver, are also locked up on other projects, although most have previously expressed enthusiasm about the potential of returning to the project and would likely try to find a way to fit the return into their busy schedules. 
With the production date reportedly falling into place, it looks like we should be hearing more about the Deadwood movie soon.