Why Fast X Blew Everyone Away At The Box Office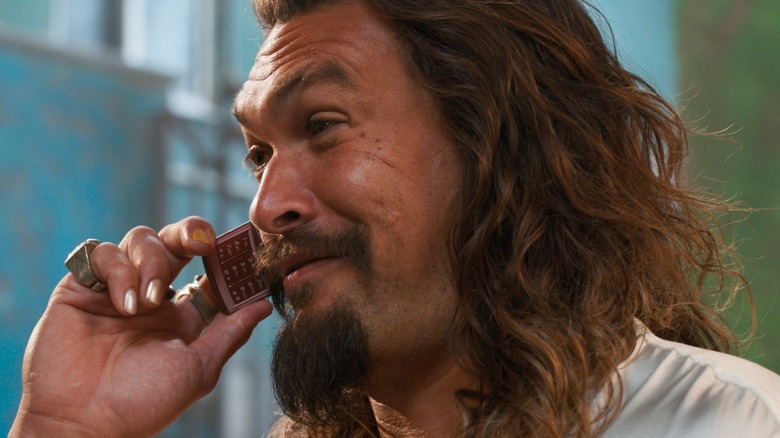 Universal Pictures
"Fast X" revved its engine in its first weekend in theaters and sped across the $300 million mark in total ticket sales. If the latest installment in the ongoing saga of Dom Toretto and family can keep its foot on the gas pedal, the film will likely rank among the biggest blockbuster hits of the summer season, and it could easily find itself on the list of the top ten highest-grossing films of 2023. Though a look under the hood reveals the $318 million dollar opening to have a few caveats, it's impossible to claim that "Fast X" didn't blow away box office estimates, which were tracking at around $280 million. 
Even more impressive, it pulled off that better-than-expected initial haul despite some major challenges. "Fast X" lost its director, Justin Lin, a week into production after he butted heads with executives at Universal Studios and star Vin Diesel. Lin had overseen five of the previous "Fast" films. He was replaced by Louis Leterrier, who previously helmed the "Transporter" movies as well as 2008's "The Incredible Hulk" and 2010's "Clash of the Titans." The latest chapter in "The Fast and the Furious" cinematic universe also premiered to particularly polarized mixed reviews. Combine that with the fact that moviegoers still aren't quite spending at their local multiplex the way they used to before the pandemic, and "Fast X" could've underperformed even modest expectations. Here's why it surpassed them — and why it's still not all good news.
Fast fans show up on opening weekend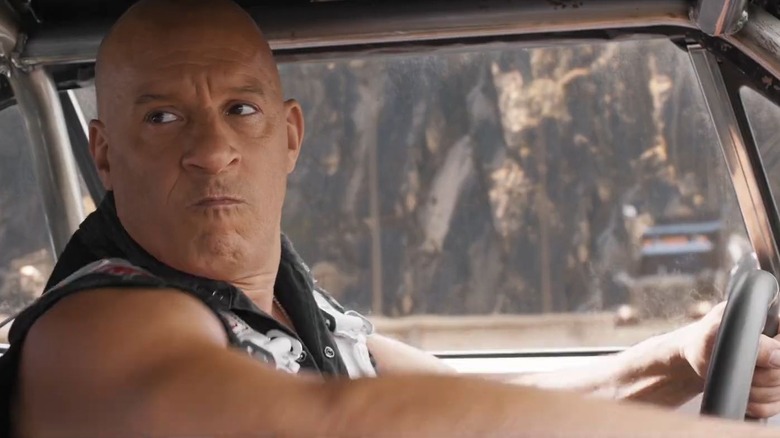 Universal Pictures
Longtime fans of "The Fast and the Furious" franchise tend to make an event out of the debut of each new chapter. "Fast X" is the 10th film proper and 11th overall in the series, putting "Fast" movies in a rarified class with franchises like "Star Wars," "Star Trek," the Marvel Cinematic Universe, and James Bond. Though there might not be "Fast" merch or TV tie-ins on the scale of "Star Wars" or the MCU, the series nevertheless has a loyal and active fandom that has, historically, shown up on opening weekend. 
From 2009's "Fast and Furious" onward, the "Fast" movies have all raked in at least $60 million domestically in the first weekend of their theatrical run. 2015's "Furious 7" was an outlier; it banked nearly $150 million in its first three days. Every other installment has come in respectably but still under $100 million. It should be noted that six of the "Fast" films with big opening weekends went on to gross more than half a billion dollars worldwide, so things look good for "Fast X" on the whole. 
However, two factors throw a wrench into what should read like unqualified success. "Fast X's" $67.5 million domestic sum is the second lowest since "Fast and Furious," beating only the side project, "Fast and Furious Presents: Hobbs and Shaw," which debuted with about $60 million in revenue. The latest film's $340 million production budget also far exceeds the rest of the franchise, which means "Fast X" will have to do much better by the end of its run just to break even. 
The franchise is popular all over the world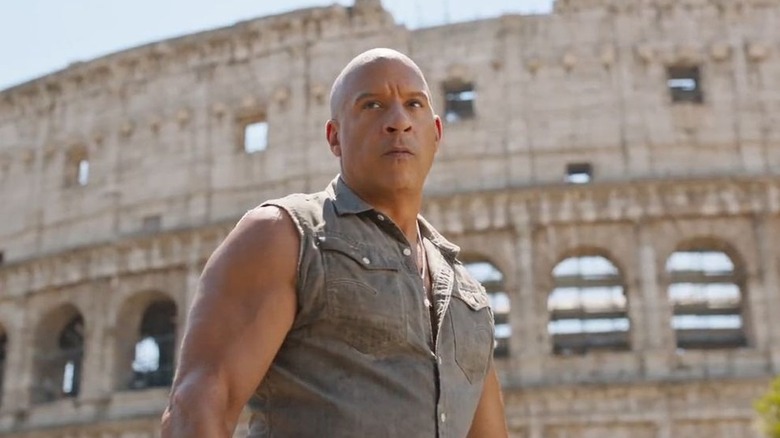 Universal Pictures
"Fast X" might not have lit the domestic box office on fire, but its international receipts are smoking hot. While the film's $67.5 million domestic total was, in truth, a bit of a letdown, its $318.9 million global total is the second best of the year so far behind "The Super Mario Bros. Movie" and, when taking the domestic figure out of the equation, the single best international debut of 2023. Worldwide ticket sales are where the "Fast" films have managed to hold steady and even make gains, while sci-fi and superhero franchises have struggled lately. 
To paint a better picture, let's compare "Fast X" and "Ant-Man and the Wasp: Quantumania." "Fast X" grossed more than $250 million internationally in its first weekend, while the third "Ant-Man" film barely crossed $100 million. "Fast X" did particularly well in China, but it also performed admirably in Italy and Brazil, two countries that serve as locations for the globetrotting action film. 
More proof that spectacle — in this case, spectacular car chases, physics-defying stunts, and epic explosions — is a universal language? "Fast X" had a strong opening on IMAX screens. The film made about $22 million from the more expensive tickets sold for that format, and the majority of IMAX ticket sales ($16.2 million) came from overseas. 
Fast X didn't have much competition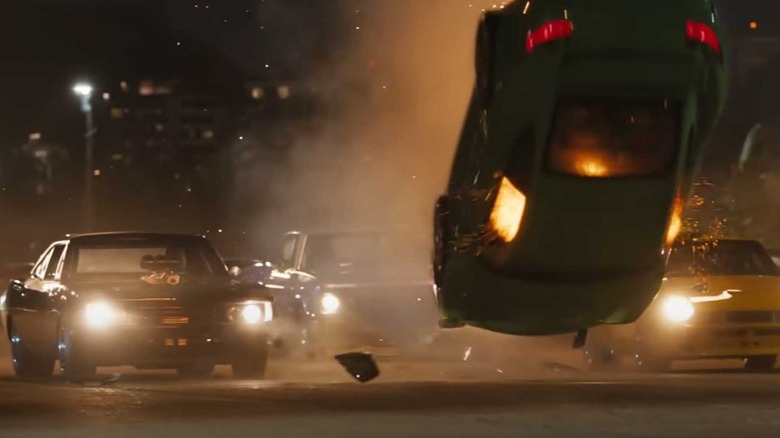 Universal Pictures
When audiences decide to spend their hard-earned money at their local movie theater, it's not always a yes or no question they're answering, but multiple choice. "Fast X" benefitted from the fact that it hit those theaters at the very beginning of the summer movie season before the marquees got too crowded with big-name blockbusters. One reason for its $318.9 million opening is simply a lack of competition. 
It's been seven weeks since "The Super Mario Bros. Movie" came to town, so the majority of viewers who wanted to see the video game adaptation have already seen it. "Mario" is also available to rent or purchase via video-on-demand by now, which steers even more customers into the seats of "Fast X." "Guardians of the Galaxy: Vol. 3" has been holding its own at the box office, nearing the $700 million mark in worldwide ticket sales. But its two-week head start made some room for whatever audience overlap there is between "Guardians 3" and "Fast X" (the two franchises are both action-packed but tonally different, so they're not necessarily pulling from the same fan base). 
Elsewhere down the list are smaller or more niche films like the extremely R-rated "Evil Dead Rise" (in its 5th week) and "John Wick: Chapter 4" (in its 9th), plus the warmer, fluffier "Book Club: The Next Chapter" and "Are You There God? It's Me, Margaret." Had "Fast X" contended with "The Flash," "Indiana Jones and the Dial of Destiny," or especially "Mission: Impossible — Dead Reckoning Part One," it may not have conquered the box office quite so handily. 
Audiences liked it better than critics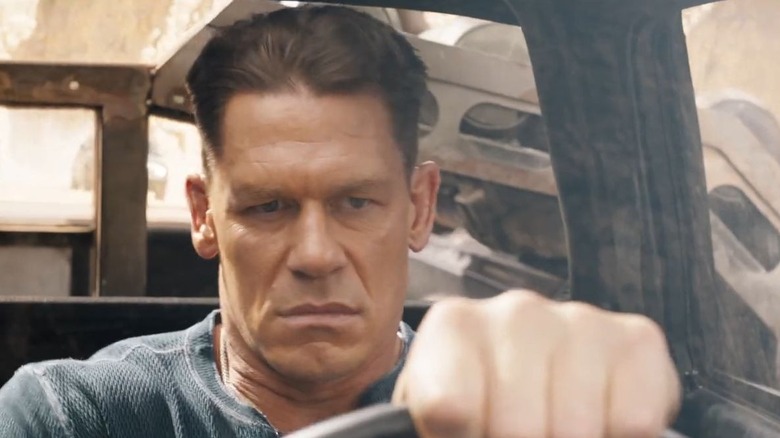 Universal Pictures
"Fast" movies have never been prestige cinema. Still, about half of the entries in the franchise have scored decently well, according to the critical aggregator Rotten Tomatoes, with "Furious 7" and "Fast 5" coming in at the top. It took a while for critics to catch on to what audiences already knew. Those earlier "Fast" films linger at the bottom of Rotten Tomatoes' ranking, probably in part because reviewers didn't have a sense of what the over-the-top franchise was trying to do. Many of the positive comments pertaining to the later films praise them for self-awareness and sheer fun. 
Unfortunately for "Fast X," the critical community is divided, and even those who have kind things to say about the film are mostly muted in their praise, while those who disliked it haven't held back in making their complaints. Critics have compared it to sustaining a head injury, referring to the script as something that an eight-year-old could have written. Others simply call it loud and dumb. 
But that hasn't deterred fans who took to Rotten Tomatoes and social media sites, where they have the film's back. "Fast X" currently has an 86 percent audience score compared to its 54 percent Tomatometer rating. Users love the movie from start to end and appreciate the plot twists as well as the non-stop action. And since the general public is who's buying the tickets and the popcorn, especially for a deep-into-the-franchise movie like "Fast X," they're a better predictor of a movie's bottom line. 
Jason Momoa's performance generated buzz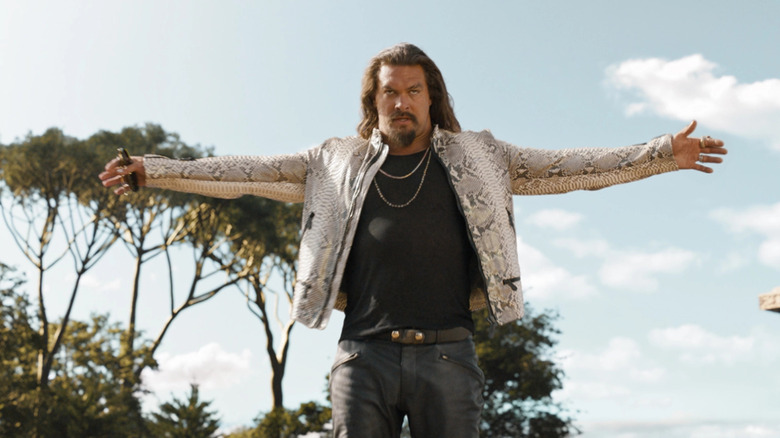 Universal Pictures
Something that most critics and fans agree on is that Jason Momoa is a worthwhile addition to "The Fast and the Furious" family. From Vin Diesel and Jason Statham to John Cena and Dwayne "The Rock" Johnson, the sprawling cast (which, to be fair, is more diverse than that of many action franchises) was already pretty full up on middle-aged muscly men. Momoa — aged 43 and probably best known for playing the DCEU's Aquaman and for his shirtless stint on "Game of Thrones" — is arguably a similar type of actor. They don't always get credit for their craft, and if we're being honest, fans don't really come to see their movies for humanistic performances in the first place. Plus, as it is with the DCEU and the "Fast" movies, the franchise itself is the brand name. Like many of his cohorts, Momoa is a well-liked celebrity who audiences are happy to see in movies, but whether he was a reliable box office draw, let alone a reliably good actor, was still an open question. 
It's not necessarily Momoa's star power that convinced viewers to come out for "Fast X" — more likely it was the strong buzz he earned for his performance as the series' newest villain, Dante Reyes. The actor told Variety that he conceived of Reyes as an androgynous vengeful peacock. The son of the drug lord slain in "Fast Five," Reyes has a predilection for nail polish and colorful cars. While critics, fans, and Momoa himself acknowledge that the performance is over-the-top, the consensus is, that's a good thing. Dante Reyes is an entertaining presence who steals the movie. 
The rest of the cast is stacked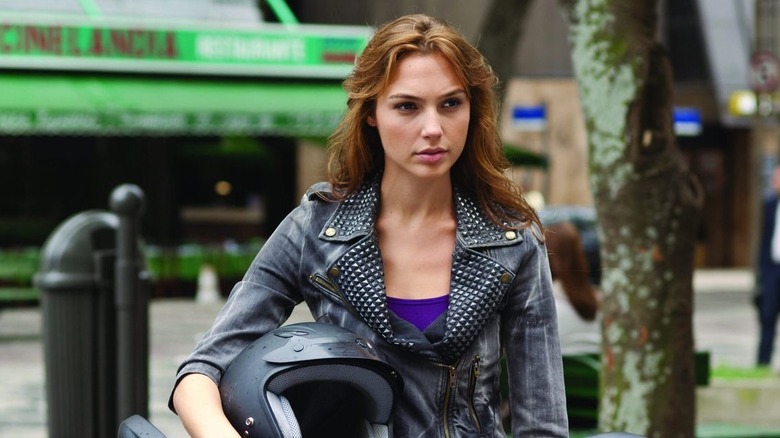 Universal Pictures
Jason Momoa isn't the only recognizable face in "Fast X." The franchise's stories have always revolved around an ensemble cast, and with each new adventure, Dom Toretto's family (and his list of enemies) has grown. And, because — much like a comic book movie — no character ever really has to stay dead, the "Fast" saga can bring back those famous faces whenever it so chooses. "Fast X" has the series' most stacked roster to date, which has its upsides and downsides. 
Besides Vin Diesel's Dom Toretto and Michelle Rodriguez's Letty Ortiz, franchise regulars Jordana Brewster (Mia Toretto), Tyrese Gibson (Roman Pearce), and Ludacris (Tej Parker) return. So do Jason Statham (Decker Shaw), Sung Kang (Han Lue), John Cena (Jakob Toretto), Nathalie Emmanuel (Ramsey), Charlize Theron (Cipher), Helen Mirren (Queenie), and Scott Eastwood (Little Nobody). In addition to Momoa's Dante Reyes, joining that already supercharged ensemble are Daniela Melchior as Isabel Neves, Brie Larson as Tess, Alan Ritchson as Aimes, and Rita Moreno as Abuelita Toretto. Finally, making not-so-secret cameo appearances are Gal Gadot (Giselle Yasher) and Dwayne Johnson (Luke Hobbs). The current king of cameos, Pete Davidson, also pops up in a small role.  
For anyone counting, that's four Oscar winners (Theron, Mirren, Larson, and Moreno) and even more A-list actors who command eight-figure salaries, which is why the budget for "Fast X" surpassed many of the previous films' by more than $100 million. Fans of the franchise surely wanted to see all these high-profile newcomers and old favorites in action, but a cast this epic comes at a cost. 
It connects to Fast Five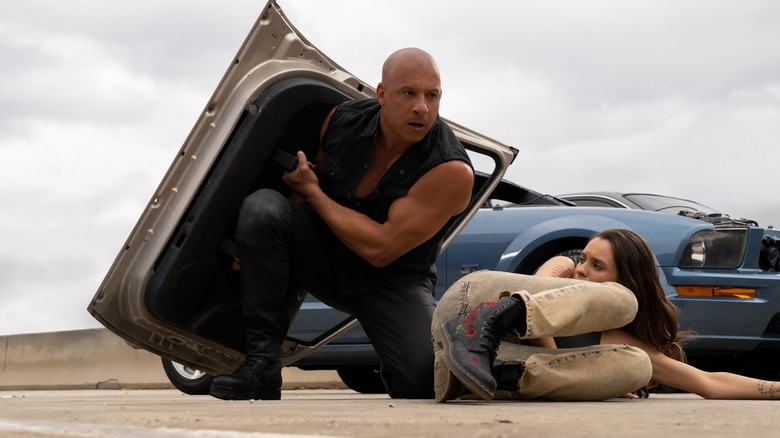 Universal Pictures
While "The Fast and the Furious" films feature more than their fair share of standout action set pieces, and audiences almost always find them fun at a minimum, only a few of the 11 installments have risen to the level of legitimately good filmmaking. 2011's "Fast Five" and 2015's "Furious 7" are frequently cited as the franchise's high points. "Fast X" director Leterrier told Entertainment Weekly that the fifth film is "easily the best", and his 10th film — despite its lackluster reception in comparison — plays somewhat like a direct "Fast Five" sequel. 
Leterrier sought to retcon its predecessor with what's commonly called a Rashomon technique, in which the audience experiences the same scene from a new perspective. This time, the infamous safe chase is told through the eyes of Hernan Reyes, who's killed as a result. This becomes the inciting incident and motivation for Momoa's character, Dante, who wants justice for his father's death and the loss of his family's fortune. Dipping back into past narratives and even changing what the audience has seen before is a tactic that "The Fast and the Furious" series has employed again and again, often with crowd-pleasing results. Since the word was out that "Fast X" had strong connections to "Fast Five," it's reasonable to think some fans — perhaps even some who haven't kept up with the entire series — made the trip to the theaters to see how the former would tie into the latter. 
Fans are fine with the ridiculousness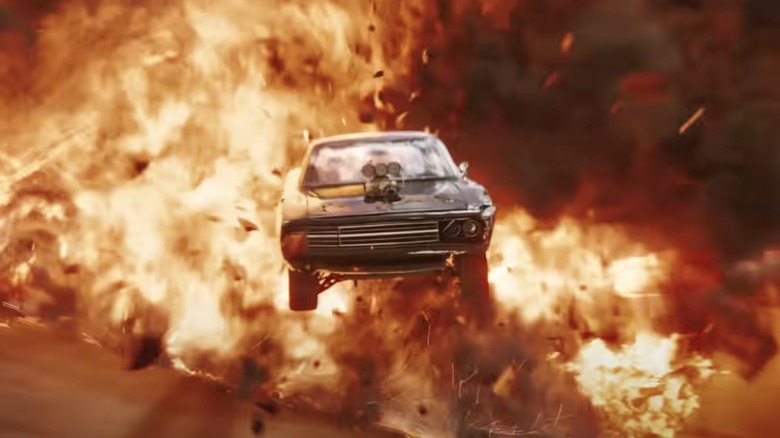 Universal Pictures
Even some of the "Fast" franchise's most ardent supporters thought that the film series may have finally jumped the shark with "F9," a movie in which, among other physics and logic-defying feats, Tej and Roman enter actual space in a rocket car. What started as a standalone film about street racing based on a real piece of investigative journalism has become an ever more purposefully unbelievable collage of cinematic stunts, with each subsequent sequel feeling the pressure to up the ante. "Fast X" tones things down ever so slightly, but we're still a long way from good old-fashioned drag racing in downtown Los Angeles. 
And that's more than okay with fans: They've come to expect ridiculous, death-defying hijinks that either wouldn't work in the first place or would absolutely kill a human being who wasn't wearing franchise plot armor. Yes, "Fast X" is more kinetic energy than comprehensible plot, and yes, there's some egregious superheroification of the characters as well as obvious fan service. But is anyone going to a "Fast and the Furious" sequel this deep into the franchise hoping for subtlety? We think not. Even those who can't help but point out how nonsensical the movie is also can't stop themselves from enjoying it. 
But they're still invested in Dom's family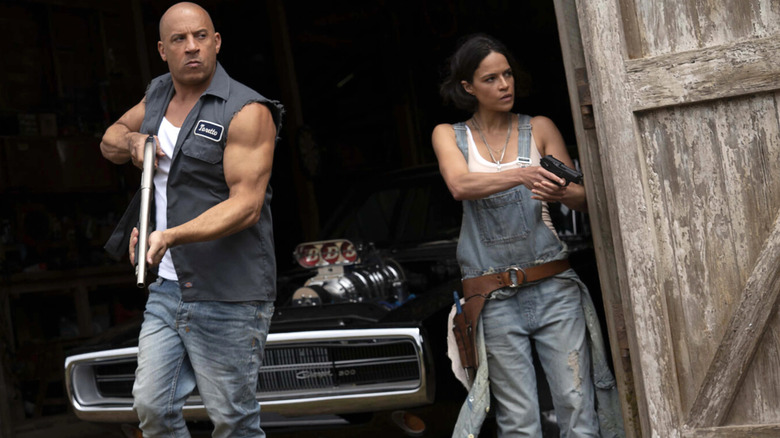 Universal Pictures
If there's one thing people know about "The Fast and the Furious" — including people who've never seen a single film in the series — it's that, even more than they are about cars, these movies are about family. For an in-joke to work itself into the culture so thoroughly that practically everyone gets it, the "Fast" franchise must be doing something right. "Fast X" not only utters the word more times than viewers can count, but it also makes good on its central theme, exploring the bonds between fathers and sons especially.
The Toretto family tree is pretty twisty and branchy, and allegiances turn on a dime whenever the plot requires it. That's both necessary for a franchise that's been going strong for 23 years (and one that tragically lost its lead character) and by design. One way to think of the "Fast" movies is as a gritty, testosterone-fueled, big-budget soap opera. Fans that have stuck with the series follow their favorite characters and try to guess who will backstab or make amends with who. For all the slingshotted cars and races against trains, these movies do have a human element to them, and one that's surprisingly earnest, particularly when compared to other hyper-masculine, high-octane action movies. Maybe all that fire and metal gives audiences the cover they need to enjoy what's really just a sappy story at heart. 
The Fast films continue to appeal to a broad audience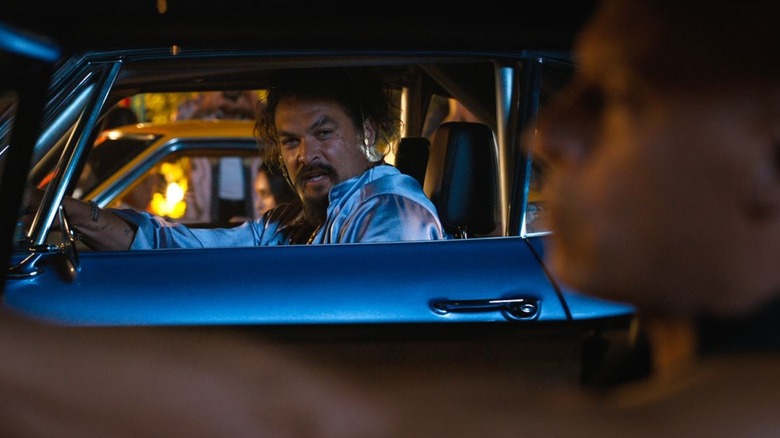 Universal Pictures
The biggest box office successes of all time — the "Fast" films among them — almost all have something in common: They're rated PG-13. The PG-13 stretches from the later installments in the "Harry Potter" franchise to the most recent "Guardians of the Galaxy" movie, which features the MCU's first-ever F-bomb. It's not exactly an informative measure of a film's family friendliness. But generally speaking, it affords families (at least those with slightly older children) the ability to take everyone to the movie theater for the night. That typically gives an automatic boost to PG-13 titles. Teens and adults won't always seek out G or PG films on their own, while younger audiences are prohibited from movies that receive an R-rating. "Fast X" and its PG-13 rating falls squarely in line with other broadly appealing box office behemoths like "Avatar," "Titanic," "Star Wars," "Jurassic Park," and last year's big hit, "Top Gun: Maverick." 
In a cultural atmosphere where identity politics can quickly derail a film's mass appeal, "Fast X" manages to remain uncontroversial. It does so with a multiracial cast that includes a semi-androgynous character, but because there's no real point of view — other than the adage that family is everything and vehicle-based action set pieces are awesome — nobody objects to any of its content on ideological grounds. That helped its performance at home, where, admittedly, the franchise has been stalling out a bit, and it certainly helped abroad, where big-budget films have to play ball with some countries' conservative censors.