Spider-Man: Into The Spider-Verse Reveals New Look At Spider-Gwen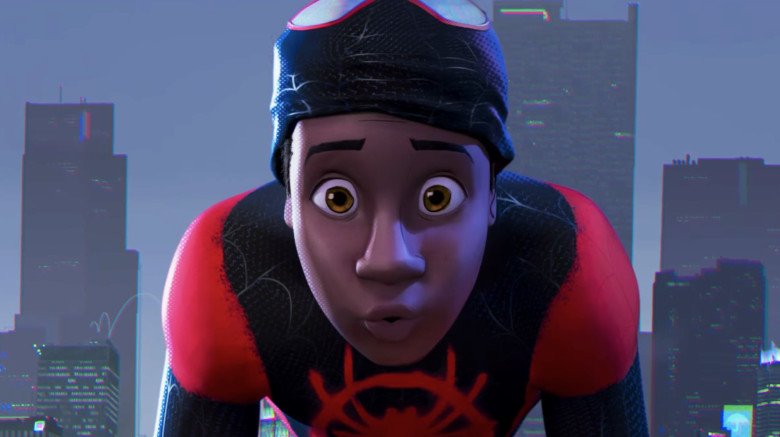 What would the Spider-Verse be without Spider-Gwen? (Pretty lame, if you ask us.)
Thankfully, we don't have to ponder the horrors of that possible reality, as Sony Pictures rolled out an exclusive new image from Spider-Man: Into the Spider-Verse Friday night at San Diego Comic-Con that gives us another peek at Spider-Gwen.
First shown at the studio's official panel and later uploaded to Twitter, the photo features Gwen Stacy (voiced by Bumblebee's Hailee Steinfeld) in her Spider-Gwen get-up, standing in front of OG Spider-Man Peter Parker (New Girl's Jake Johnson) and Miles Morales himself (Dope actor Shameik Moore). All three of the "Spider-People" are seen with concerned looks on their faces, their eyes narrowed at some unseen forces as their Spidey tenses tingle like mad. 
Check it out below.
Elsewhere during Sony's Comic-Con presentation, attendees saw footage from Spider-Man: Into the Spider-Verse that introduced three more Spidey characters: Nicolas Cage's Spider-Man Noir, the version of Peter Parker who lived during the Great Depression; Kimiko Glenn's Peni Parker, another alt-Spidey; and John Mulaney's Spider-Ham, a spider that the radioactive anthropomorphic pig May Porker bit who subsequently transformed into a crime-fighting swine. 
As The Hollywood Reporter details, the clip also featured Miles visiting Peter Parker's grave (the hero was once thought dead, leaving Miles a perfect window to assume the Spider-Man mantle) before a very much alive Peter pops up to greet him. 
"Why are you older, and why is your body a different shape?" Miles asks him in the footage. "I'm pretty sure you just called me fat," Peter quips, later explaining to Miles that he is from an alternate universe — and so is Spider-Gwen, who swings into save the pair from the wrath of Kingpin (voiced by Liev Schreiber). 
Steinfeld said of her Spider-Gwen character, "She is the toughest and the coolest and the smartest and the most capable one in the room, and she knows it."
If the full-length trailer for Spider-Man: Into the Spider-Verse didn't have us wide-eyed, amped-up, and chomping at the bit to see more of the gorgeously animated, visually stunning film, this new photo certainly does. And now, we're faced with a dilemma far worse than the wait for extra Spider-Verse reveals: deciding whether or not we should chop off all our hair and sport a side-shave just like our beloved Spider-Gwen. (Hey, hair always grows back!)
Spider-Man: Into the Spider-Verse is due out on December 14, just in time for Christmas. 
That's a wrap for Spider-Man: Into The #SpiderVerse at #SDCC2018. Catch @shameikmoore, @MrJakeJohnson and @HaileeSteinfeld only in theaters this Christmas. #SonyAtSDCC pic.twitter.com/bQD5tb6Pnb

— Sony Pictures (@SonyPictures) July 21, 2018