Hulu's Futurama Revival - Everything You Need To Know
In the immortal words of Bender Bending Rodriguez, "We're back baby!" Ten years after it seemingly ended for good, the hit animated series "Futurama" is set to return for an 11th season on Hulu. 
Created by "The Simpsons" and "Disenchantment" creator Matt Groening, "Futurama" quickly became a sci-fi smash hit when it premiered in 1999, running for 10 seasons and even winning six Emmys. With its blend of quirky characters, comedy that viewed future society through a satirical lens and surprisingly tear-jerking moments, "Futurama" managed to both stand out from the crowd while also leaving an indelible mark on adult animation. The show would have a notoriously troubled history with the networks, but eventually came to what seemed to be a complete close in 2013 with the episode "Meanwhile." 
With the 10 episode revival right around the corner, it seems as good a time as any to crack open a can of Slurm and see what the series has in store for old and new fans alike. From its release date to its cast and everything in between, Looper has you covered on everything you need to know about the future of "Futurama."
When will Hulu's Futurama revival be released?
Thankfully, you won't have to wait until the 31st century to see the "Futurama" revival. While the initial announcement only specified that the show would be coming out some time in 2023, we now know that the next chapter of the sci-fi comedy is set to release on Hulu on July 24, 2023,  with new episodes appearing each week after. 
The revival was announced on February 2022 with the news that much of its cast and creators will be returning to their respective roles — more on them soon. The Hulu order includes 20 new episodes, with the first ten set to appear this July while no news is out as to when the second half will be released. The titles of all announced 10 episodes were revealed in August 2022 with further plans announced that production would hopefully be complete by the end of the same year. 
What is the plot of Hulu's Futurama revival?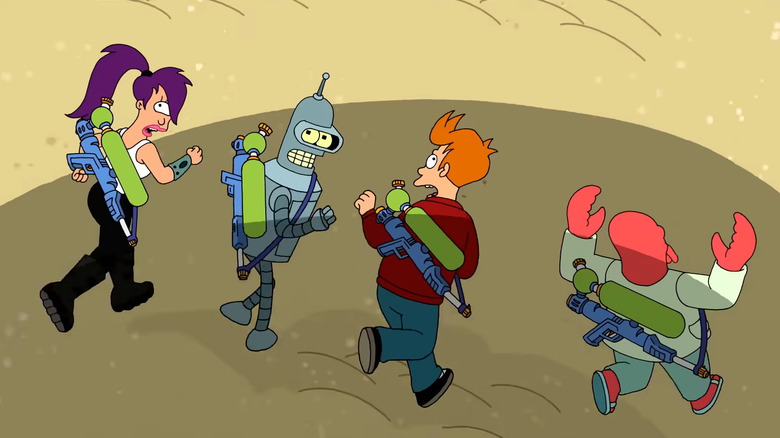 20th Television/YouTube
Like other animated sitcoms, the plot of "Futurama" is largely episodic. The show's main premise centers around Philip J. Fry (voiced by Billy West), a good-hearted yet dim-witted pizza delivery boy from the 20th century who inadvertently puts himself to cryogenic sleep and transports himself to the year 3000. Amongst awakening in the 31st century, Fry finds a job working at an interplanetary delivery company where he comes across and befriends a variety of quirky characters. Many of the episodes balance out character moments, sci-fi antics, and comedy that pokes fun at modern day trends by predicting how they might evolve in the future.
The new set of episodes aims to keep much of the same momentum. The show's creators promise that new fans will be able to dive into the show with ease. Meanwhile, older fans can expect some major payoffs and deep dives into unique corners of the "Futurama" universe such as the origins of Evil Robot Santa (voiced by John DiMaggio), what Kif (voiced by Maurice LaMarche) and Amy's (voiced by Lauren Tom) children have been up to and where Fry and Leela (voiced by Katey Sagal) are as a couple. And as the original show poked fun at modern society, the revival will see new jabs at such contemporary subjects as cancel culture, vaccines, streaming, and much more. 
Who is starring in Hulu's Futurama Revival?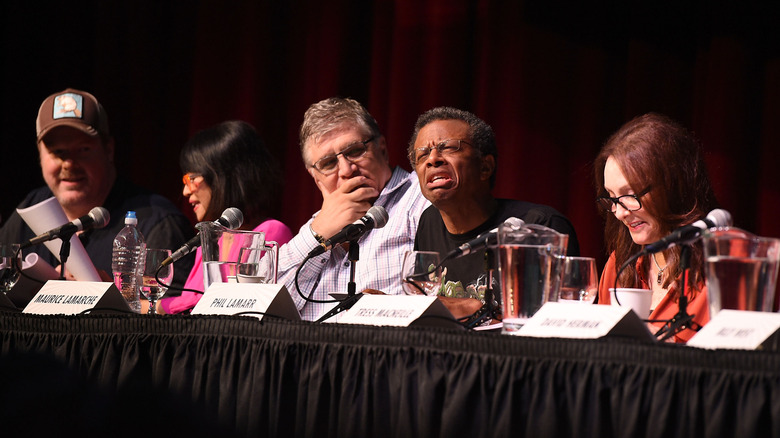 Joshua Blanchard/Getty Images
Part of what made "Futurama" such a hilarious and heartfelt show was the genuine quality brought to the vocal performances. And in what is certainly good news for everyone, the upcoming 11th season on Hulu will see these amazing talents back behind the booth. This includes the likes of Billy West as Philip J. Fry, Professor Farnsworth and Dr. Zoidberg amongst others, Katey Sagal as Leela, Phil LaMarr as Hermes Conrad, Lauren Tom as Amy, amongst others. 
There existed a brief period of time, however, when it appeared that one key cast member was missing. When news of the show came in February 2022, the only major cast member who had yet to sign on was John DiMaggio, who voiced fan favorite character Bender. Despite both DiMaggio and 20th Century wanting him to return to the role, the actor's negotiations with the network coming to a halt were ultimately what kept things from moving. A social media campaign highlighting the controversy called #Bendergate was even created, especially when it was believed DiMaggio's role would be recast. Thankfully, in March 2022, an agreement was made and the actor returned to the part.  
Who is directing Hulu's Futurama Revival?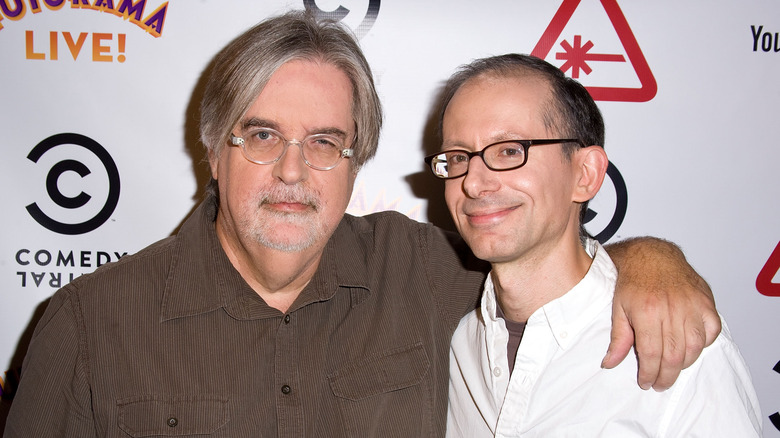 Vincent Sandoval/Getty Images
Similar to the cast of Hulu's highly anticipated "Futurama" revival, the creators of the acclaimed animated comedy are also making their return to New New York. Announced alongside the returning cast members is show creator Matt Groening, who's distinct brand of comedy has given his shows such as "The Simpsons" and "Futurama" a special place in the eyes of TV viewers. Alongside Groening is David X. Cohen who served as an executive producer, head writer, and showrunner of the show's original run. They are joined by Ken Keeler and Claudia Katz as executive producers on the upcoming 11th season. 
It is currently unknown as to who is directing each individual episode. However, the show's writing staff will consist of veterans who put their hands into several episodes from throughout the original run. These include such names as Maiya Williams, Patric M. Verrone,  David A. Goodman and Eric Horsted along with newcomers to the series such as "She-Hulk: Attorney at Law" writer Cody Ziglar and "Solar Opposites" writer Ariel Ladensohn.
Is there a trailer for Hulu's Futurama revival?
The recent announcement of the new season of "Futurama" also came with a brief teaser trailer that gives viewers a taste of what new adventures we can expect out of the Planet Express crew. At only 17 seconds, the teaser may not show much, but the bits and pieces it does offer give a promising glimpse of what's to come. 
Following the logo and Bender cheering out "We're back baby!" the teaser goes on to show some brief moments from the show. From Evil Robot Santa on the rampage to Nibbler (voiced by Frank Welker) seemingly a bit stoned to the Planet Express gang being chased by a massive threat, it seems things are typically turbulent in the 31st century, which is just the way we like it. It is additionally delightful to see that the show's art and character design style remains the same as its original run, further linking this to the original series. 
Where to watch previous Futurama seasons
If you suddenly have the urge to binge watch the entirety of "Futurama" before its new season premieres, we don't blame you. Now is as good a time as any, whether you're a new fan who wants to see what all the hub is about, a more acquainted viewer who maybe hasn't watched the show in some time or a die-hard fan who needs an excuse to binge the series all over again. Again, we don't blame you. And thankfully, you don't have to go far to do so, as all 150 episodes of the hit series can be found on Hulu, which is where the next season will also premiere. 
This makes it the show's third revival. The show's initial run occurred between 1999 and 2003 on Fox, but was cut short due to scheduling conflicts and lack of confidence by the network. Following reruns on Adult Swim, "Futurama" eventually found a home on Comedy Central, where it ran from 2010 until 2013. "Futurama" would find further syndication through channels such as SyFy and FXX before the announcement of the Hulu revival.