Chris Pine Had To Rein In His Ego When Filming Wonder Woman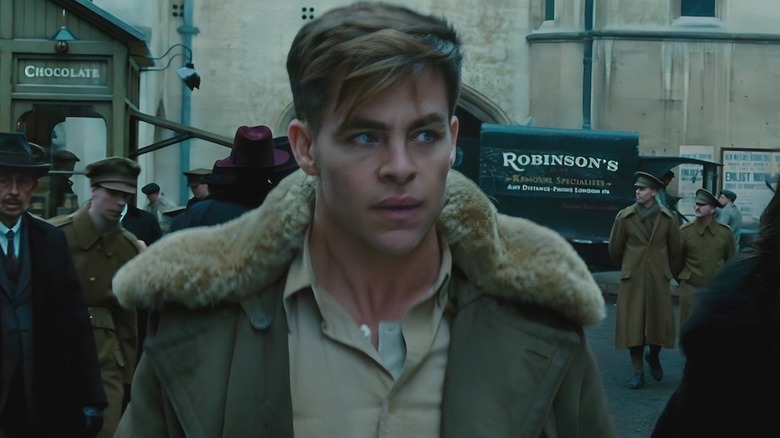 Warner Bros.
"Wonder Woman" gave moviegoers a new kind of hero to cheer for. While female-led superhero movies existed before, none reached quite as high as the 2017 DC Extended Universe film that brought the adventures of Diana Prince (Gal Gadot) to the big screen. As such, it was imperative that the film's supporting cast did their best to not hog the spotlight from the iconic comic book heroine — which was initially easier said than done for some.
Actor Chris Pine, who starred in "Wonder Woman" as love interest Steve Trevor, had to learn firsthand that he wasn't the star of the show. In an interview with Den of Geek about "Dungeons & Dragons: Honor Among Thieves," Pine was asked about what he took away from working on "Wonder Woman." Pine responded, "There were definitely moments in the first one where I would be kind of on a rant, asking or getting into Steve Trevor's psyche or what was going on and realizing—from the impatient look in Patty Jenkins' eyes—that the movie is not Steve Trevor's film. The movie is Wonder Woman's film." 
Having led such films as "Star Trek," "Jack Ryan: Shadow Recruit" and "The Finest Hours," Pine learned to appreciate the chance to play second fiddle in the name of supporting Gadot's journey. And in having the opportunity to step back, Pine was able to find a richer appreciation for what the film as a whole was able to communicate. 
Pine loves how Wonder Woman stands out from other superhero movies
Chris Pine's time on "Wonder Woman" saw the actor leave with some meaningful takeaways. The "Don't Worry Darling" star found rich meaning in Diana Prince's endearing journey of hope and love, especially in comparison to her comic book movie contemporaries. 
Speaking with ScreenSlam during the release of the film, Pine was asked what brought him to the project. He explained that it was ultimately director Patty Jenkins' unique approach to the source material that attracted him to work on the film, his first ever comic book movie role. "Within this genre, it's difficult to do something new," he explained. "Usually you just see a bunch of people killing one another in outfits and blowing up cities." The actor even took a moment to take a slight jab at the then-upcoming "Avengers: Infinity War," saying, "Really? Like 'Infinity War?' We need more war for all time?"  
At the end of the day, it was the beating heart present in "Wonder Woman" that Pine fell in love with the most. "So I thought at the heart of this is a woman who's about love and compassion and love trumps all, how great is that, you know?" he continued. "That's a pretty crazy, awesome thing." 
As crazy and awesome as Diana's journey was, it seems that plans for a third "Wonder Woman" film have been scrapped. Nevertheless, her cinematic debut gave fans more than enough to fall in love with.