Who Does Leonardo DiCaprio Play In Killers Of The Flower Moon?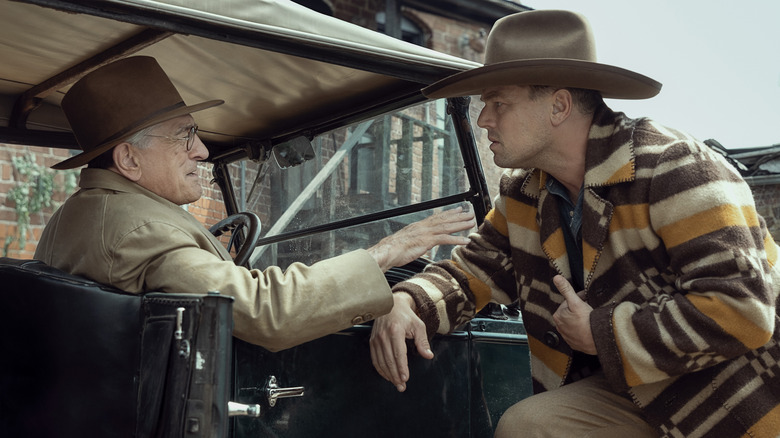 Apple TV+
Though Martin Scorsese has been a part of a few projects since the release of his Netflix gangster epic "The Irishman," none have had the anticipation that "Killers of the Flower Moon" boasts. Counting heavy hitters and frequent Scorsese collaborators like Leonardo DiCaprio and Robert DeNiro among its ranks, the movie already looks like a strong competitor for awards season, despite the fact that it won't be releasing until October.
Based on David Grann's book of the same name, "Killers of the Flower Moon" traces the murders of over 60 members of the Osage tribe following the discovery of oil beneath their Oklahoma lands. Both DeNiro and DiCaprio will be playing real-life figures involved in the killings, while the trailer seems to suggest that the film might be at least somewhat sympathetic to DiCaprio's character.
The Oscar-winning actor will be playing Ernest Burkhart in "Killers of the Flower Moon." Ernest and his brother, Bryan Burkhart, traveled to Oklahoma, where their uncle, William Hale, resided in the early 1900s, in hopes of finding work in the oil fields of Oklahoma. However, Hale eventually hatched a far more devious plan to gain control of the land.
DiCaprio will be playing real-life historical figure Ernest Burkhart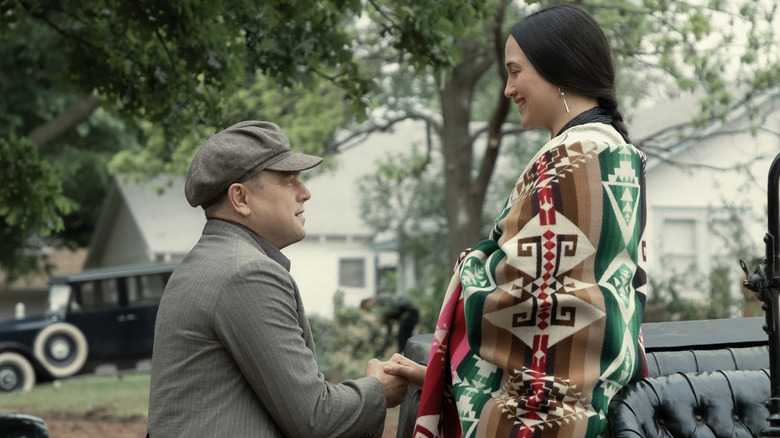 Apple TV+
Over time, William Hale talked Ernest Burkhart into marrying an Osage woman by the name of Mollie Kyle. Once Ernest had ingratiated himself into the Osage, Hale began planning the murders of many prominent Osage tribespeople through various means. "Killers of the Flower Moon" retells this shameful chapter from America's dark colonial history, and sheds light on many of the tragic details of the Osage tribe murders.
While it's somewhat unclear how involved Burkhart was in the murders themselves, he was tied closely enough to the events that he inevitably received a life sentence for his role in the killings, as did Hale. However, both were eventually paroled, despite the many protests of the surviving Osage people, and Burkhart even received a pardon.
Purported to have one of the longest runtimes in the modern era of Hollywood, "Killers of the Flower Moon" will retell this story, with Leonardo DiCaprio's character at the center of the events. Like "The Irishman," Martin Scorsese fans can likely look forward to this one garnering attention at the 2023 Oscars and Golden Globes. More importantly, though, the film will also help to draw more attention to the tragic events behind this oft-forgotten story.