Mission: Impossible 7 Fans Can't Unsee Similarities To Pathaan's Train Scene
Action movie fans are eager to see how exactly how Tom Cruise as Ethan Hunt has once again managed to preserve life and limb in defiance of all known physical laws in the upcoming "Mission: Impossible – Dead Reckoning Part One," but some of those fans are calling foul regarding one of the movie's action set pieces seen in its recently released trailer.
The brewing controversy has to do with the film's train sequence, which in the trailer shows Cruise running across the top of a runaway train that flies off a bridge and leaves him hanging on to the remains for dear life.
Bollywood fans are noticing striking similarities between what we see of the sequence in the trailer and another action sequence in the Bollywood movie "Pathaan," which was released earlier this year. And as you can see in this tweet from a Shah Rukh Khan (star of "Pathaan") fan account @iamsrk_brk, the images pretty much speak for themselves. This particular account also seems to see the lift as a testament to the filmmaking prowess exhibited by the makers of "Pathaan." And there are plenty more fans making similar comments.
Pathaan was itself accused of having copied the scene from an unlikely source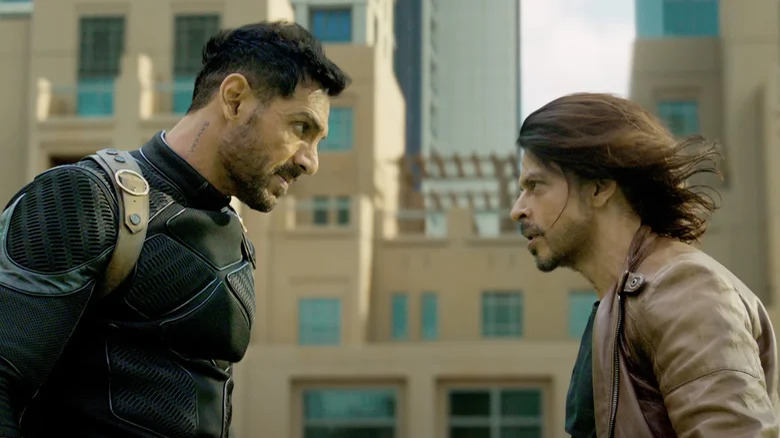 Yash Raj Films Pvt. Ltd./YouTube
"So now Hollywood is COPYING from Bollywood...," tweets @theamiramia. Putting a more positive spin on the situation is Twitter user @AhmedKhanSrkman: "Bollywood should be proud."
Some fans are incensed by what they see as copying "Pathaan" on the part of "Mission: Impossible – Dead Reckoning Part One," while others simply see it as Bollywood action cinema leading the field in innovation.
But the controversy has another interesting wrinkle that should give fans even more to talk about as they unpack the respective films. As reported by The Indian Express in early May, viewers of "Pathaan" saw similarities between its train scene and an action sequence from, of all things, the animated series "Jackie Chan Adventures." Further, others were comparing the "Pathaan" sequence to the video game "Uncharted."
Ultimately, it's up to each individual viewer to decide for themselves on matters of creative merit. But hopefully, if Tom Cruise and company did indeed borrow from "Pathaan" in their conception of an action sequence, they'll own up to it during the upcoming press tour for "Dead Reckoning." As for whether "Pathaan" owes a debt to Jackie Chan or Nathan Drake, perhaps it's time to admit there are only so many ways to film a runaway train scene.