Bollywood's Pathaan Is Already The Must-See Movie Of 2023 And It's Not Even Close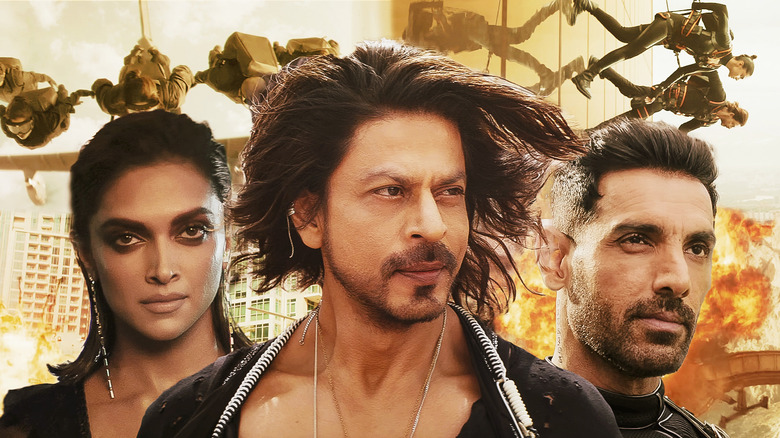 "Fasten your seatbelts, there's a storm coming," were the final words spoken in the November 2022 teaser trailer for the Indian spy thriller "Pathaan." Despite the ominous warning presented by the bloodied, aviator-wearing spy as he readies his jetpack, audiences around the world weren't able to prepare for the storm Bollywood was brewing with "Pathaan." The spy bonanza, which features Bollywood's biggest superstar Shah Rukh Khan as a full-fledged action hero, has already left an unprecedented footprint on popular culture thanks to its blend of Hollywood tentpole storytelling (think "Mission: Impossible") and classic Indian sentimentality and patriotism.
Siddharth Anand's "Pathaan" follows the titular exiled Indian spy (Khan) as he goes on a globe-trotting adventure to stop the nefarious Jim (John Abraham), a former Indian soldier hellbent on wreaking havoc on the country that betrayed him. Joining Pathaan as he infiltrates secret labs, races motorcycles on thin ice, and pulls off daring heists is a Pakistani spy, played by Deepika Padukone. 
As "Pathaan" continues to dominate in cinemas, both in its native India and internationally, it's impossible to not speculate on why it's so successful. After all, what is it about a film like "Pathaan" that compels viewers from around the world to turn their theater into a stadium, jumping up and down? Beyond its chaotic action sequences, infectious leads, and impressive scale, "Pathaan" is a film that has managed to succeed against all odds, break records, and dismantle hate. Above all else, it's a comeback story, both for its lead star and the industry he operates in. 2023 is young, but it's hard to imagine a film more deserving of eyeballs and fresh viewers than "Pathaan."
Pathaan is a worldwide box office juggernaut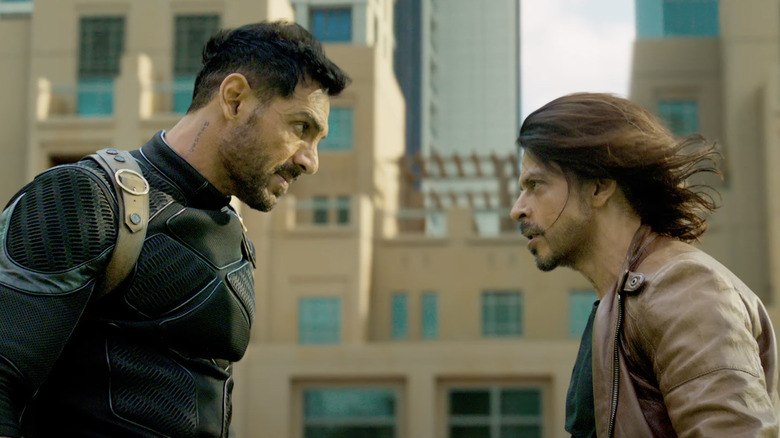 Yash Raj Films Pvt. Ltd./YouTube
If success can be equated to finances, then "Pathaan" is an absolute box office triumph. While January is normally seen as a dumping ground, Yash Raj Films (both the film's production company and distributor) realized that the relatively empty month was the perfect time for their spy thriller to dominate the cultural conversation. "Pathaan" smashed records during its five-day weekend, coinciding with India's Republic Day (January 26). The film's opening weekend was over $66 million, with over $25 million coming from international markets like the United States, Canada, and the United Arab Emirates — three territories where it received the biggest opening ever for a Bollywood film.
Despite protests and calls for boycott by right-wing nationalist groups, "Pathaan" has since emerged as one of India's highest-grossing films, with the Khan-starrer becoming the highest-grossing Hindi film in the country.
But this is an international affair. The blockbuster's true success can be attributed to fans outside of India, who showed up in droves at their local multiplexes to witness Shah Rukh Khan's graceful return to cinemas. To date, the film has grossed over $44 million USD outside of India, making it a true worldwide phenomenon. Domestically, "Pathaan" has outgrossed Best Picture nominees "Tár," "Triangle of Sadness," and "The Banshees of Inisherin." Are foreign audiences finally accepting "Bollywood," a term that, when heard, typically draws derogatory images of kitschy song and dance routines from western audiences? Perhaps.
Strong receipts signal two things: Khan's audience outside of India is continuing to grow, and "Pathaan" is changing what Bollywood means for the world. The film is unabashedly Indian at heart — it even features two extravagant musical numbers — but it's clearly striking a chord with action junkies around the world.
Pathaan just kick-started one of India's most interesting cinematic universes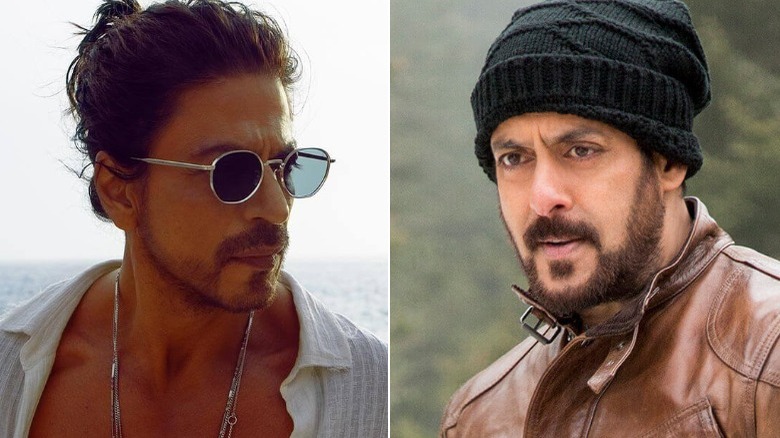 Yash Raj Films Pvt. Ltd.
While breaking records at the box office is certainly an achievement, "Pathaan" has the privilege of being one of the first major Indian projects to dive deep into the world of "cinematic universes," and do it right. Other Indian franchises, such as Rohit Shetty's "Cop Universe" have tried to do "Avengers"-like team-ups, but "Pathaan" is the first Hindi project to create its Spy Universe organically.
Yash Raj Film's Spy Universe first started with 2012's "Ek Tha Tiger," or "There Was Once A Tiger." The franchise continued with the 2017 sequel "Tiger Zinda Hai," or "Tiger Is Alive." Then came 2019's "War," the precursor to "Pathaan," which made considerable waves domestically. With three spy films under their belt, "Pathaan" was created as the launchpad to bring all three franchises together under one "Spy Universe" banner, and the results are mostly effective. A decent amount of the runtime features characters name-dropping Tiger (Salman Khan) and Kabir (Hritik Roshan), the spies who headlined the "Tiger" films and "War," respectively.
YRF didn't put the cart before the horse, exploring what makes their characters and stories special before diving into a universe. "Tiger" and "War," headlined by Bollywood royalty, each explore different political corners of the Spy Universe, making the world of Indian espionage feel rich and complex. With "Pathaan," Tiger and Kabir are folded in as India's premier spies, with their previous exploits discussed with both glee and hushed tones. YRF's Spy Universe feels palpable and expertly thought out in "Pathaan," especially thanks to an unprecedented cameo that sent shockwaves throughout the industry. 
It will be interesting to see how studios, not just in India, react to the Spy Universe, which could very well become the world's biggest non-superhero cinematic franchise.
Pathaan has a timely message audiences need to hear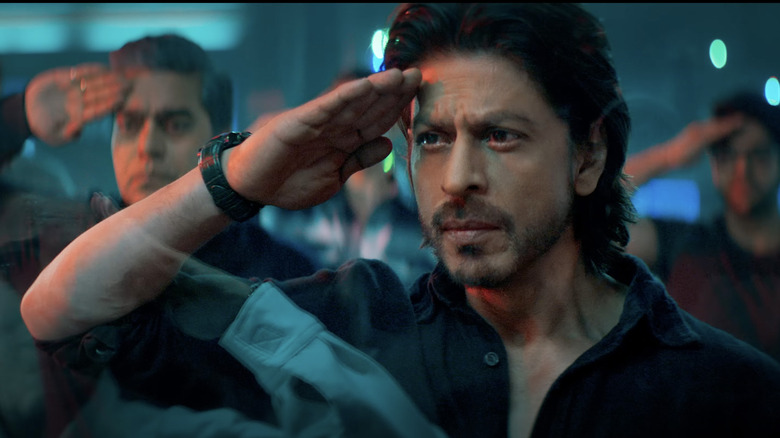 Yash Raj Films Pvt. Ltd./YouTube
Against a toxic social and political backdrop, "Pathaan" stands out not as an action-thriller, but as a blunt vehicle to preach the value of tolerance, mutual respect, and peace. Recent years have seen the rise of Islamophobia throughout India, with Muslims throughout the country dealing with bubbling tension. For YRF to debut their biggest film of the year with a Muslim lead is nothing short of daring. Shah Rukh Khan, a practicing Muslim himself, has played both Hindu and Muslim characters in the past, but his turn as Pathaan is more of a statement. The character's Islamic background, which is briefly explored, goes beyond representation and steps into the realm of celebratory (without being preachy).
For Muslim viewers in India, who may have felt vilified over the last few years, it's consequential that the year's biggest film features an Islamic hero who is protecting their country. Pathaan's identity itself stems from the Pashtun people, a predominantly Muslim ethnic group who populate much of South Asia and the Middle East. Make no mistake, "Pathaan" is still jingoistic, but it's done with nuance and grace. For those who preach hatred, it's a wake-up call to have a film as celebrated as "Pathaan" feature Muslim leads protecting India. 
In "Pathaan," the central MacGuffin (and subsequent threat) manifests due to India and Pakistan's ever-persistent conflicts. As a result, the film posits an Indian and Pakistani spy on a mission together, where they learn to trust one another and eventually fall in love. Anand envisions a more tolerant India, both to its neighbor and its residents. The film's message of tolerance and unity is clearly universal, considering its success in the jaded cinema halls of United States, United Kingdom, and much of Europe.
Pathaan just revitalized an entire industry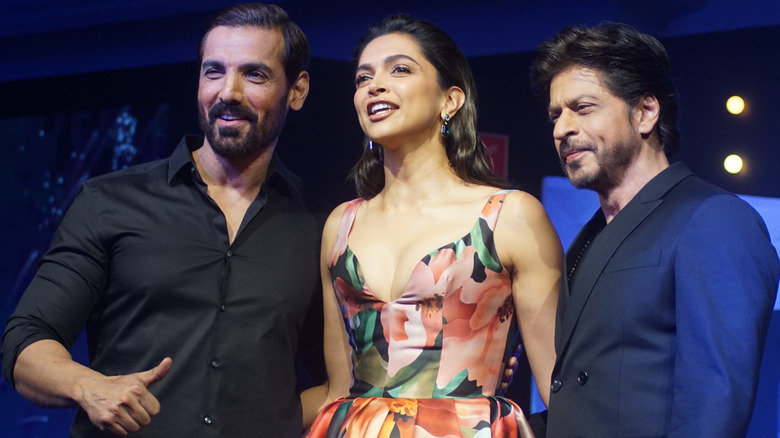 Prodip Guha/Getty Images
For Bollywood fans around the world, the unprecedented, global success of "Pathaan" is nothing shy of a personal victory. Despite all of its record-breaking behavior and balls-to-the-wall action, "Pathaan" shouldn't simply be analyzed on its own merits. To fully understand the film's cultural hold, and why it's already one of the most iconic films of 2023, it's important to remember that the last few years have been rough for Bollywood.
Recent years have accelerated anti-Bollywood sentiments, with many boycotters calling out the industry's lack of diversity, innovation, and repetitiveness. While there's certainly truth to those claims, the backlash the industry received led to poor box office receipts, with the tea leaves reading doom and gloom. Bollywood got its savior in "Pathaan," a film that expertly sets up the next decade or so of Hindi-language blockbusters thanks to the Spy Universe. Despite boasting a near $30 million price tag, "Pathaan" was an absolute underdog for Bollywood. Amidst mounting boycott calls, political-driven controversies, and a general lack of indifference towards new Bollywood projects, audiences around the world found a project to root for with "Pathaan." 
The years haven't been too kind to Shah Rukh Khan, either. His last film, 2018's "Zero," was a commercial failure, with the receipts of preceding projects suggesting that his star power was running dry. Dubbed the "King of Bollywood," Khan is nothing short of an enigma for South Asian viewers. His attitude and charm have made him the world's biggest star, and with "Pathaan," the King returns to his throne. 
In a theatrical landscape dominated by rote Hollywood cinematic universes, it's fascinating to see a modern Bollywood film with slick action and a powerful message break worldwide records, and pave the way for an even more exciting future.