Ted Lasso Season 3 Episode 10 Review: Rebecca Is The Champion While The Rest Are Just So-So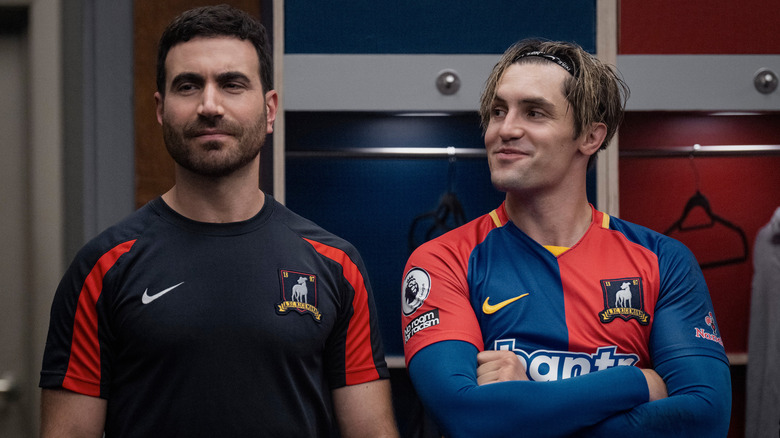 Apple TV+
EDITORS' RATING :
7.5 / 10
"Ted Lasso" has been wildly uneven this season and Episode 10, "International Break," with a lot of different storylines in the mix, demonstrates why. While some of these storylines are sweet and well-executed, others are less fully realized. In fact, while Ted (Jason Sudeikis) executed a successful reboot of the team's prospects a few episodes ago, there's surprisingly little soccer in this episode. Instead, soccer — and Ted — seem to be an afterthought as other things take center stage.
There are several main storylines. First, Keeley's (Juno Temple) company is going under after Jack (Jodi Balfour) pulled her funding — and Keeley is taking it hard. Second, Roy (Brett Goldstein) discovers his own sense of style after his niece (Elodie Blomfield) gifts him a tie-dye shirt for Uncle's Day, a made-up holiday. Third, Nate (Nick Mohammed) has quit his position and now has nothing to do but lie in bed and wonder if he did the right thing. Finally, and best of all, Rebecca (Hannah Waddingham) goes to a meeting for Edwin Akufo (Sam Richardson) at her ex-husband Rupert's (Anthony Head) request, and all the rich men decide against backing Akufo because of what she says.
There are also several minor storylines about the international matches of some team members, especially Van Damme (Moe Jeudy-Lamour) and Dani (Cristo Fernandez), who play each other's countries. Also, Sam (Toheeb Jimoh), who for some reason wasn't chosen by the Nigerian team and feels terrible because of it, learns Akufo is still holding a grudge and managed to engineer things so he didn't get on the team. Akufo remains as awful as ever and he's just as bad when Rebecca sees him, throwing food and acting generally like a privileged baby. Fortunately, both Rebecca and Sam are better behaved than him.
It's ... okay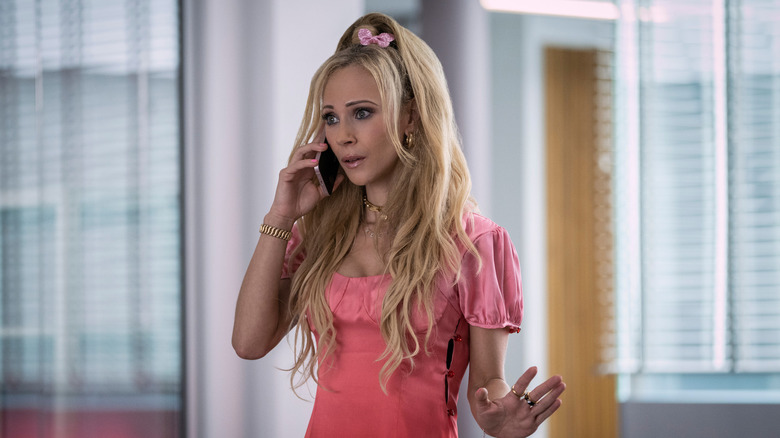 Apple TV+
First, though, let's focus on Keeley, Roy, and Nate's storylines. While I appreciated the trio's struggles, the stories are not as successful as they could be. Keeley is floundering; she's shocked by the fact that Jack pulled funding, and is lost without her company. She also doesn't want to talk to anyone she knows about it, except her CFO (Katy Wix), which leads to a conversation about a snow globe, which is only so exciting. Keeley's story is so separate from the team this season that it's hard to appreciate it at times. Other times, like with the storyline about the recorded act that led to her breakup with Jack, it's pulled focus from the team, and the show hasn't been better for it.
Meanwhile, Roy is learning to be himself without holding anything back. Rebecca gave him some biting words of wisdom last week and it seems this week he (eventually) takes those words and runs with them. He decides he likes wearing what he wants, after first feeling ashamed of it. That leads him to Keeley's house with a letter apologizing for dumping her, which of course leads to them sleeping together. The beginning of this storyline is great. Roy's niece is as winning as ever and Jamie (Phil Dunster) even stops by for the Uncle's Day festivities because, as Roy's niece explains, Jamie's his best friend — an accusation the men deny, but which might just be true. Still, while the letter to Keeley was necessary, it's not clear why it was necessary right now. Roy should work on himself first before running to Keeley to apologize. At least it has a nice payoff with Rebecca. (More on that later.)
Finally, Nate has hit rock bottom after less than a season at West Ham. Yet his girlfriend (Edyta Budnik) makes it clear that Nate quit and he doesn't regret it. Still, Nate spends the episode wallowing instead of figuring out what's next. The climax of his storyline happens when he plays the violin and is interrupted by his father. His father has always been a bit of a questionable presence, saying less than was necessary. But in their newest conversation, he explains he didn't know how to parent a genius so he pressured Nate to be the best at everything, though really, he just wants him to be happy. Confusing! This leads Nate to drop off an apology note to Will (Charlie Hiscock), the kit man at Richmond, making for a nice — and understated — end result.
The problem with all these storylines is, while they have nice moments, they don't work as well as a whole. They seem slightly confused about what they're trying to convey about their stars. Keeley, Roy, and Nate, in their own ways, wallow and stew — but it's not always clear why they do what they do, and these storylines don't give satisfactory answers.
Rebecca rules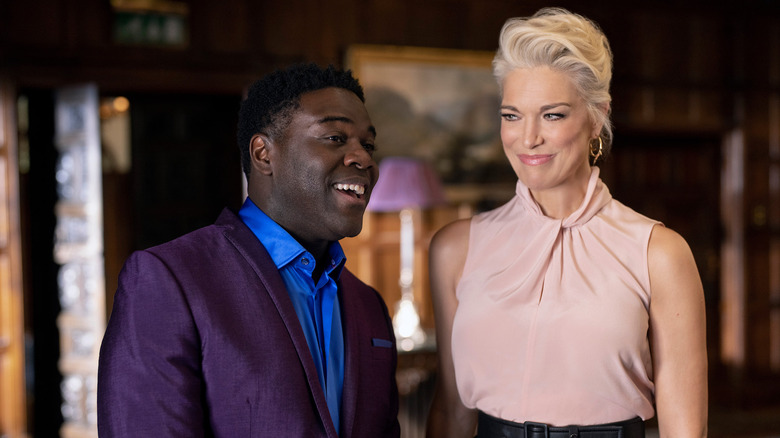 Apple TV+
Rebecca's storyline is pure perfection. Rupert invites her to the Edwin Akufo meeting about forming a Super League and she doesn't want to go, but Higgins (Jeremy Swift), of all people, convinces her that she should. After making some brave animal faces in the mirror she arrives at the meeting and finds she's the voice of reason. Akufo may want everyone to make money but Rebecca remembers what it was like to just be a fan. It's her words that convince Rupert and his friends to reject Akufo's idea and keep the teams the way they are.
Rebecca, for the second week in a row, has shown she knows how to use her words to get people to examine their priorities and do the right thing. She's magic at this, and this time she has a whole speech to prove it. Even better, she gets to reject Rupert's attempt to kiss her. It's a great moment for her and for us. In the end, she goes to Keeley's, gives her the money to reopen her business like it's nothing, and then tells her about rejecting Rupert just as she learns about Keeley accepting Roy. While Keeley and Roy aren't nearly as toxic as Rebecca and Rupert, the parallels are still there. Roy and Rebecca sharing a salute when they see each other at Keeley's place, though, is pure gold.
In the end, Rebecca's storyline saves this episode and even serves up some words of wisdom about soccer. While the other plotlines are decent and bring up some interesting questions — e.g. Will Nate finally say something to Ted? Will Keeley and Roy get back together? — Rebecca's is more definitive and brings about an interesting resolution. "Ted Lasso" is now going into the final stretch of episodes and it's still anybody's guess where this is headed.
"Ted Lasso" Season 3 is currently airing on Apple TV+ with new episodes every Wednesday.