Vanderpump Rules S10 Finale: Raquel's Reactions Prove To Be Horrifying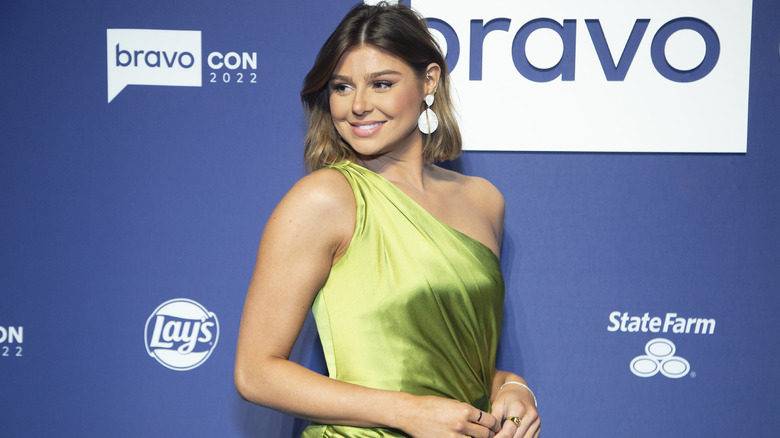 Santiago Felipe/Getty Images
Ever since it was revealed that former unsuccessful beauty queen Rachel "Raquel" Leviss had been having an affair with her close friend Ariana Madix's partner of nine years, Tom Sandoval, the "Vanderpump Rules" fandom has readily crowned two new villains. Along with her secret lover Sandoval, Leviss has been raked over the proverbial coals since the news broke in March... and during the Season 10 finale "#Scandoval," which was hastily filmed after the affair became public, her behavior is, frankly, bizarre.
Leviss is only seen twice in the episode, with a title card later noting that she turned her phone off and didn't answer any calls or texts. In her first appearance, Sandoval arrives at Raquel's galaxy light-filled apartment to unpack the chaos they've created together, and the entire exchange is unsettling. Sandoval accidentally calls her "Ariana," they exchange "I love you" (which is even more awkward considering that Sandoval says "they love you," referring to his family, and Leviss, not understanding, says, "I love you too"). If fans thought they were shocked to hear about the Scandoval of it all, Leviss' behavior in this finale absolutely shocked them.
On a Reddit thread discussing Leviss in the episode, fans didn't mince words; as u/athenarose_95 put it, "I could not believe what I was hearing. That's how you respond to an affair coming to light on national TV no less?" u/_Klight126 agreed, writing, "Yes, the lack of remorse was painful to watch."
Fans can't believe how remorseless Leviss is in the Season 10 finale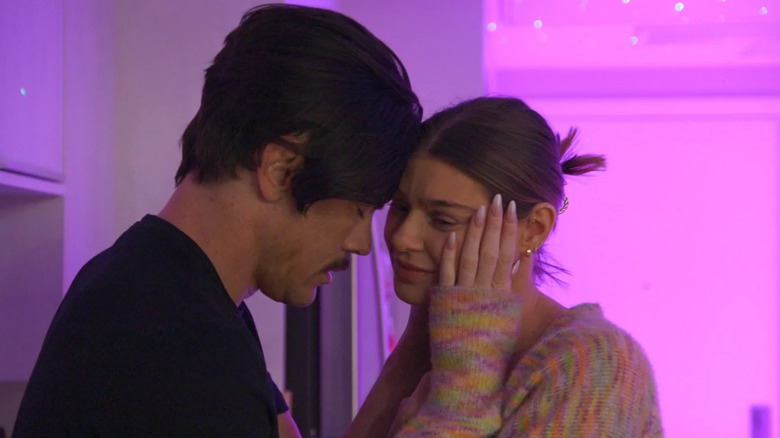 Bravo
Perhaps more distressing than Leviss' scene with Sandoval was her brief confessional, where she giggles about their relationship. "I was just so curious to know what it would be like to be physical with someone that you love," she says, smiling coyly, as if she wasn't discussing the utter betrayal of one of her close friends. Fans on that same Reddit thread could barely believe this reaction — as u/caramk put it, "I cannot believe she doesn't even have an ounce of intelligence to at least PRETEND ON CAMERA that she's sorry/ashamed/remorseful."
In replies to that, fans assumed chalked Leviss' reaction up to the fact that, well, she doesn't seem to have a lot going on mentally at any given moment. u/twir1s wrote, "Someone forgot to tell her how to act so she was left to her own devices," followed by u/quantumdreamqueen, who joked, "Left on factory reset."
Ultimately, it seemed unbelievable that Leviss could take such joy in a situation that hurt many of her so-called friends. u/EmotionalGain908 wrote, "I can't believe she was smiling about it. Like....what, no mention of your 'best friend...?'" Others honed in on her apparent complete lack of empathy, especially in such a serious moment, like u/hmcdevvv: "The only time Raquel has cried this season is over herself and her identity. The only time she showed empathy was to herself and [Tom] Schwartz? Not hurting her BEST FRIEND who went to bat for her all season while in the midst of grief."
Under the circumstances, Leviss' behavior is extremely disturbing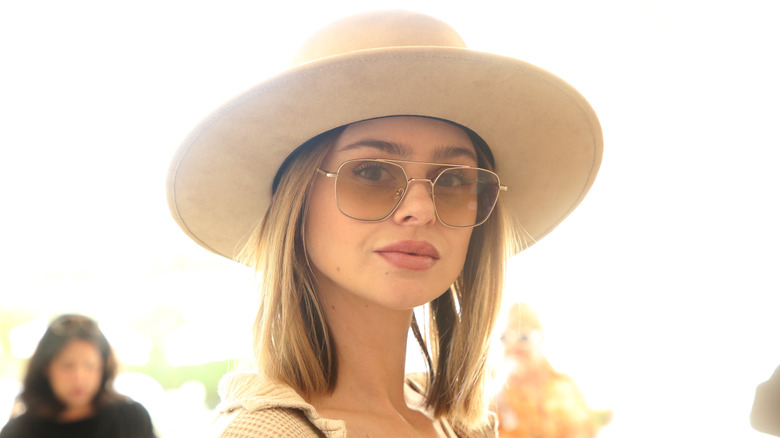 Phillip Faraone/Getty Images
Over on Twitter, fans reacted in real time during the episode — and were in similar disbelief that Leviss didn't seem to have an ounce of empathy or remorse for her obviously awful betrayal. As @gibsonoma put it, "Raquel was showing zero signs of remorse in her scene with Sandoval and in her confessionals. In fact, it was quite the opposite — she was positively giddy. You can tell that she thought she and Sandoval would be together forever."
@takeyourzoloft felt physically affected by the entire experience, writing, "Raquel makes me sick. The smiling. The not feeling bad. I AM SICK." @marissasayswhat includes a phoot of Leviss giddily grinning in her confessional, saying, "smiling about having an affair with your best friend's partner for seven months is unbelievably demonic."
Ultimately, the kinder takes on Leviss' whole deal in this episode concluded that she has to be struggling with her mental health to act this way — like @alexandergold, who was being somewhat charitable. "Raquel looks like a villain in a Batman movie smiling with no remorse," he wrote. "This is not a well person. WHAT IS WRONG WITH HER?"
Some fans were far more blunt and even less kind, like @KateCasey: "Raquel is devoid of compassion or introspection. She smiles at inappropriate moments. She seems almost confused by everyone's anger. What planet is she living on?"
Raquel Leviss still has to face a firing squad at the Vanderpump Rules Season 10 reunion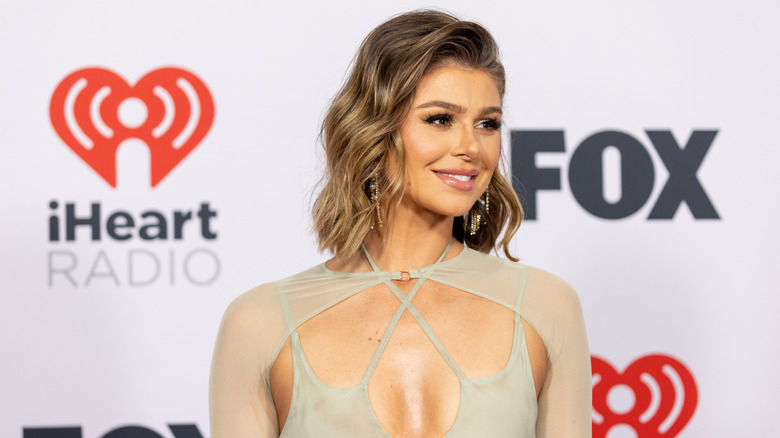 Emma Mcintyre/Getty Images
Leviss only appeared briefly in the Season 10 finale, but there's still more to come — on May 24, the three-part reunion special will start airing, at which Leviss and the rest of the cast are present. Due to the fact that Leviss filed an order of protection against fellow cast member Scheana Shay — claiming that, after the two appeared on "Watch What Happens Live" the day Scandoval came to light, Shay punched her, which — the two couldn't appear on stage together, and Shay and Leviss' segments were filmed separately. Bravo maestro Andy Cohen has also repeatedly revealed that the reunion will feature one-on-one interviews with Sandoval, Madix, and Leviss, edited into the overall footage.
Though Shay and Leviss couldn't be in the same room, Shay, along with fellow cast member Lala Kent, managed to spill some tea about Leviss' similarly odd behavior at the reunion. On her podcast, "Scheananigans with Scheana Shay," Shay said to Kent, "The fact that she had not a single tear, no remorse. She sat at the reunion and did not shed one tear." Kent confirmed this, saying, "No, I know. She actually smiled."
The duo also talked about how beautifully Madix conducted herself during the understandably difficult precedings, especially when it came to Leviss. After Kent said Ariana handled it all so well, Shay replied, "So good. I really enjoyed watching that. It was just, there was no response, like, there was nothing Raquel could have said back to her because she just assassinated her every time."
Are Raquel Leviss and Tom Sandoval currently together?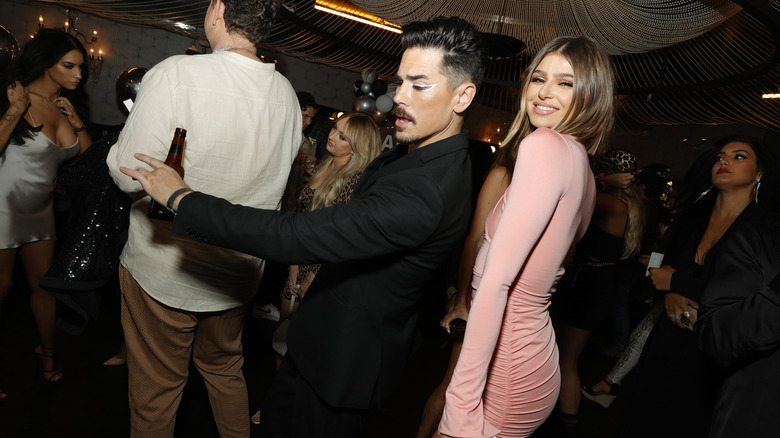 Amy Sussman/Getty Images
There's actually not a simple answer to this question, believe it or not. On the day of the Season 10 finale, outlets reported that Leviss and Sandoval had officially "broken up," though fans were certainly skeptical of this timing. Now, a source has told People Magazine that the two were never together to begin with.
"Tom and Raquel never put a label on their relationship to begin with," the source said. "After their affair was exposed and the blowback they received, they said that before defining things, they needed to take time to address the issues in their own lives that drove them to this in the first place. And that's where things still are."
The source continued from there, saying that Sandoval has been focusing on his "band," Tom Sandoval and the Most Extras (more accurately described as a self-funded vanity project for a man clearly experiencing a mid-life crisis) and that Leviss has checked herself into a facility for mental health treatment, where she reportedly still remains. Whether or not they're really a couple — or ever were — will undoubtedly come to light at some point, but for now, fans will just have to wait and see.
You can stream Season 10 of "Vanderpump Rules" on Peacock, and the reunion kicks off on May 24 on Bravo.