VPR: Ariana Madix Breaks Down Scandoval's Seriousness & Filming The S10 Finale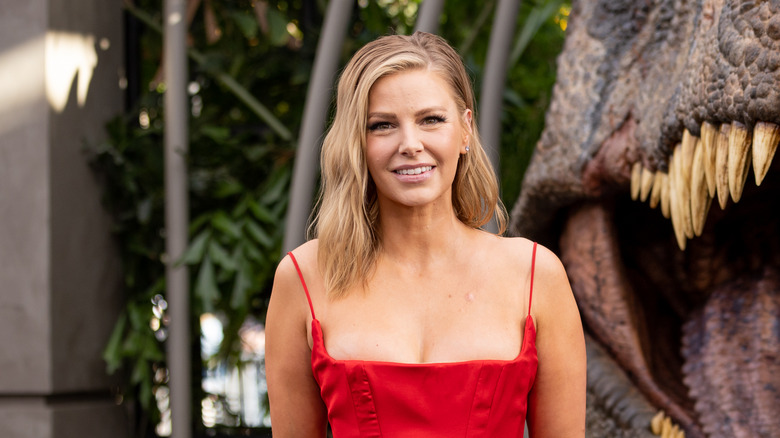 Emma Mcintyre/Getty Images
In the wake of "Scandoval" — perhaps the biggest scandal to hit "Vanderpump Rules" in its ten-year history — cast members Tom Sandoval and Rachel "Raquel" Leviss became the series' most devious villains. The flip side of this is that Ariana Madix, Sandoval's former girlfriend and the indisputable wronged party, has risen from the scandal like a phoenix from the ashes.
After snagging a role in a Lifetime movie, an invite to the White House Correspondents' Dinner, a spot on "Dancing with the Stars," and brand partnerships with everyone from Bic to Uber, Madix is thriving. Now, after the Season 10 finale aired, which sees Madix coolly destroying her ex-boyfriend, she's on her own press tour, appearing on "Watch What Happens Live," "The Today Show," and sitting down with The New York Times for an interview.
Asked why people have been so shaken by the Scandoval revelations, Madix addressed Sandoval's overall attitude as well as the longevity of their partnership. "I think our relationship was so longstanding that people, including myself, saw it as end game," she said. "I also think the people involved were so duplicitous and deceitful. [Sandoval] was also someone who was constantly preaching about integrity when it came to other people taking accountability and I think that shift in him — having no integrity — is something that shocked people."
Madix also thinks the situation is, despite being specific to this show, extremely relatable: "Plus, there are also so many people who can relate to the situation and can put themselves in my shoes."
Ariana Madix says filming the Season 10 finale was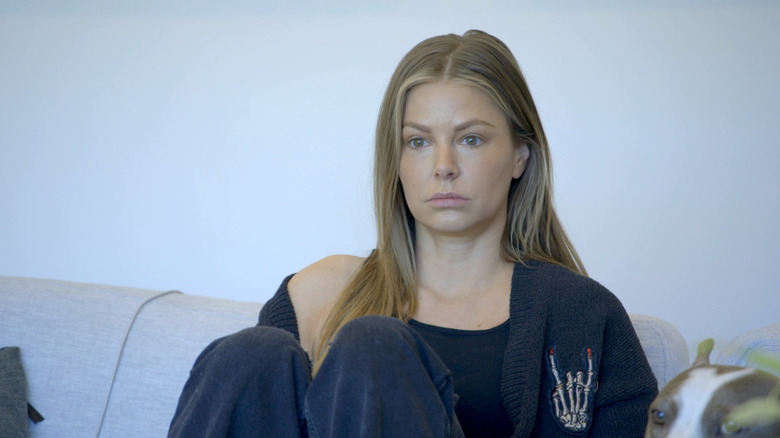 Bravo
The scene where Madix and Sandoval talk in their living room about the revelations that he was having an affair with her close friend Leviss is, frankly, absolutely stunning. Sandoval stutters through it, desperately trying to save face and making excuses about the state of their relationship prior to his dalliance; Madix, meanwhile, is calm, cool, and collected. After telling him that, unlike Leviss, she loved him when he had nothing and would have followed him anywhere, she drops the most searing line of all: "I regret ever loving you. Any last words before we never speak again?"
So how did it feel to film this with Sandoval? According to Madix, she had some clarity going into it; as someone who's frequently not involved in the constant drama of "Vanderpump Rules," viewers know she usually tries to be even-handed. This time, though, she was prepared. Asked what it was like to film with Sandoval, she said, "When he sat down on that couch [during filming] and tried to give the sad sack act, I knew he was going to try to sell a bit. I knew he was trying to be that person so that I would be the angry person; I could see what was happening in front of my face, and it was really frustrating. Honestly, when he started yelling at me, I felt a little bit satisfied that he was finally going to be the real him."
Fans loved how Ariana Madix handled Tom Sandoval in the finale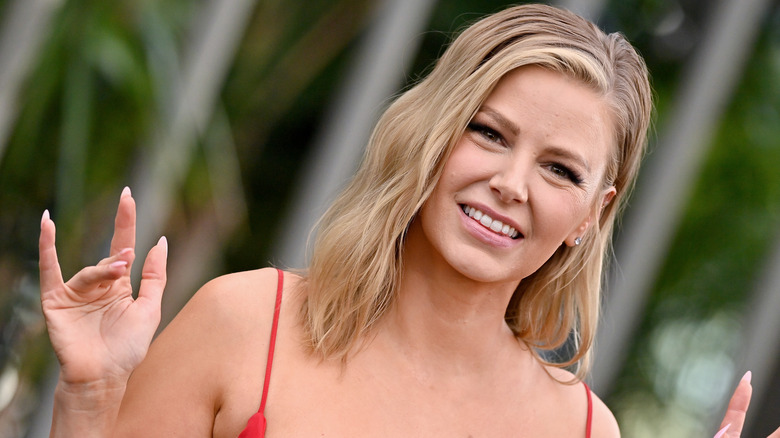 Axelle/bauer-griffin/Getty Images
Between her evisceration of Sandoval and, later in the episode, her dressing-down of Sandoval's protector and business partner Tom Schwartz — who helped cover up the affair for months — fans absolutely loved Madix's steely manner of taking charge during this completely tumultuous episode. As @wrexweed wrote on Twitter, "I've been waiting YEARS for somebody to obliterate Schwartz and Sandoval's bullsh*t expectations for their parody of a lifestyle and I am so happy it's Ariana Madix."
@TherealCANDIACE couldn't believe how much restraint Madix showed in the moment, writing, "Ariana is better than all of us. I would have burned everything down." @_ShanG9 agreed: "Ariana absolutely destroying Sandoval with composure. A graceful queen." Bravo megafan @gibsonoma quoted Madix directly, writing, "'You got a little bit of money, a little bar, a little band...' Ariana is reading this man for filth. This is amazing." @LouisPeitzman chimed in as well to compliment not just Madix's composure as well as how quick she was to dole out devastating insults to her cheating ex: "Ariana is serving. How is she this good this angry."
Madix has, to be fair, always been a pretty popular cast member, when all is said and done; she's nice to people more often than not, and hasn't made very many waves. Now, fans are seeing her at her full power — and honestly? It's thrilling.
What can fans expect from Ariana Madix during the three-part reunion?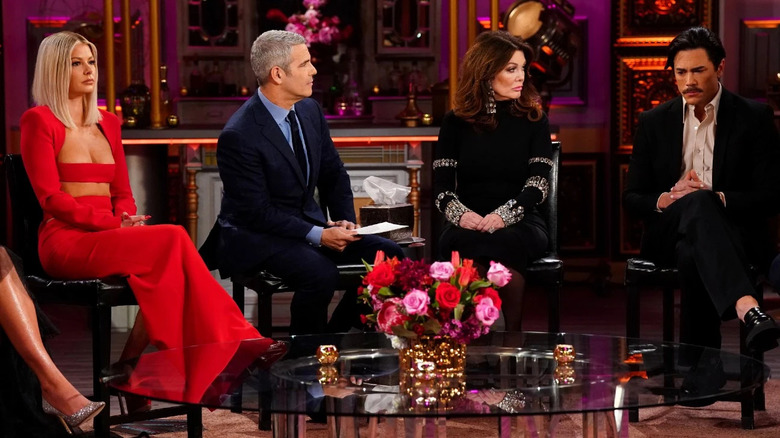 Bravo
Based on the poise she showed mere days after finding out that one of her best friends and her life partner of 9 years had been having an affair behind her back, we can expect more of the same from the reunion. In the trailer for the explosive three-part reunion, which kicks off on May 24 with its first installment, Madix is seen crying once, but she's also composed, cool, and collected speaking to Leviss and Sandoval. Speaking to Sandoval, Madix tells him to look away, as he doesn't even deserve to look at her. Similarly, when Leviss says that she's been selfish, Madix responds, "selfish does not cover it," calling her former friend "diabolical, demented, subhuman." (Naturally, DJ James Kennedy bookends this by calling Sandoval and Leviss "poo-poo heads.")
In her Times interview, Madix said that, understandably, filming this reunion felt entirely different. Typically, there's several fighting factions at a "Vanderpump Rules" reunion special, but this time, there was a common enemy. "It was kind of a weird day because I feel like most of the time in any other reunion, we go through the whole season," Madix said, making it clear that this reunion probably won't cover many of the season's other plotlines. "But in this reunion, it was really just everybody against one or against two [cast members]. We've never been united like that ever.
What is Ariana Madix's future on the show, and how does she feel about Sandoval now?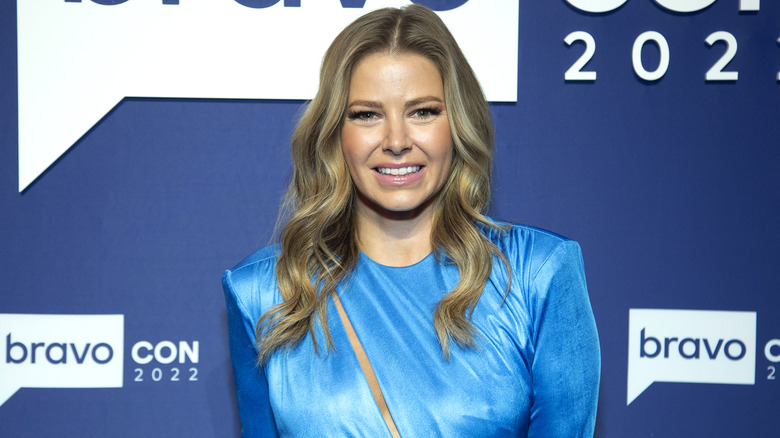 Santiago Felipe/Getty Images
So will Madix return to "Vanderpump Rules," and if she does, how would that work? As of this writing, "Vanderpump Rules" hasn't yet been renewed for Season 11, but it seems likely; the long-running reality series has been drawing in enormous viewership numbers thanks to Scandoval and its fallout. During an appearance on "The Today Show," Madix said that should there be a Season 11, she'll be back — but as she told the Times, there's some caveats.
Asked if there's anything that either Sandoval or Leviss could do to redeem themselves, Madix was blunt: "I think any chance that either of them separately had for that ended when they started giving trash interviews victimizing themselves," referring to Leviss' bizarre and likely staged interview with TMZ as well as Sandoval's rambling appearance on Howie Mandel's podcast. "I think had they not done or said all of those horrible things, maybe one day, but I think the answer ultimately is no. In our friend group, the answer is no."
The other factor here is that, understandably, Madix has no interest in interacting with either Sandoval or Leviss ever again; when she was asked if she would film with them, she was similarly direct. "No. I have nothing to say to either of them," she replied. "Our show is very real and follows a real group of friends, and neither of them are in the group of friends, so, good luck."