Netflix's Squid Game Inspired Reality Competition Series Gets A Release Window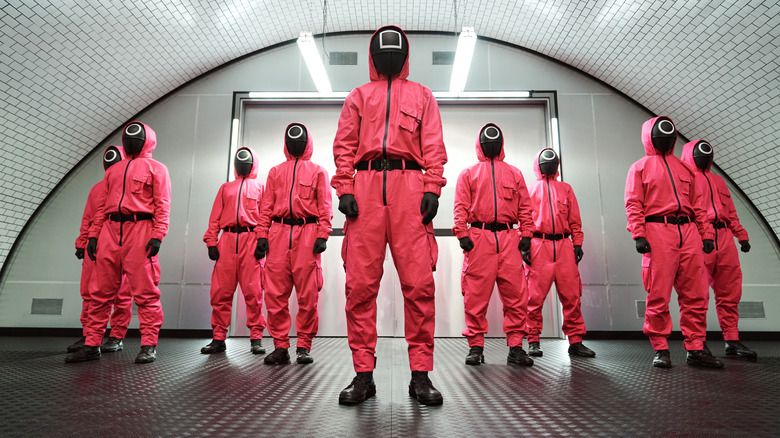 Noh Juhan/Netflix
When "Squid Game" premiered on Netflix in 2021, it quickly became one of the most streamed series on the platform, and it wasn't long before the company decided to produce an actual reality show based on its dystopian premise. The resulting "Squid Game: The Challenge" now has an official release window, with Netflix announcing at Upfronts that the show will premiere in November, 2023, per Deadline.
"Squid Game: The Challenge" will see 456 contestants recreate some of the challenges from the original, scripted series, such as a heightened version of the children's game "Red Light, Green Light," for the chance at a cash prize of $4.56 million, the most cash ever up for grabs on a reality show. It will consist of ten parts, with players forming alliances as the competition is swiftly eliminated.
The series, produced by Studio Lambert of "The Circle" notoriety, was filmed in the UK. Though greenlit in June 2022, production was hampered by alleged behind-the-scenes mistreatment and mishandling. But as other networks and streamers begin to fill their fall slates with unscripted programming in light of the ongoing Hollywood writers' strike, "Squid Game: The Challenge" will debut in the middle of a new wave of reality TV.
Squid Game: The Challenge arrives in November despite noted controversy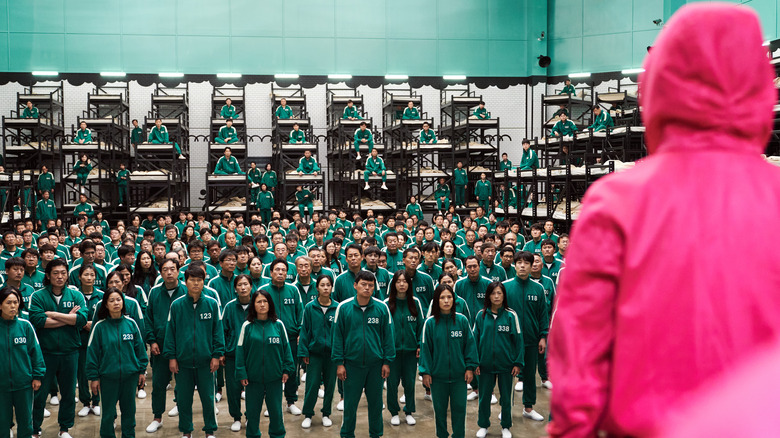 Noh Juhan/Netflix
Production on the "Squid Game" themed competition series has been fraught with controversy. In February of this year contestants on "Squid Game: The Challenge" came forward with horror stories from behind the scenes, describing "inhumane" conditions and alleging that contestants were made to play "Red Light Green Light" for hours in freezing cold conditions. They were allegedly not allowed coats and were made to keep their tracksuits zipped open. Some players required medical attention after collapsing, the whistleblowers told Variety. Per Deadline, "Squid Game: The Challenge" was hit with an independent safety assessment following those medical emergencies. Netflix strongly denied some of the claims made by players while downplaying others.
"Squid Game" depicted a dystopian world in which impoverished people are forced to put their lives on the line for a chance at wealth, an exaggerated mirror of the conditions many people live under in real life. The decision to make it a reality show was always an odd one, though the sheer name recognition of the "Squid Game" brand no doubt makes it a viable product for Netflix.