Asteroid City: Why Filming Was Like An Actor's Dream Camp For Bryan Cranston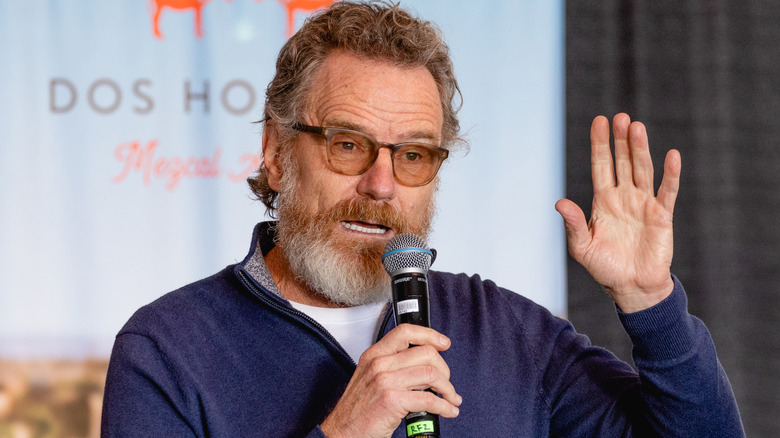 Rick Kern/Getty Images
As Wes Anderson gears up to premiere his much-discussed science fiction film, "Asteroid City," the film's cast members are eager to talk about their experience behind the scenes. None more so than "Asteroid City" star Bryan Cranston, who joined the project as a newcomer to Anderson's close-knit circle of collaborators. According to the "Malcolm in the Middle" alum, Anderson demanded perfection but delivered an incredible experience for his actors nonetheless. Cranston described it as "like fulfilling an actor dream camp."
Anderson, as can be inferred from a single glance at any given frame from one of his films, is an exacting director. Speaking to Collider in October 2022, Cranston affirmed that working under Anderson's direction was a challenge, saying, "Working for Wes is not easy. It's very detailed and specific, and so you really have to really concentrate hard."
But to hear Cranston tell it, working on "Asteroid City" had its pleasant side despite the rigorous work involved. The "Jerry and Marge Go Large" star described luxury accommodations and nightly feasts with the rest of the cast, saying, "What offsets [the hard work] is the congeniality and the togetherness of the experience. We're all at this five-star hotel in Spain and every single night is a banquet."
Wes Anderson is not easy to work with, but Cranston loved it
After a long and intense day of shooting on Wes Anderson's upcoming "Asteroid City," actor Bryan Cranston was able to look forward to a night of good food and better company that included plenty of songs coupled with stimulating conversation. "Every single night you are exchanging thoughts and laughter, and someone brings a guitar, and you're singing, and you're talking," he told Collider.
Presumably, Cranston's company at those banquet tables included his co-stars, meaning he spent his nights alongside some of the biggest names in Hollywood. Anderson can have his pick of the litter when it comes to casting, and for "Asteroid City," which looks like the most Wes Anderson Wes Anderson movie yet, he recruited a powerhouse team of talent including Tom Hanks, Scarlett Johansson, Tilda Swinton, Edward Norton, Steve Carell, Willem Dafoe, and Margot Robbie, to name but a few. Said Cranston, "It's just so familial. It's like fulfilling an actor's dream camp. It was a really great experience, albeit, again, the work was very specific and very difficult."
"Asteroid City" premieres at the Cannes Film Festival on May 23, with a wide release across the United States a month later on June 23.