Asteroid City - Everything You Need To Know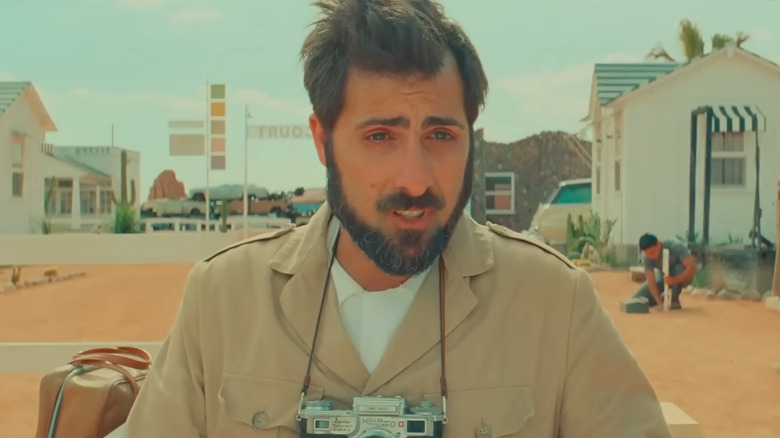 Focus Features
With his symmetrical framing, unique color palette, and stable of beloved collaborators, Wes Anderson is one of the most instantly recognizable directors working today. He creates precise, perfect worlds and populates them with endearing oddballs, and it's his super specific style that's inspired both devotion and disdain from moviegoers. Some think he's a genius. Others think he's pretentious. But if you love what Anderson has to offer, then you're in for a treat with "Asteroid City."
The director's 11th feature film, "Asteroid City" has strong "Moonrise Kingdom" vibes, and it boasts perhaps the most impressive cast of Anderson's career — which is really saying something. And with a new film on the way from one of the most interesting directors working today, we're willing to bet you have a few questions. When will the movie land in theaters? Which members of Anderson's acting troupe will be showing up in the titular desert town? Well, cue up a melancholy pop song and get ready to walk in slow motion as we discuss everything we know so far about "Asteroid City."
When will Asteroid City be released?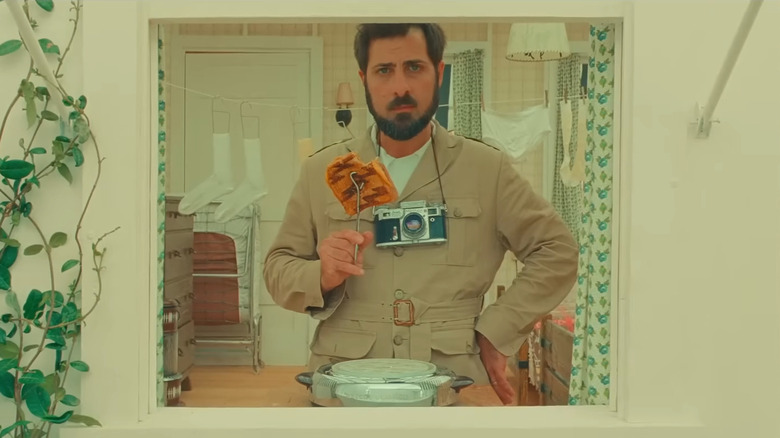 Focus Features
June 2023 is going to be an action-packed month for moviegoers. Barry Allen will join forces with Michael Keaton's Batman in "The Flash." Indiana Jones is picking up the whip again in "The Dial of Destiny." Chris Hemsworth is somehow back from the dead in "Extraction 2," and things are going to get all multiversal with "Spider-Man: Across the Spider-Verse." It's so much adrenaline-laced fun that you're going to need a breather in there somewhere, right?
For those who need a break in the action, or those who just aren't really crazy about over-the-top blockbusters, "Asteroid City" will be the perfect antidote — dry, quirky, completely pastel. But when can you visit this strange little town? Well, "Asteroid City" will be getting a limited release June 16, 2023 — the same weekend that "The Flash" speeds into town. It'll also find itself competing against Pixar's latest film, "Elemental." It will then expand on June 23.
In other words, June 16 will be a pretty crowded weekend at the box office, but while "The Flash" will no doubt come out the victor, none of these three films are really competing for the same box office dollars. No matter what, we're expecting the Wes Anderson faithful to grab their telescopes and star charts and all show up for "Asteroid City."
What is the plot of Asteroid City?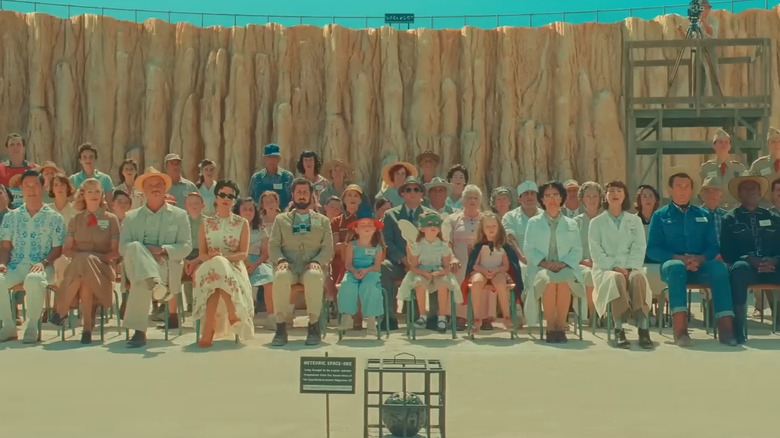 Focus Features
Set in a tiny desert town during 1955, "Asteroid City" will focus on a Junior Stargazer/Space Cadet convention that will draw eclectic families from across the U.S. to this out-of-the-way burg. However, as the space-loving students and their parents converge, things take a few surprising turns — or as the official plot synopsis puts it, the convention's itinerary "is spectacularly disrupted by world-changing events."
Judging by the film's trailer, it looks like those world-changing events might involve some atomic bomb testing and the arrival of a UFO. It also looks like there's quite a bit of human drama happening too, such as a widowed father trying to deal with his precocious children and his cranky father-in-law, a group of astronomically-minded kids trying to find themselves, and the arrival of a famous movie star. We'll see exactly how all these events — both terrestrial and extraterrestrial — play out when the film hits theaters in June.
Who is starring in Asteroid City?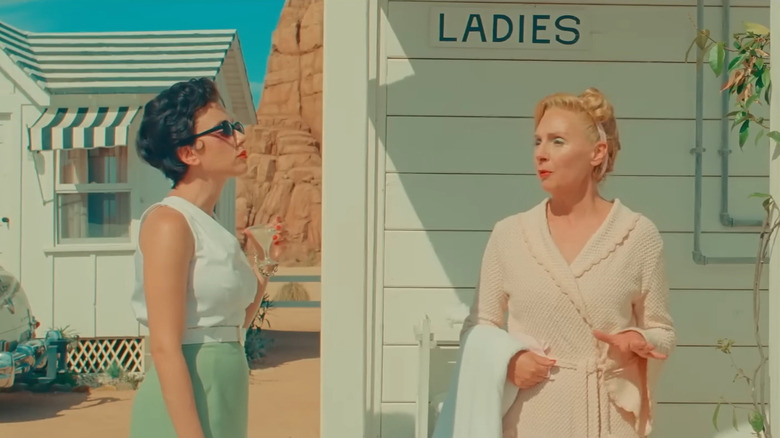 Matt Winkelmeyer/Getty Images
It wouldn't be a Wes Anderson film without a large cast full of familiar faces, and "Asteroid City" is no different. Naturally, the movie includes some of Anderson's go-to actors: Jason Schwartzman, Jeffrey Wright, Tilda Swinton, Adrien Brody, Tony Revolori, Jeff Goldblum, Willem Dafoe, Fisher Stevens, Bob Balaban, and Edward Norton. It'll also star Scarlett Johansson and Bryan Cranston, who previously collaborated with Anderson on "Isle of Dogs," as well as Jake Ryan, who played in "Moonrise Kingdom."
Of course, the film will also feature plenty of newcomers, including some big-deal A-listers. For example, "Asteroid City" marks the first collaboration between Anderson and Tom Hanks, the two-time Oscar winner who recently starred as Col. Tom Parker in "Elvis." We'll also get to see Margot Robbie of "The Suicide Squad" fame, who recently starred in Damien Chazelle's "Babylon." You can also expect a few other famous names join the Wes Anderson club, including Maya Hawke of "Stranger Things," Steve Carell of "The Office," and recent Oscar nominee Hong Chau of "The Whale."
Rounding out the cast, we've got Ray Donovan himself, Liev Schreiber, as well as Matt Dillon of "Drugstore Cowboy" and "The House That Jack Built." We'll also be seeing Hope Davis of "Your Honor" and "Succession," Sophia Lillis of the "IT" movies, and Rupert Friend of "Obi-Wan Kenobi." Anderson has also cast Stephen Park of "A Serious Man," Aristou Meehan of "The Contractor," Grace Edwards of "Call Jane," and Ethan Lee of "Mr. Robinson." 
Plus, the one and only Rita Wilson will also be appearing, although we don't know if she'll be interacting with real-life husband Tom Hanks. It's also been reported that musicians Seu Jorge and Jarvis Cocker will be making cameos (both have appeared in Anderson's films before, with Jorge playing in "The Life Aquatic with Steve Zissou" and Cocker showing up in "Fantastic Mr. Fox" and "The French Dispatch").
Who is writing and directing Asteroid City?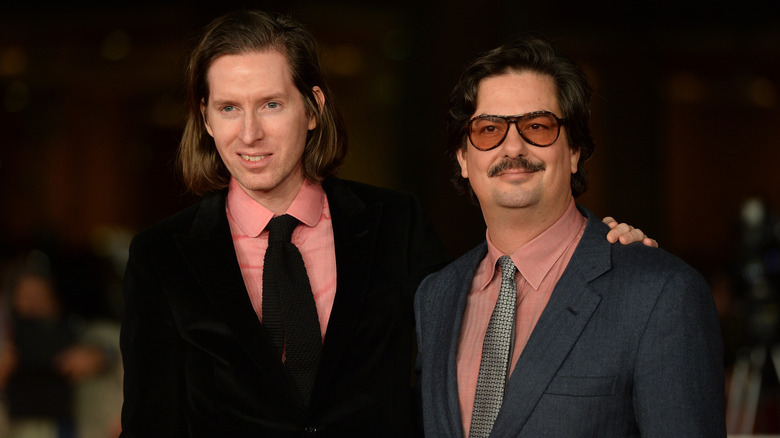 Tullio M. Puglia/Getty Images
Obviously, "Asteroid City" is the brainchild of Wes Anderson. The Texas filmmaker first showed up on the cinematic scene with his heist caper "Bottle Rocket," but he really broke into the pop cultural consciousness with "Rushmore," the movie that introduced us to Jason Schwartzman and reinvigorated Bill Murray's career. Since then, Anderson has made a ton of modern classics, including "The Royal Tenenbaums," "Fantastic Mr. Fox," "Moonrise Kingdom," and "The Grand Budapest Hotel."
Speaking with Collider, "Asteroid City" star Bryan Cranston discussed what it was like working with the filmmaker. "When you work for an auteur like that, it is a big trust exercise," Cranston said, further elaborating, "It wasn't easy work. Working for Wes is not easy. It's very detailed and very specific, and so you really have to concentrate hard. What offsets that is the congeniality and the togetherness of the experience."
As he always does, Anderson wrote the screenplay, but he co-wrote the story with Roman Coppola. As you've probably guessed by the last name, Roman is the son of Francis Ford Coppola, which makes him Jason Schwartzman's cousin, and he's collaborated with Anderson in the past. Together, the duo have crafted "Moonrise Kingdom," "The Darjeeling Limited," "The French Dispatch," and "Isle of Dogs," so we look forward to what these two have developed this time around.
Is there a trailer for Asteroid City?
Everybody knows that Wes Anderson style — exaggerated pastel colors, perfectly symmetrical images, panning shots, and immaculately designed sets. And it doesn't get any more Anderson-y than the trailer for "Asteroid City," where the director's famous aesthetic is on full display.
In the official trailer, all the stars are out — both in the sky and on the set, as there's some serious talent onscreen. As a military figure, Jeffrey Wright sets up the plot, telling an audience full of eager students and their martini-loving parents, "Junior stargazers and space cadets, each year we celebrate Asteroid Day, commemorating September 23, 3007 B.C., when the Arid Plains Meteorite made Earth impact." It's this special event that's drawn so many people, from single dads to movie stars, and there's all sorts of sci-fi elements on display, from bizarre scientific devices to a visiting UFO.
That alien visit is causing some consternation among the Asteroid City residents, with Jason Schwartzman saying, "I don't like the way that guy looked at us — the alien." Scarlett Johansson replies, "How did he look?" Scwhartzaman immediately responds, "Like we're doomed." "Maybe we are," Johansson says back, sadly. It also appears that all the kids and their parents are being quarantined in the town as a result of the alien sighting, which will no doubt lead to romantic moments, snarky quarrels, and a heavy dose of ennui.
What will Asteroid City be rated?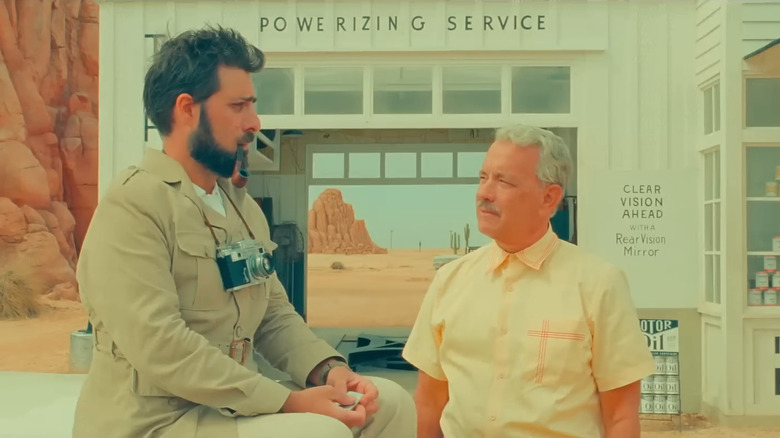 Focus Features
Much like the aliens who'll visit Earth in Wes Anderson's new movie, "Asteroid City" has taken quite the journey to earn its rating. Originally, the movie was rated R for "brief graphic nudity," but evidently, Anderson appealed the decision and somehow talked his way into a PG-13. We have no idea how someone convinces the MPAA to give them the same rating as "Ant-Man and the Wasp: Quantumania" for a movie that contains graphic nudity, but that's the magic of Anderson. In addition to that revealing moment, you can also expect the film to have "smoking and some suggestive material."