Mrs. Davis: The Costume Piece That Links The Show To Fight Club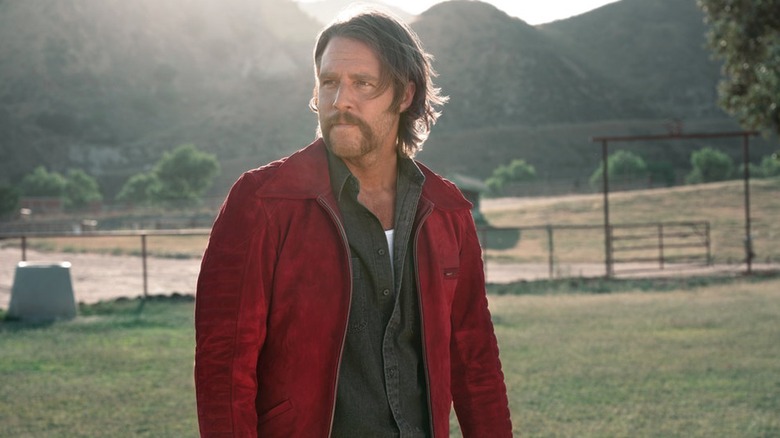 Colleen Hayes/Peacock
As the weeks have gone by and we've gotten further and further entrenched in the "bonkers" escapism show that is "Mrs. Davis," we've become increasingly interested in understanding the thought process of everyone who brought the show into existence. But one thing we didn't expect was to find a connection between "Mrs. Davis" and equally bonkers cult favorite "Fight Club," but amazingly, there is.
Susie Coulthard, costume designer for "Mrs. Davis," felt that Tyler Durden's (Brad Pitt) red rust leather jacket would be perfect for Wiley (Jake McDorman), so she approached the jacket's designer, Los Angeles leather artisan Jonathan A. Logan, and asked him to make something similar in suede. She soon discovered that McDorman, who had many of Logan's pieces in his own wardrobe, had the same idea. "When I first spoke to Jake, he's like, 'Oh, I've got this guy I want to introduce you to," Coulthard told The Daily Beast. "I said, 'Don't worry, we're already there," she said. "A wonderful serendipitous moment where that collaboration worked out nicely."
The Resistance revered Tyler Durden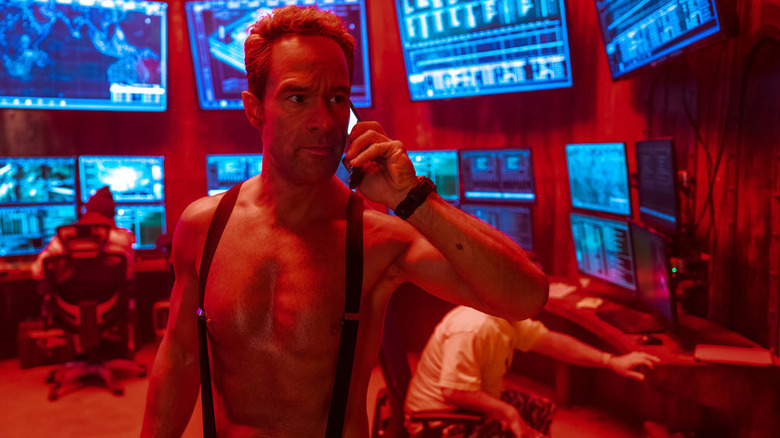 Ron Batzdorff/Peacock
While seeing Wiley sport a version of the iconic Tyler Durden jacket is fitting on its own, that's far from the only nod to "Fight Club" in the series. The group of men — the Brotherhood — that Wiley and JQ (Chris Diamantopoulos) lead obviously had to have some personification of masculinity in their mind, and it made sense for that person to be Durden. Co-creator Tara Hernandez told Syfy.com that "we were big fans of "Fight Club" and looking at toxic masculinity in its manifestations." Behind the scenes, "we always referred to our Resistance as naming themselves after Tyler Durden."
Diamantopoulos channeled different pop culture references in his clothing, including "The Fifth Element," which Susie Coulthard thought was great. "We moved that forward every time we did a fitting with him, it was like, 'OK, Chris, who are we channeling today?" she told The Daily Beast. Each of the actors collaborated with Coulthard to find their characters' aesthetic, whether it was the culottes Betty Gilpin's Sister Simone wears with her nun's habit, Jake McDorman's well-worn cowboy boots or Diamantopoulos's suspenders without a shirt look.
Coulthard had ideas when she read the script of what the characters should dress like, which made her jump at the chance to work on "Mrs. Davis." "The fact it was coming from Warner Bros. and [had] this cartoony Looney Tunes feel to it. I thought, 'Oh, God, I've got to do it," she said.