Why JQ From Mrs. Davis Looks So Familiar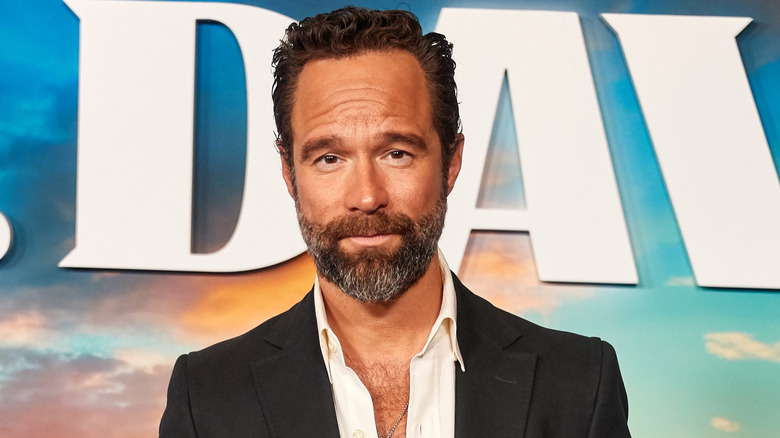 Unique Nicole/Getty Images
Attempting to describe "Mrs. Davis" is a fool's errand, and not just because the fat cats at Peacock would certainly have people's heads for divulging spoilers. Rather, it's the type of series that defies description. In any case, let's give it a go: A jam-making nun named Simone (Betty Gilpin) is goaded by her nemesis — a highly intelligent algorithm named Mrs. Davis — into finding and destroying the Holy Grail, which one supporting character tongue-in-cheekily calls "the most overused MacGuffin ever." Along the way, she runs into magicians, an interdimensional falafel restaurant, and a cat-loving scientist named Dr. Schrödinger.
"Mrs. Davis," you see, is an exercise in maximalism, but its lofty central battle between technology and faith is undercut by self-awareness and an undeniably silly cast of supporting players. One such group is a muscled, bro-y AI-resistance squad helmed by Simone's ex, Wiley (Jake McDorman).
Wiley's right-hand man is JQ, played to comical, chaotic effect by Chris Diamantopoulos, an Australian meathead with a love of Vegemite, heists, and fiery speeches. Here's where you may have seen the actor before.
Chris Diamantopoulos played the President's chief of staff in 24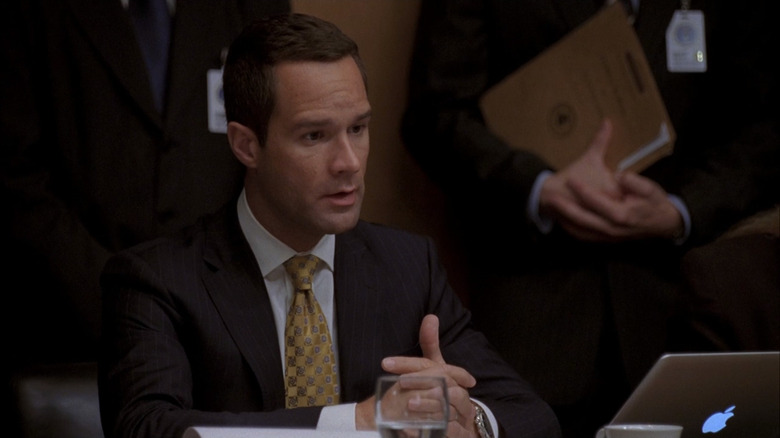 Fox
Chris Diamantopoulos may speak with a thick Australian accent in "Mrs. Davis," but don't let the brogue fool you. The actor got his start doing commercials in his native Canada as a kid. Adverts gave way to theater, and early in his career, Diamantopoulos had leading roles in "The Full Monty" and "Les Misérables." He soon became a reliable presence on television, appearing in episodes of "Frasier," "Nip/Tuck," "The Sopranos," and "CSI." In 2007, he nabbed recurring roles in the Debra Messing-starring miniseries "The Starter Wife" as well as "State of Mind" starring Lili Taylor.
In 2010, Diamantopoulos secured his longest-running live-action role to date in Season 8 of "24." Over his 12-episode arc, Diamantopoulos plays Rob Weiss, the chief of staff to President Allison Taylor (Cherry Jones) — a role he described to Page Six as "a super alpha dog multitasker." Indeed, the aggressive Weiss proved that the politicos of "24" are incapable of hiring trustworthy staffers.
For Diamantopoulos, it was fascinating working on a set where the writers figure out the storylines as they go — a sort of devil-may-care pacing and methodology befitting the material. "They'll introduce a theme without figuring out how to wrap it up," the actor explained, "but as other storylines blossom, it gives them new ideas on how to bring closure to the other plots."
Diamantopoulos starred as Moe in The Three Stooges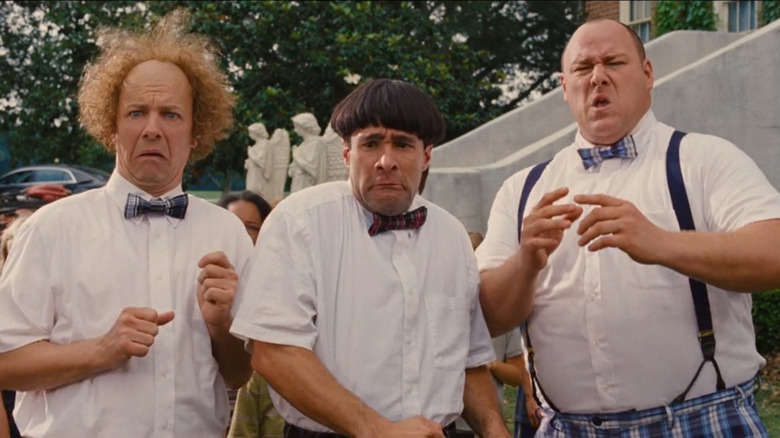 20th Century Fox
In 2012, Chris Diamantopoulos jumped from TV gigs and small-time film roles to leading his first movie, the Farrelly brothers' adaptation of "The Three Stooges." The film is an updated homage to the comedy trio known for their farce and slapstick performances, with Diamantopoulos as Moe, Sean Hayes as Larry, and Will Sasso as Curly.
Diamantopoulos knew he wasn't exactly a coveted actor at the time, and worked overtime to secure the role. "When I did 'The Three Stooges,' it was such a labor of love for me," the actor told /Film. "It took me six months to win that role. I auditioned for it over 14 times." Diamantopoulos also wrote an impassioned letter to then-studio head Tom Rothman explaining his unique understanding of the character and the source material, despite his limited resume.
It probably helped that he offered to work for next to nothing, especially after stars like Johnny Knoxville and Hank Azaria passed on roles. "I think I even put in there, 'I'd do it for free,'" he recalled. "So, when they cast me, they took me to my word and they paid me Schedule F, which was the lowest that you could get paid to do a movie like that." For his efforts, Diamantopoulos and his cast mates were praised for their performances, and "The Three Stooges" was even named a New York Times Critic's Pick.
The Office made him the most hated man on television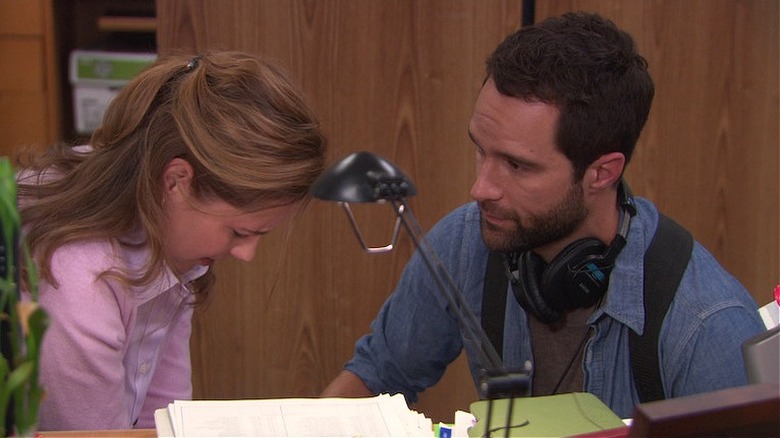 NBC
After poking eyeballs and rocking a serious bowl cut for "The Three Stooges," Chris Diamantopoulos proved he had a knack for doltish absurdism, a skill he put to use in the fourth season of "Arrested Development" in 2013. Diamantopoulos played Marky Bark, an environmental activist and ostrich farmer afflicted with a whopping case of face blindness.
That same year, Diamantopoulos played a more down-to-earth role as Brian the boom mic operator on Season 9 of "The Office." Brian's presence had fascinating implications for the formal structure of the mockumentary series, which broke down the fourth wall in revealing that Brian had been there the whole time. It also incited the ire of Pam (Jenna Fischer) and Jim (John Krasinski) shippers who viewed the not-quite-newcomer as a threat to the couple's marriage.
"I am the internet's most hated man," the actor said in his interview with /Film. "I've had people yell at me on the street when I'm with my children, 'F*** you. You tried to break up Jim and Pam.'" Fortunately, Diamantopoulos has a thick skin, and he felt lucky just to get the part. "When they called and said that they wanted me to be on the show, I was such a fan of that show for so long that how could I say no? I didn't know what I was going to be doing. I did what I was asked to do. You take the punches."
He played a VC billionaire bro on Silicon Valley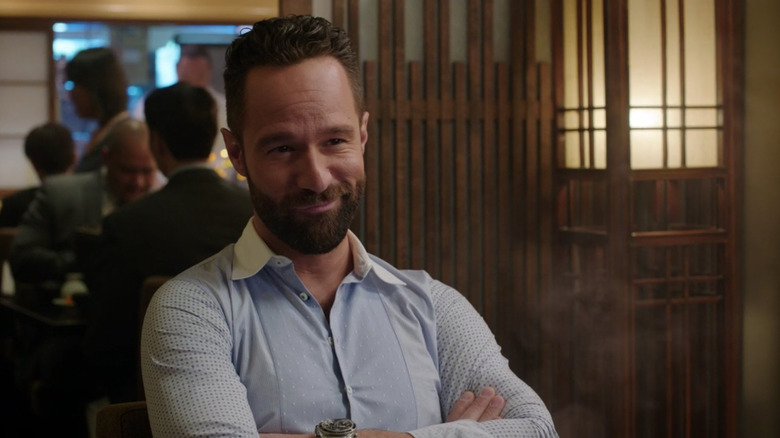 HBO
With experience and age comes an air of authority, and some of Chris Diamantopoulos' most recognizable roles look at various types of men in power. From 2015 to 2016, he starred as Finn Woodhouse, the antagonist editor of News Of The Week, in the period journalism drama "Good Girls Revolt."
Between 2015 and 2019, Diamantopoulos played a powerful man of a very different stripe in "Silicon Valley." Russ Hanneman is a portrait of a very specific type of Palo Alto-area venture capitalist, one whose Google Search suggestions on the show include "douchebag," "sexual harassment lawsuit," "billionaire," and "misogynist." For all his faults, Hanneman is one of the series' funniest characters, and for Diamantopoulos, he somehow still elicits sympathy.
"I love playing a character who is unapologetically a douchebag," the actor told The Hollywood Reporter. "And here's the thing, he's not just the worst person on Earth; he's the worst person on Earth that somehow, right when he just can't be any worse, might make you feel a little sorry for him."
Diamantopoulos choked out The Rock in Red Notice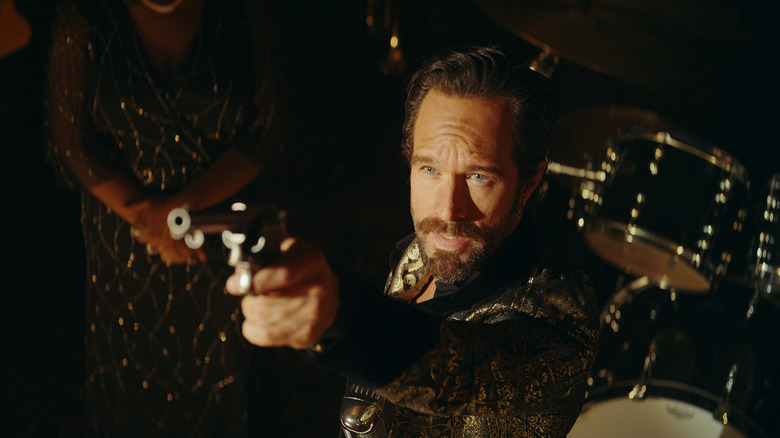 Netflix
In "Mrs. Davis," Chris Diamantopoulos' JQ prefers to go shirtless in his high-tech, "Fight Club"-esque man cave. It's a predilection he shares with another Diamantopoulos character — Sotto Voce in "Red Notice" — who prefers to torture his victims old school, sans shirt.
In "Red Notice," Netflix's wildly popular action flick starring Dwayne "The Rock" Johnson, Ryan Reynolds, and Gal Gadot, Diamantopoulos plays a vicious arms dealer who chokes out Johnson and tangoes with Gadot. Sotto Voce may be a ruthless criminal, but the part made Diamantopoulos feel like a kid again. "Getting the opportunity to do this sort of Bond-ian villain in a great, big, fat '90s-style action comedy — where I get to put DJ on the ropes and put my hand around his neck — just goes back to playing in the sandbox," the actor told The Hollywood Reporter. "Of course, I loved that his character needed to be physically restrained in order for me to pose a threat."