Doctor Who: Whatever Happened To Martha Jones After The Show?
While it's easy to say that the star of "Doctor Who" is the Doctor, it's difficult to imagine the show being as successful as it has been without the various companions who have come and gone. Donna Noble (Catherine Tate), the companion to the Tenth Doctor (David Tennant), begins as a hilarious sidekick, but eventually briefly becomes a Time Lord and helps him save the world. Clara Oswald (Jenna Coleman), the companion to the Twelfth Doctor, saved his life when he was dying. And Martha Jones (Freema Agyeman), despite being constantly overlooked by the Tenth Doctor, still helps rally the world to save him when he's a prisoner.
Martha Jones came into the Doctor's life right after he'd lost Rose Tyler (Billie Piper), who he'd loved. Despite encouraging Martha to travel with him, he was still so lost in his grief that he failed to appreciate the dedication she had to him, and outright missed the fact that she was in love with him. But it all turned out well, with Martha eventually marrying Mickey Smith and becoming a member of U.N.I.T.: Defenders of Earth.
Martha Jones is far from Freema Agyeman's only recognizable role, with the actress appreciated by fans and critics for many of her other characters.
She recently starred in New Amsterdam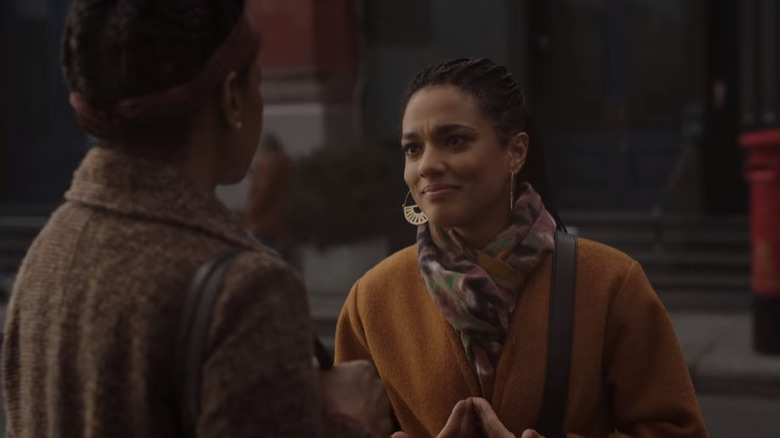 NBC
After appearing in all of Season 3 and half of Season 4 of "Doctor Who,' Freema Agyeman took the role of Tattycoram in the series "Little Dorrit." After a short stint on "Survivors," she took on the role of Junior Crown Prosecutor Alesha Phillips on "Law & Order: UK," a character she would play for six seasons. In 2013, she starred in her second film, "Rubenesque," before getting the part of Larissa Loughlin in "The Carrie Diaries." Larissa is an editor who becomes a role model for Carrie Bradshaw (AnnaSophia Robb), and the two share advice on clothes and men.
During "The Carrie Diaries" she was also playing the role of Shelly Periwinkle in "Old Jack's Boat," co-starring "Doctor Who" alum Bernard Cribbins. After both shows ended, she appeared in the films "North v South" and "Eat Locals" before getting the role of Amanita Caplan in the series "Sense8." The series was created by Lana and Lilly Wachowski, which helped her get her next film role, as Astra in 2021's "Matrix Resurrections."
From 2018 until 2022, Agyeman starred as Dr. Helen Sharpe on "New Amsterdam." Fans rooted for Helen and Dr. Max Goodwin (Ryan Eggoid), but the Season 4 finale saw Helen leave Max at the altar. Despite the series ending in Season 5, the reason Agyeman left "New Amsterdam" is because she felt the timing was right.