The Real Reason Freema Agyeman Left New Amsterdam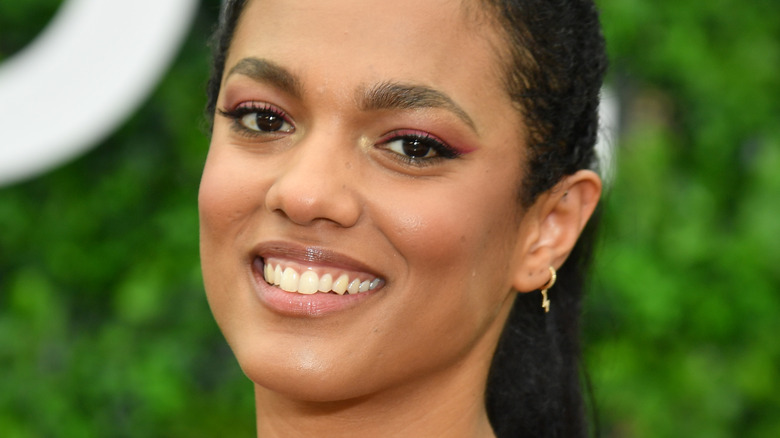 Pascal Le Segretain/Getty Images
A final season of a show can be an opportune time to reach back in time and bring back beloved characters long thought to be gone. "New Amsterdam" is ending with a 5th and final season consisting of 13 episodes, none of which will be featuring Freema Agyeman as Dr. Helen Sharpe, at least at the moment, via Deadline. 
Sharpe's departure may have been a little surprising considering the character had been around since the beginning. In the "New Amsterdam" Season 4 finale, Sharpe leaves Dr. Max Goodwin (Ryan Eggold) at the altar, later apologizing in a letter but saying she will be staying in London. With the loss of such a major character, the final season of "New Amsterdam" is setting itself up for some big narrative changes, including in its main character.
"Max can't help but fix things. He has to help, he has to fix, and that is generally an amazing quality, but sometimes loving someone is letting them go, and I think that's something that Max is learning in this moment," the actor told NBC, in reference to the departure of Agyeman's character.
Also in the NBC report on the Sharpe-less "New Amsterdam" Season 5 is the real reason Agyeman won't be joining her cast for their last spin. 
The time was right for Agyeman to leave the show
According to Freema Agyeman, the time was simply right for her to move on from the Helen Sharpe character. "I feel very fortunate to have connected with so many of you over these past few years, while rolling around in the skin of Ms. Helen Sharpe, and witness every ebb and flow of your emotional investment. What a ride! Thank you for being on it with me. She has meant so much to me, but the time has come for me to hang up her white coat," she said about leaving, per TV Line.
Creator David Schulner said the departure was planned ahead as Agyeman expressed being interested in leaving after the show's 3rd season.  "Freema let us know very early near the end of Season 3 what she was thinking and we didn't even know if we'd get her for Season 4. But Freema agreed to stay for Season 4 and give us the runway we needed to prepare her exit in case she didn't come back for Season 5," he told NBC.
With the show coming to an end, fans will no doubt be at least hoping for another appearance, and Schulner doesn't completely rule out a potential Dr. Helen Sharpe return. "We wish Freema the best of luck on her next chapter and the doors of 'New Amsterdam' will always be open if she wishes to return!" he said in a statement quoted by TV Line.