Why Sam From Young Sheldon Looks So Familiar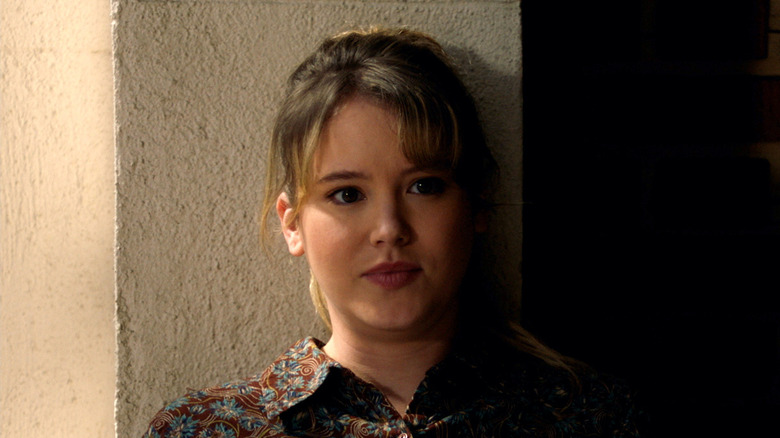 CBS
"Young Sheldon" is full of memorable characters, such as Connie "Meemaw" Tucker (Annie Potts), the boy genius himself (Iain Armitage), as well as Sheldon Cooper's classmates from his college campus.
Because the series takes place in the '80s and early '90s, there aren't many women in Sheldon's field of theoretical physics. However, Sam (Taylor Spreitler) pushes through gender stereotypes and is determined to make a name for herself. She is first introduced in "A Boyfriend's Ex-Wife and a Good Luck Head Rub," where she is assigned to a group project with Sheldon. Sam feels looked down upon for her gender and expresses this frustration to Mary Cooper (Zoe Perry), who she believes doesn't further women's rights as a mother and homekeeper.
Despite this clash, Sam later strikes a friendship with Mary and offers to accompany her around campus when Sheldon attends his official orientation. She also gets through to Sheldon when he gets his own dorm and inspires him to let his fellow students use the space.
Before landing the part of Sam, Spreitler's expansive resume details the success she's had in show business. If you've watched "Young Sheldon" and thought she looked familiar, here are some performances you may have seen her in.
She has been on Law & Order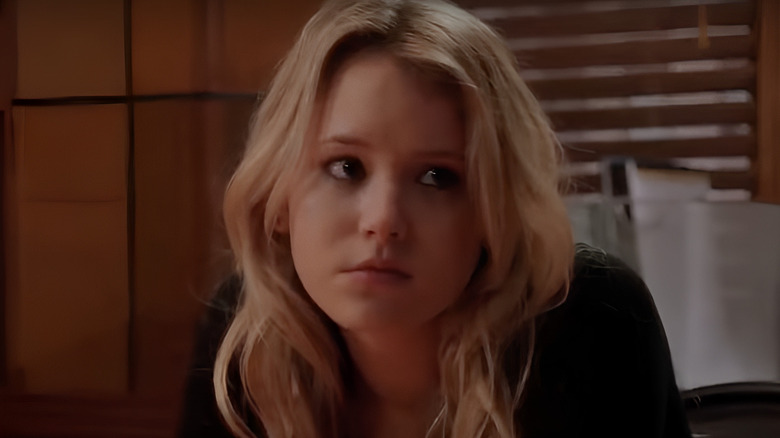 NBC
Taylor Spreitler's first television role was on the long-running "Law & Order: SVU." She appeared in the episode, "Pure" as Chloe Sellers, sister of Kaley Sellers, who is raped and murdered. Psychic Sebastian Ballentine (Martin Short) works with the team to find the killer, but it turns out that his real name is Henry Palaver. Together with his wife, he has kidnapped and assaulted numerous girls, including Kaley, before being brought to justice. When their mother calls Kaley, Chloe is present and receives a cryptic message, "Kaley can't come to the phone. She's tied up right now."
Spreitler returned to "Law & Order: SVU" in 2015 as Taylor Culphers in "Friending Emily." Once again, she plays the sister of the kidnapped victim, but this time, she has a bigger role. While she is with a boy at a party, Emily (Catherine Missal) is abducted. During her questioning, Taylor deduces that her underaged sister has been trafficked and blames herself for not protecting her. Unlike in the previous episode, Spreitler's character does not lose her sister. They are reunited in the end, and though the situation was traumatic, Emily is alive and well.
If you or someone you know may be the victim of child abuse, please contact the Childhelp National Child Abuse Hotline at 1-800-4-A-Child (1-800-422-4453) or contact their live chat services.
She was in a soap opera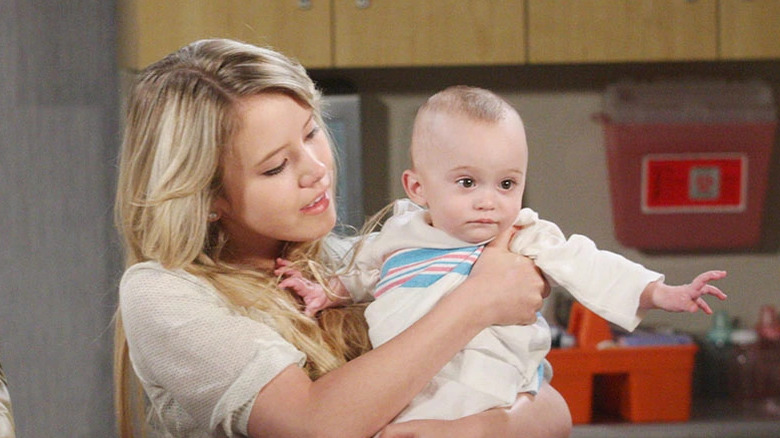 ABC
Taylor Spreitler's first breakthrough role was Mia McCormick on the long-running soap opera, "Days of Our Lives." She appeared as a series regular from 2009 to 2010 and was featured in an impressive 137 episodes.
Mia is introduced as a pregnant high-school dropout who comes to Salem after being kicked out by her parents. She meets Nicole Walker (Arianne Zucker), who convinces Mia to give her her child. She returns to Salem following a stint at dance school, but that doesn't sit well with Nicole, who does her best to get Mia to leave. However, Mia takes up a job, starts dating Will Horton (Dylan Patton), and helps him babysit his sister, Grace, to whom she feels an unexplainable connection.
After Grace dies of bacterial meningitis, Mia discovers that the girl is actually her daughter, and Nicole switched Grace with another baby. Mia and Chad (Casey Deidrick), her high school boyfriend, bond over the loss of their daughter. Though she's dating Will, Mia rekindles their relationship. Torn between the two, Mia manipulates her beaus, but they find out and sever ties with her. With nothing holding her in Salem, Mia makes amends with Will and Chad and leaves for good, her future unknown.
She's Melissa Joan Hart's niece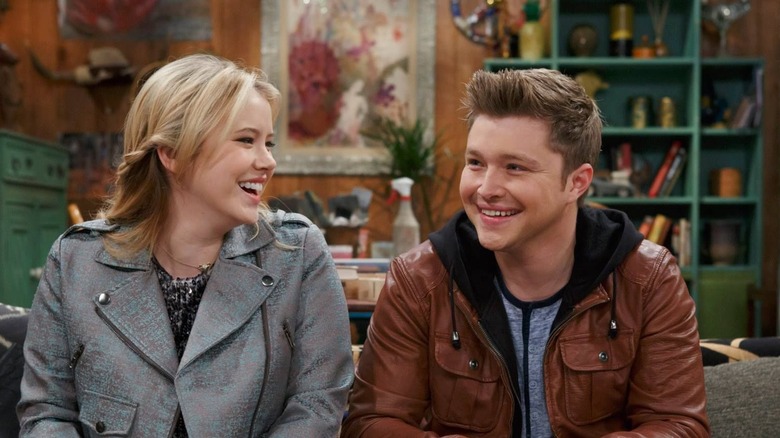 ABC Family
Immediately after her time on "Days of Our Lives," Taylor Spreitler got her first sitcom gig on ABC Family's, "Melissa & Joey," in 2015. She plays Lennox Scanlon, the niece of Melanie Burke (Melissa Joan Hart), who takes in Lennox and her brother, Ryder (Nick Robinson) after a political scandal leaves them without parents. To ease the burden, Mel hires Joe Longo (Joey Lawrence) to serve as a nanny and help her raise the kids.
Lennox is portrayed as a free-spirited teenage girl, who is against her living arrangements, but eventually accepts her new situation. Artsy, hipster, and extremely liberal, Lennox has a headstrong and opinionated personality. Her attitude often puts her at odds with her principal—who is intolerant of her activist projects—and this inspires Lennox to lead student rebellions and deliver impassioned stances on social issues.
Throughout the series, Lennox has an on-again, off-again romance with fellow artist Zander (Sterling Knight). Multiple circumstances, such as university and other relationships, keep them apart, but the two soon realize that they're meant to be. In the series finale, "Double Happiness," Lennox and Zander get engaged.
She is a law student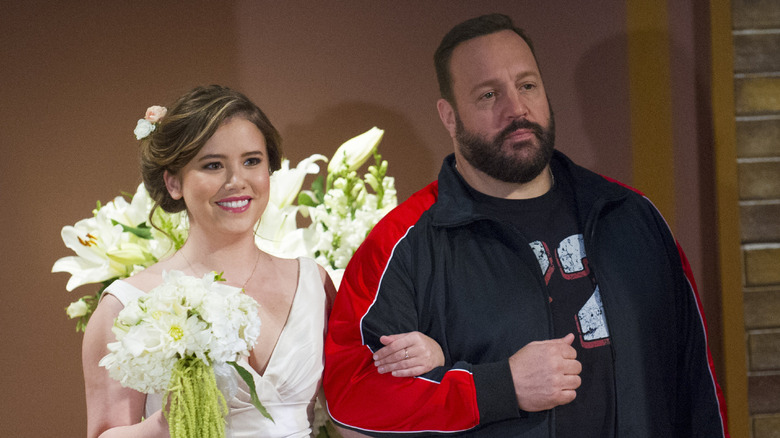 CBS
During and after "Melissa & Joey," Taylor Spreitler worked on a few productions, including "Bones" and "Criminal Minds." In 2016, she starred in another comedy series, "Kevin Can Wait," alongside Kevin James and, later, Leah Remini.
Spreitler portrays Kevin Gable's eldest daughter, Kendra. The 21-year-old is a Columbia Law School student and has the most prominent role in the family. She is responsible and dependable, which allows her to become the matriarch of the Gable family after her mother, Donna (Erinn Hayes), passes away between the first and second seasons.
Though her responsible nature is admirable, Kendra's desire to keep everything in check can make her come off as overbearing. She has a tendency to be a nag, particularly toward Chale (Ryan Cartwright), her shy English fiancé. However, she is able to plan a beautiful wedding when she and Chale finally tie the knot in the second season premiere.
She is a horror star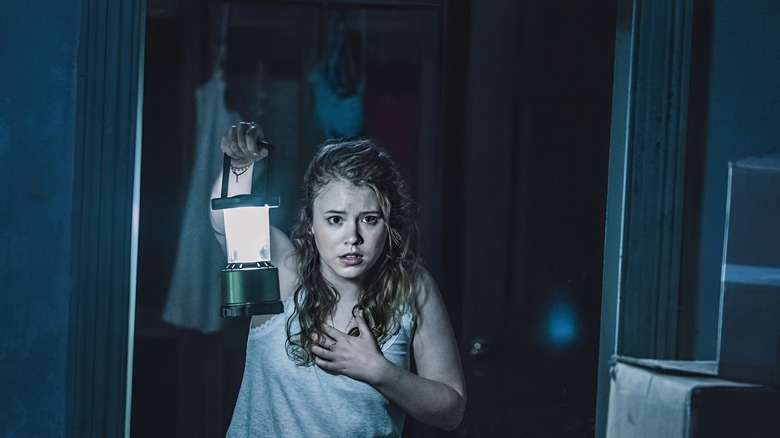 Syfy
In addition to her television work, Taylor Spreitler has been in plenty of horror movies, including "Leprechaun Returns" in 2018. In this sequel to the 1993 film, Spreitler portrays Lila Jenkins, the daughter of Jennifer Aniston's character, Tory Redding, from the original movie.
After the Leprechaun (Linden Porco) comes back to life, he wants revenge on Tory's daughter after having been sealed in a well. At the sorority house in Devil's Lake, Meredith (Emily Reid) lets the Leprechaun have Lila but gets killed anyway. With the help of her sisters and the ghost of a returning Ozzie Jones (Mark Holton), Lila can discover her enemy's true weakness. By surrounding him with gold, she is able to blow the Leprechaun, and the house, up and escape to safety. However, it is revealed that the creature survived and is most likely on his way to get revenge once more.