How King Of Queens' Kevin James And Leah Remini Really Felt About Reuniting In Kevin Can Wait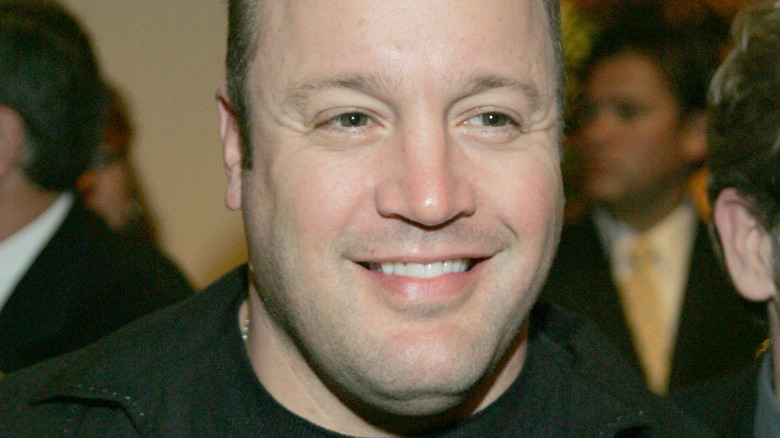 Doug Benc/Getty Images
As working-class married couple Doug and Carrie Heffernan on the CBS series "The King of Queens," Kevin James and Leah Remini adopted the archetypal sitcom domestic narrative of the well-meaning but often bumbling husband and the loving, long-suffering wife. As such, the couple was often thrown into comically adversarial roles resulting from Doug's penchant for various hair-brained schemes that generally failed and incurred Carrie's righteous wrath. So, one dynamic that fans of "The King of Queens" could reliably expect to see in any given episode is the set-up of Doug messing something up spectacularly, prompting him and Carrie to engage in a spirited argument. Or two. Or more.
But the truth is, arguing with each other isn't something limited to the scripted, on-camera personas of the two actors. As it turns out, the pair were also known to have words with each other when not in character. As Remini herself admitted in this interview clip from Oprah, she and James were no strangers to sparring matches on the set of "The King of Queens" during their nine-season, 207-episode run. "Anybody who's together for that amount of time is going to fight," the actress said. "That's because we loved each other. You know, if you don't care about somebody, you don't even bother to fight with them."
Keeping this occasionally contentious dynamic in mind, what were Remini and James' thoughts about reuniting on the subsequent sitcom, "Kevin Can Wait"?
Kevin James and Leah Remini were eager to work together again on Kevin Can Wait
Following the cancellation of "The King of Queens" in 2007 due to what Cheat Sheet reported may have been a salary dispute with Kevin James, the stand-up comedian launched his follow-up sitcom, "Kevin Can Wait," on CBS in 2016. On the new show, James played retired cop Kevin Gable, with his wife Donna portrayed by Erinn Hayes. After Donna died in the Season 1 finale, Leah Remini came aboard in Season 2 as Vanessa, Gable's new business partner.
As it turns out, despite any previous dust-ups, both actors were happy to reunite, with Kevin James telling CBS News: "To have Leah Remini back on is fantastic," the actor declared, adding, "We're friends and we're family. Literally, we feel like we've known each other forever." As for Remini, the sentiment seemed to be mutual, with the actress lauding the duo's on-camera chemistry, explaining to The New York Daily News, "I would've taken any opportunity to work with Kevin again." She went on to add, "There's something very special that you just can't kind of explain when something works with somebody." Her feelings about James also held true even in hindsight, as she posted a photo of the two of them on Instagram following "Kevin Can Wait" being canceled after two seasons, with the caption: "For me to get to work with @officialkevinjamesagain day in and day out was a Godsend."