Succession's America Decides Is HBO's Second Most Chaotic Election Episode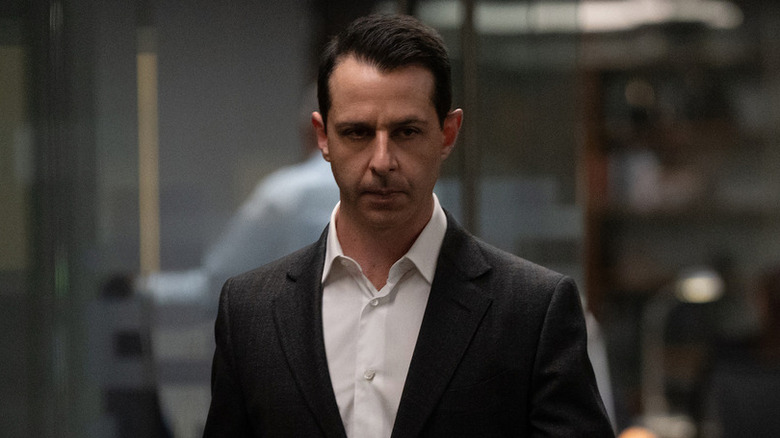 Macall Polay/HBO
Contains spoilers for "Succession" Season 4 Episode 8 — "America Decides"
Election Night is arguably America's most distressing and arresting sporting event, circling around threateningly every four years to provoke Olympic levels of anxiety. And — as is true for all our national pastimes — it makes for a great night of television.
Several networks have taken their shot at dramatizing the event to mixed effect, though arguably none have done so with the consistency and versatility of HBO. Tonight's episode of "Succession," bearing the darkly ironic title "America Decides," is merely their latest effective attempt. A testament to either HBO's range of content or changing times, the episode will almost certainly draw comparisons to its perfect polar opposite — the two-part "Newsroom" Season 2 finale, "Election Night," which originally debuted in 2013.
Viewing both stories back to back would give one disquieting whiplash. Aaron Sorkin's "Election Night" is an optimistic tale of principled news executives falling over each other to land on the proverbial sword first for a misreported story that plagued their network all season long, all while operators from both parties work harmoniously and self-sacrificially to ensure the country is well informed on their way to the ballot box; in Jesse Armstrong's "America Decides," the network chairman knowingly names an outright fascist as president while high on cocaine because his ex-brothers-in-law tell him to.
You'd be hard-pressed to find two more contrasting approaches to the exact same subject matter on TV coming from the same network, and yet neither reaches the level of sheer mayhem seen in the mother of all election night dramas — the Season 4 finale of "Veep."
Veep is Succession's older, weirder cousin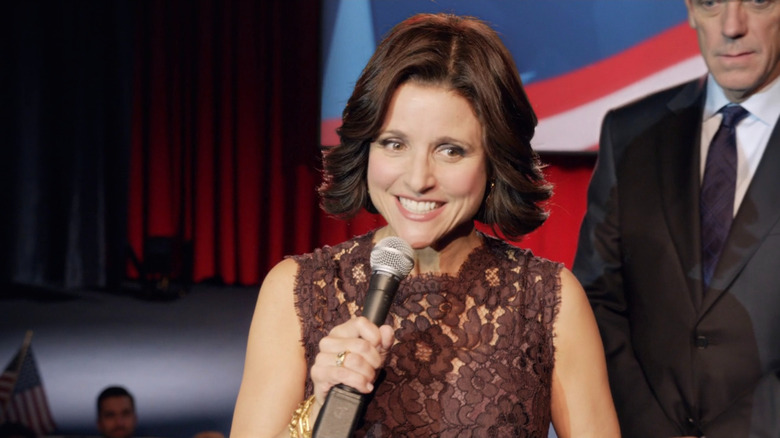 HBO
For the uninitiated, "Veep" was a political satire series created by Armando Iannucci that starred "Seinfeld's" Julia Louis-Dreyfus as the fictional Vice President (and occasional presidential hopeful) Selina Meyer. Throughout its six seasons on HBO, the series drew favorable comparisons to classic White House dramas like "The West Wing" (arguably Sorkin's defining work) and Netflix's "House of Cards" (an Emmy award-winning series created by Beau Willimon). While the former reflected Sorkin's predilection for moral ubiquity and intellectual problem-solving and the latter was a full-throated Machiavellian horror story, "Veep's" irreverent view of American politics was accepted as consistently entertaining and painfully accurate to those working in the real-life White House.
As will be fascinatingly apparent, "Veep" and "Succession" share a large amount of creative DNA. "Veep" began its life as a British sitcom called "The Thick of It," which was created by Iannucci and written by Jesse Armstrong, Tony Roche, and Will Smith (the British writer), all of whom would go on to write — in varying capacities — for either "Veep" and "Succession." Simon Blackwell — who wrote "Veep's" "Election Night" with Iannucci and Roche — also wrote for "The Thick of It," and collaborated with Armstrong, Roche, and Iannucci on the Academy Award-nominated script for the British political satire film "In The Loop." Suffice it to say, it's difficult to overstate how close the creative brains of these two projects are — which makes comparing their takes on the U.S. Presidential Elections all the more illuminating.
Both Veep and Succession are impacted by Wisconsin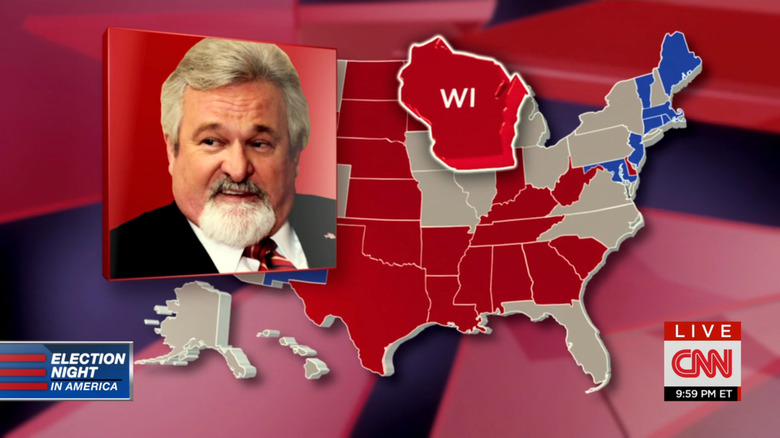 HBO
Between the two, it must be admitted right out of the gate that "Succession" at least gets a point for mayhem with how it uses the state of Wisconsin — which gets a surprising amount of play in these election episodes. While "The Newsroom's" Wisconsin merely runs out of ballots in certain counties (which really happened during the 2012 Presidential Election), the state shockingly turns the tide in favor of the Republican candidate in both "Succession" and "Veep."
Both are called relatively early during their respective evenings, though "Veep's" Bill O'Brien (Brad Leland) secured the state fair and square. Contrarily, it is speculated with some certainty that "Succession's" Wisconsin would have voted Democrat, had over 100,000 mail-in ballots not been destroyed. Roman Roy's (Kieran Culkin) decision to call the state prematurely for Republican nominee Jeryd Mencken is one of the episode's most impactful moments, and is yet another massive step on Roman's dark path to becoming his father's true successor.
In reality, Wisconsin is known for races that are about as tight and volatile as a bodybuilder on steroids. Though Shiv Roy (Sarah Snook) uses Wisconsin's very real Democratic voting record to argue against Roman, it is worth noting that "Veep's" red Wisconsin became a reality just one year after its airing in the 2016 Presidential Election. Given Mencken's numerous ideological parallels to then-candidate Donald Trump, an argument could be made that Wisconsin would actually swing red in this case. On the other hand, for both Barrack Obama and Joe Biden's presidential elections, Wisconsin voted blue.
The ineptitude of Veep's characters gives way to chaos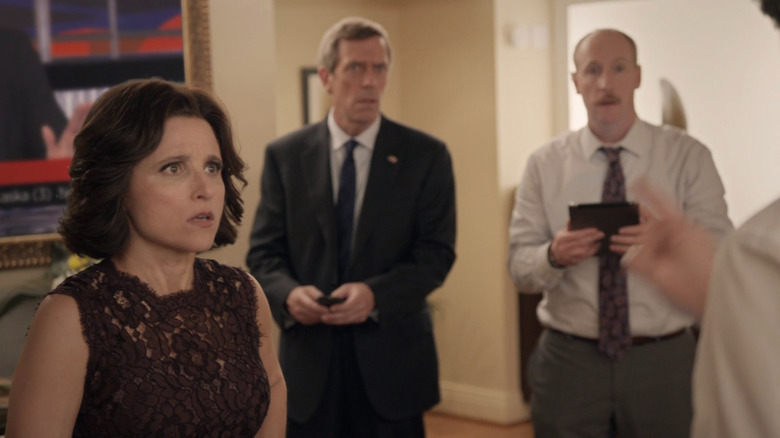 HBO
However, the remainder of "Veep's" "Election Night" outdoes "Succession's" purely in terms of volatility. Selina almost loses to her opponent, only to find out mid-concession that CNN miscalled Pennsylvania; her former campaign manager Amy Brookheimer (Anna Chlumsky) shows up out of nowhere to rejoin their team; her running mate and would-be lover Tom James (Hugh Laurie) is desperately trying to maintain his power at her expense; and the evening ends in a historic tie between the two candidates.
Though the characters of "Succession" often make mistakes, their weaknesses are nothing compared to the persistent human ineptitude of the "Veep" ensemble. From strategists to news anchors to world leaders, Selina and almost everyone she comes into contact with is portrayed to be no more brilliant or worthy than the viewer watching — as "Election Night" makes evident in one of the funniest exchanges in the entire series.
When it becomes clear to the public that the evening will end in a tie, then-CNN contributor Dan Egan (Reid Scott) theorizes on national TV that Selina and her team were likely already working on next steps — only for the episode to cut to her hotel room, where her entire staff has no idea what a tie even means for the campaign. "What happens when there's a tie?" "Everybody goes online to find out what happens if we get a tie."
This juxtaposition between the public perception of what's happening inside Selina's campaign and the reality of her team frantically googling basic election protocols is both a perfect encapsulation of the series' evergreen sense of humor and a reflection of how the writers (and arguably their audience, to some extent) viewed power in America — at the time, at least.
Election Night episodes are a reflection of our faith in the system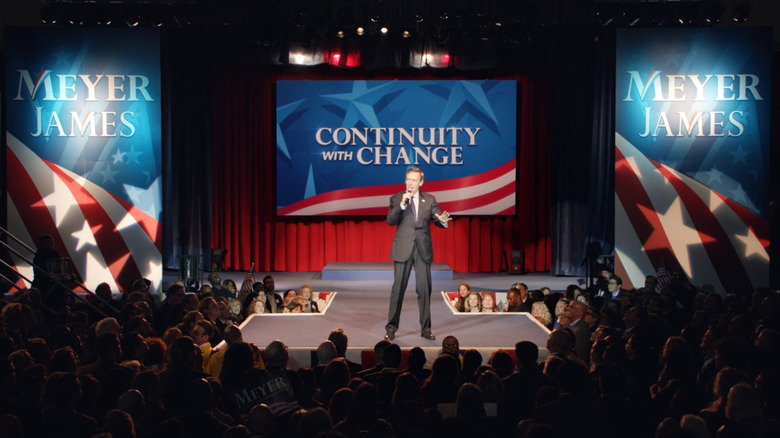 HBO
Even at the time of its airing, "The Newsroom" drew criticism for being simultaneously preachy and overconfident, and that perception has only been exacerbated over the past decade by a streak of divisive, controversial elections. The year after Barrack Obama was elected, a Gallup World poll found that 59% of Americans had faith in the electoral process — in 2022, that number plummeted to 20% (per ABC News). The causes of this dramatic loss in faith — especially media influence — are very much present in "America Decides." 
In 2013, "The Newsroom" depicted the powerful as worthy, intelligent actors with clear moral codes that could always be put in check by a diligent and equally intelligent media; in 2015, "Veep" depicted them as a gaggle of dangerously hapless people with little more skill than the dumbest person you went to college with. In "America Decides," "Succession" flirts with the moralism of "The Newsroom" only to deliver its scathing message loud and clear — even the most "principled" with power are too self-interested in maintaining that power to do the right thing. "Succession" isn't quite as chaotic as "Veep" because it doesn't need to be. From its point of view, power isn't gained through morals or humanity, but through the gradual sacrifice of both.
On a much lighter note, "Veep" has aged like fine wine, and still offers valuable, hilarious insights about the American political process. As we all prepare for "Succession" blues to set in after the feature-length finale premieres later this month, "Veep" is the perfect show to fill the gargantuan void it leaves — or, as Kendall would say, "big shoes... big shoes... big shoes."