Succession's Series Finale Is Reportedly 90-Minutes Long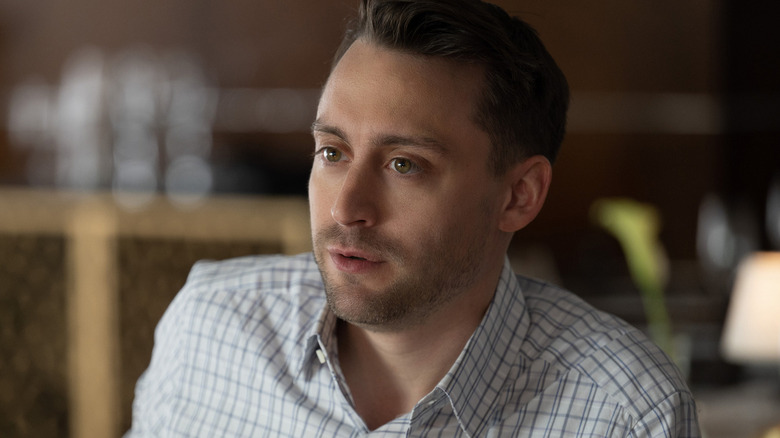 Claudette Barius/HBO
Gird your loins, "Succession" fans — the series finale will basically be a full-length film.
Composer Nicholas Brittell, who scores the entire show and also penned the absolute banger of a theme song, told Variety, "It's 90 minutes. It's a huge episode — like a movie." This revelation is incredible news for fans of the drama series, which has been airing an absolutely incredible final season and who, undoubtedly, want to get the most out of "Succession's" final run. In the third episode of Season 4, "Connor's Wedding," the series — created by Jesse Armstrong — took an enormous creative swing by killing off the show's biggest character, Logan Roy (Brian Cox), and it hasn't slowed down for a moment since then.
Logan's death leaves a vacancy as Waystar Royco's CEO, at which point his children Kendall (Jeremy Strong), Shiv (Sarah Snook), and Roman (Kieran Culkin), as well as any number of hangers-on and acolytes, vy for his place. Ultimately, it's handed to Roman and Kendall, but not for long; a deal to sell the company to GoJo CEO Lukas Matsson is in the works, but whether or not it actually pans out is anyone's guess at this point.
Succession is one of the most critically acclaimed shows of its time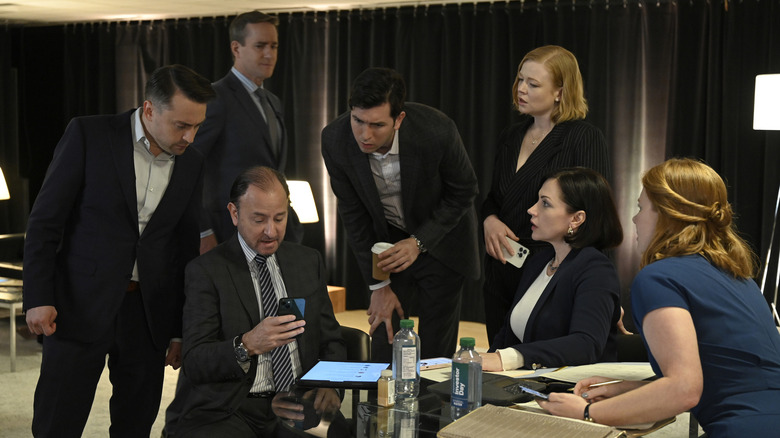 David Russell/HBO
Ever since it premiered in 2018, "Succession" has been one of HBO's crown jewels, scoring solidly high ratings alongside overwhelming praise for its performances, writing, and direction. In that vein, the show has been an awards season powerhouse throughout recent years; it won the Emmy for Outstanding Drama Series in both 2020 and 2022, the Screen Actor's Guild Award for Outstanding Ensemble in 2022, and several actors, including Strong, Cox, and Matthew Macfadyen (who plays Shiv's weaselly husband Tom Wambsgans) have won for their performances.
Sure, past seasons of "Succession" have been, well, successful — but what about this one? Unsurprisingly, with every single episode in Season 4, the cast and scripts somehow top themselves each time, with Snook, Strong, and Culkin each giving performances that could very well sweep the upcoming awards season. As we approach the series finale, there's really no telling what this wonderfully shocking series will pull off next, but there's no question fans are just happy to be along for the ride.
The final season of "Succession" is currently airing on HBO every Sunday at 9 P.M. EST, and the series finale airs on May 28.