Succession: Kieran Culkin's Improv Helped Inspire Roman & Gerri's Flirty Relationship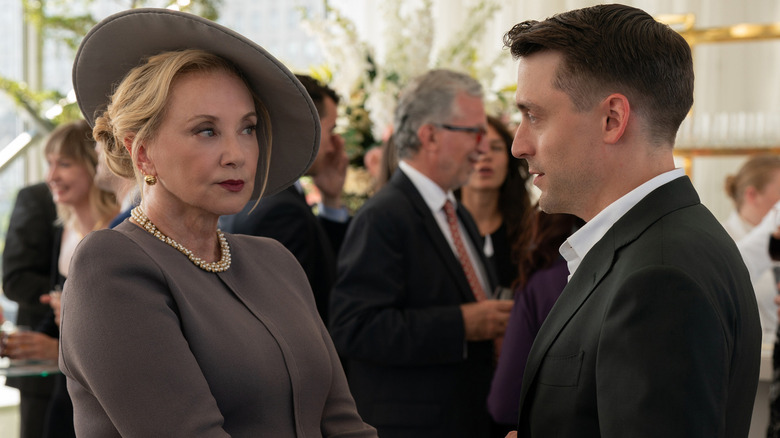 Macall B. Polay/HBO
If there's one thing "Succession" succeeds at, it's putting the microscope on dysfunctional relationships, both intimate and professional. As the Roy siblings vie for attention, success, and the approval of their father, they also end up dabbling in love affairs, with mixed results. Perhaps the most romantically unsuccessful of the bunch is Roman Roy (Kieran Culkin), who clearly has some deeply-seated insecurities sorrounding his sexuality and love affairs. While things didn't work out with Tabitha (Caitlin FitzGerald), Roman has managed to find a fling in Gerri (J. Smith-Cameron), WayStar Royco's General Counsel.
Gerri has been around Roman and his siblings since their childhoods, which makes their flirty relationship all the more intriguing. The two kicked off their little "will-they-won't-they" in Season 2 but things aren't looking too great for the duo, especially after the lewd photo incident of Season 3. As things continue to get heated with Season 4, it's become clear that their steamy relationship could have disastrous effects for both of them, professionally and personally.
Because the duo's rapport now feels so integral to the show's endgame, it's interesting to note that their fiery spark started off as improv. In a chat with NME, Smith-Cameron recalled how the crew didn't yell cut in a scene. "So when that happens you just have to go on, carry on in character, and it kind of just rolled into this sort of flirtatious repartee," she said. Smith-Cameron continued by saying that a quick glance at Culkin led to "Succession's" most chaotic relationship. "As I left the scene I checked him out and he kind of checked me out, and I think they [the producers] were laughing," Cameron said.
Improv initially terrified Kieran Culkin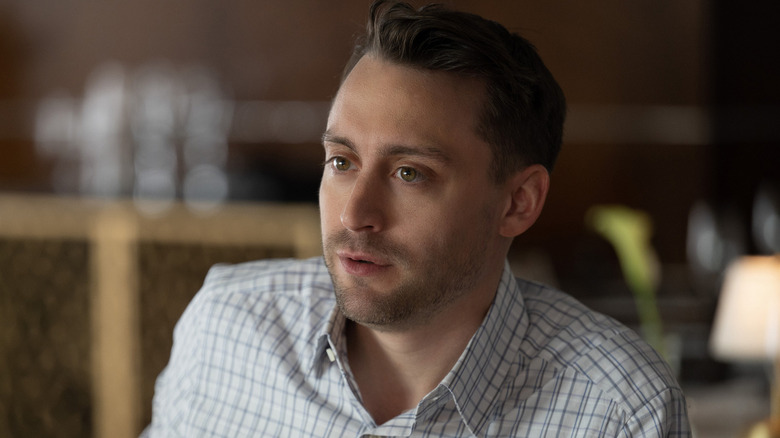 Claudette Barius/HBO
Where did this spark come from? While J. Smith-Cameron and Kieran Culkin have known each other for years, previously working together in "Margaret," we owe this romance to pilot director Adam McKay, who pushed Culkin to get out of his comfort zone.
A profile piece for Esquire reveals that Culkin didn't have much experience with improv prior to "Succession." According to Connor Roy actor Alan Ruck, doing improv for the show's pilot didn't mesh well with Culkin. "He was like, 'I like writers to write my lines. I like to say them, and then I like to go home,'" Ruck recalled. The eldest Roy sibling continued by saying that, eventually, something came together for Culkin, which compelled him to dive deeper into improv. Some of Season 1's most intriguing moments, including Roman's playful-turned-brutal fight with Shiv (Sarah Snook) in the sophomore episode, were improvised, per "WTF With Marc Maron."
Esquire notes that Culkin's newfound confidence with improv is exactly what led to the Gerri and Roman subplot. The writers took note of the duo's dynamite chemistry and ran with it, effortlessly relating it to Roman's sexual insecurities. As real as their chemistry looks on the screen, Smith-Cameron knows it isn't real, telling the outlet that it's a "set-crush kind of thing." 
How different would Succession be without Gerri and Roman's romance?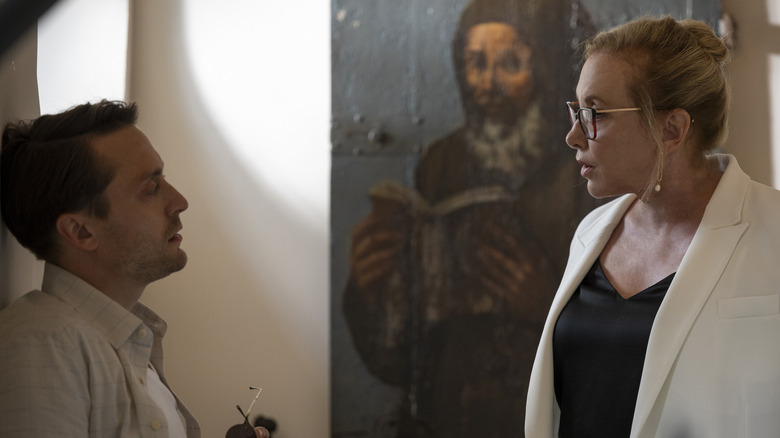 Graeme Hunter/HBO
Kieran Culkin has gotten more than comfortable with improvisation as the years have gone on. For his most recent showdown with Mattson (Alexander Skarsgård) in Season 4, Culkin improvised a different version of the scene which could have been one for the history books. As the final season of the HBO juggernaut wraps up, it's interesting to imagine just how different Roman would have been if Culkin wasn't confident in his improv abilities. Would we still have the Gerri romance? It's difficult to ignore just how impactful the relationship has been as the show calls it curtains. 
Without their initial attraction to one another, Roman wouldn't have accidentally sent a lewd photograph meant for Gerri to his father in Season 3. Their "sicko" relationship, coupled with the photograph, is more than likely what inspired Logan to fire Gerri in Season 4. With Roman now co-CEO of WayStar Royco, Gerri's firing is permanent — a decision that will likely come to bite the siblings in the very near future. Their relationship has snowballed into something much larger and complicated, which leaves the future of the company at stake. 
"Succession" Season 4 continues to air on HBO.