Zombieland 2 Might Be Coming To Theaters In 2019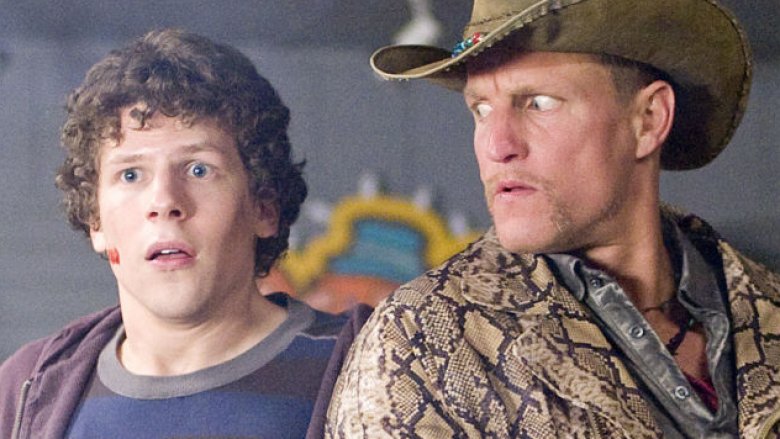 Columbia Pictures
Time to break out the biggest box of Twinkies in your pantry – Zombieland is preparing for a comeback. 
Before screenwriting duo Rhett Reese and Paul Wernick captured the mainstream with 2016's rambunctious R-rated romp Deadpool — which helped them secure creative gigs on the upcoming Deadpool 2, Michael Bay's Six Underground, an adaptation of the board game Clue, the Chris Pratt-starring Cowboy Ninja Viking, and the YouTube Red series Wayne — the pair penned a little film that became a big hit: the 2009 post-apocalyptic comedy horror Zombieland. 
Viewers fell in love with Woody Harrelson's Tallahassee, Jesse Eisenberg's Columbus, Emma Stone's Wichita, Abigail Breslin's Little Rock, and Billy Murray's fictionalized version of himself featured in the film, and have since longed for a sequel. Now, according to Reese and Wernick themselves, a follow-up to director Ruben Fleischer's original is already in the works — and it's headed this way soon. 
"We're going on the tenth anniversary of Zombieland. Zombieland came out October of 2009. We don't know what you get someone for their tenth anniversary, but it may be a Zombieland 2," Wernick revealed to Vulture. Wernick kept his cards close in saying the impending sequel may be launching in October 2019, but it seems that it'll quickly turn into a guaranteed thing. "The hope is that we're shooting that thing early 2019 for an October of '19 release." 
The cherry on top of this good news? Wernick said that Harrelson, Eisenberg, Stone, Breslin, and Murray will all return: "With the original cast, by the way."
Reese and Wernick buttoned their lips after spilling that information, though the latter mentioned that everything is going great behind the scenes. "We are sitting on information that we can't entirely share at this moment," said Wernick. "We can just say we think fans of Zombieland who have been hoping for a Zombieland 2, that we will grant their wish very, very soon."
This reveal comes a year after the creative pair stated that they had a script in place, and that OG director Fleischer was attached to helm the sequel. "All of our cast have read the script and love it," said Wernick. "It's just a matter of making our cast deals and making it for a budget number."
It looks like everything smoothed over well, and that Zombieland's long-awaited double tap will smack across screens in the near future.